Auto sanitizing gate for sale in the Philippines
On June 24, we received an inquiry from the Philippines. This customer is running a disposable protective overall factory need to install an auto sanitizing gate in the factory.
We sent three versions of disinfection channel quotes and details to customers. The first version is the basic version of the auto sanitizing gate, only spray disinfection function. The second version is an upgraded version of the disinfection gate, with spray disinfection and infrared temperature measurement functions. The third version is the advanced version of the human disinfection gate, with spray disinfection, infrared temperature measurement, and face recognition functions.
After comparison, the customer chose the advanced auto sanitizing gate. Because during the epidemic, disinfection, temperature measurement, and identification of people entering and leaving the factory are all important. Which kind of disinfection gate do you need?

Surprised sanitizing gate price to you
The auto sanitizing gate is a passage for disinfecting the people and goods imported and exported in the epidemic prevention area. The personnel using the disinfection gate will conduct a temperature check before entering the intelligent disinfection channel for the disinfection procedure. In addition, the inner surface of the human disinfection gate is equipped with an antibacterial coating. At the same time, use aerosol disinfectants to kill viruses and bacteria on the human body and clothing. In a word, contact us if you need to buy disinfection door. You will get a surprising sanitizing gate price.
The disinfection gateway can be used at the entrances of communities, shopping malls, airports, stations, schools, hospitals, office buildings, pharmaceutical factories, breeding farms, seed factories, food factories, and inside hospitals. At the same time, if you have specific requirements, please tell us freely. As a leading disinfection gate china manufacture, you will get a top-quality disinfection gate from us.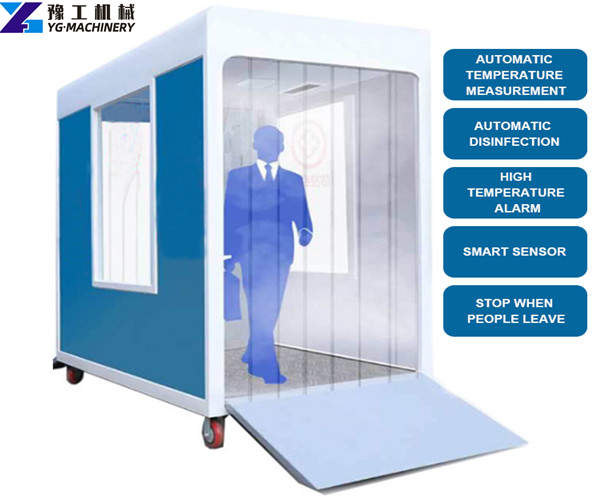 We have intelligent disinfection channel, smart portable disinfection cabin, human disinfection gate for sale. They are not the same in structure. You can choose a disinfection gate/channel/cabin according to your needs. At the same time, there are also three different versions of the disinfection door mentioned above. Please leave your requirements now.
At the same time, YG has the following production line series for sale. Disposable gloves making machine. Nitrile gloves production line. Latex gloves manufacturing machine. PE gloves machinery. Wet wipes making machine. Melt-blown fabric cloth machinery. Face mask manufacturing machinery. Also thermal fogger machine series. Electrostatic backpack sprayer. Room disinfection machines. Nano spray gun. please leave your requirement.
Email: admin@yugongengineering.com