what is a road roller machine?
The mini road roller has a reasonable structure, small size, large excitation force, and convenient site change. A small road roller is suitable for the compaction of asphalt pavements, sidewalks, bridges, parking lots, sports venues, and other narrow venues. A mini road roller compactor is ideal equipment for highways and municipal departments to maintain and repair trenches, streets, and squares in narrow areas. YG has mini road roller compactors in different configurations. Which kind of do you need? Contact us to get a mini road roller price now.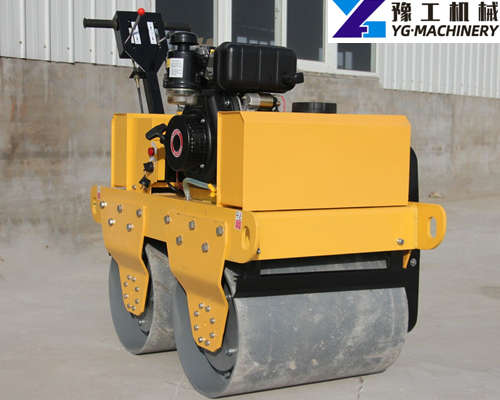 Parameter
Model

FVR-600S

FVR-600D

FVR-850

FVR-880
Engine power
5.5HP
6.0HP
6.0HP
25HP/20HP
Engine
HONDA, air-cooled 4-stroke, OHV, single-cylinder
Air-cooled 4-stroke, OJV, single-cylinder
Water-cooled 4-stroke, single-cylinder
Walking speed
2.4Km/h
0-4Km/h
0–4Km/h
0-5Km/h
Water tank volume
3.6L
35L
15L
60L
Fuel tank capacity
15L
6L
3.6L
19L
Start method
Manual control
Electric
Steel wheel size(forward)
600*426mm
600*426mm
700*560mm
740*530mm
Steel wheel size(back)
/
/
500*426mm
800*530mm
Driveway
Hydraulic
Exciting force
15KN
25KN
28KN
32KN
Exciting frequency
70Hz
Vibration clutch mode
Mechanical transmission, automatic centrifugal clutch
Gradeability
0.25
0.3
Weight
330KG
550kg
750kg
1000KG
[lgc_column grid="50″ tablet_grid="50″ mobile_grid="100″ last="false"]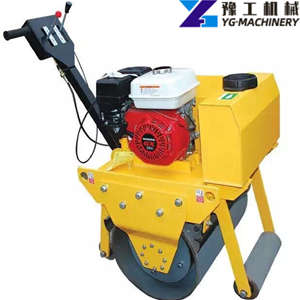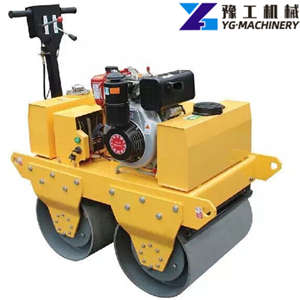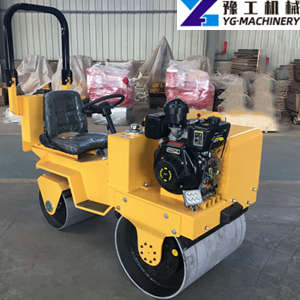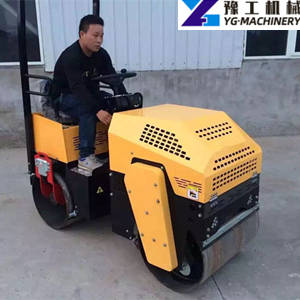 Classification of Small Road Roller
Mini road rollers are mainly divided into single drum road roller and double drum road roller in terms of structure.
In terms of function, a mini asphalt roller is mainly divided into a semi-hydraulic vibratory roller and a full-hydraulic vibratory roller.
Mainly divided into tonnage: 2-2.5 tons, 3-3.5 tons.
From the name, the small road roller is mainly divided into the small single-drum vibratory roller, mini double-drum vibratory roller, and small hand road roller.
At present, there are three types of compact rollers produced in China: walk-behind single-wheel rollers; walk-behind two-wheel rollers; and ride-on rollers.
Engines are divided into diesel engines and gasoline engines.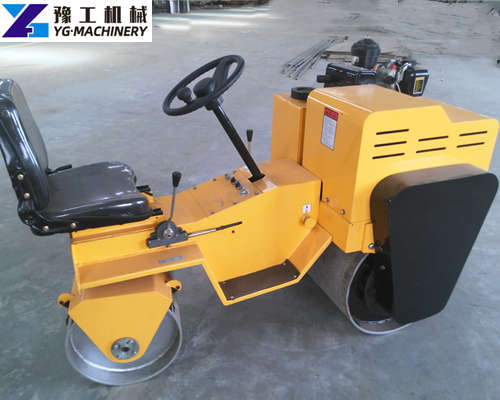 Application of mini road roller

 Sublayer compaction of cement stabilized layer in highway municipal maintenance and replacement construction. Compaction of asphalt concrete at the edges and corners of ditch wells.
In highway construction, when pipe culverts, passages, bridge abutments, and other structures are backfilled, compaction operations in areas where large road rollers cannot work.
Municipal garden landscape, real estate residential area landscape, pavement of access roads in golf course construction, and pavement of sidewalks are compacted.
In other construction occasions where the construction area is narrow and the weight of the compaction equipment is sensitive, the mini road roller compactor can complete compaction flexibly and efficiently.
Related Products
YG Machinery has a series of road machinery for sale. Including new road repair equipment and road maintenance equipment. Such as thermoplastic road marking machines, cold paint road marking machines. Crack sealing machine. Road roller for sale. Small plate compactor. Road core drilling machine.Asphalt spreader. Chipping machine. Polyurethane spraying machine. Road milling machine. A grinding machine, etc. Please feel free to leave your requirement.