Hydraulic excavator shear introduction
The excavator shear (demolition shear) is professionally used for cutting, and it has a strong destructive force. Hydraulic excavator shears are suitable for scrap steel cutting, factory steel structure dismantling, scrapped car dismantling, bridge dismantling, ship dismantling and other projects. Hydraulic scrap metal shears can be installed on excavators, work in multiple directions, and belong to excavator metal shearing attachment. The demolition shear is convenient to move, can be used flexibly on any occasion. And it has high speed and high efficiency.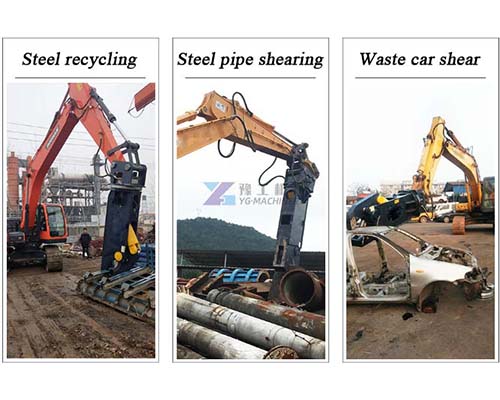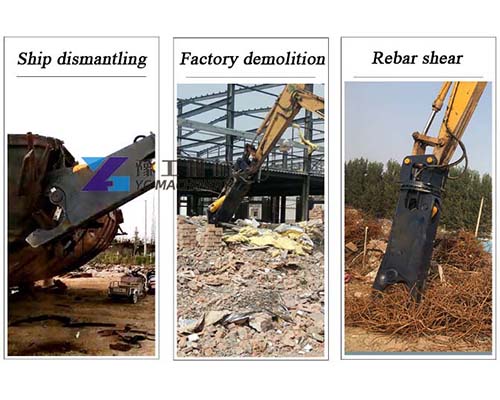 Scrap metal shears replace the shortcomings of crocodile shears, gantry shears and bundle shears that cannot be moved. At the same time, scrap metal shear for sale investment costs are reduced and safety is improved. More in line with environmental protection requirements. Contact us to get more hydraulic excavator scrap metal shear for sale price.

Parameter of hydraulic excavator shear
| | | | | | | | |
| --- | --- | --- | --- | --- | --- | --- | --- |
| Model | Max.Open Dia. | Weight | Shearing Force | Length | Height | Applied Excavator | Max.Connecting Size |
| 30T | 600mm | 3300kg | 210T | 3.5m | 1m | 28-38T | 470mm |
What features of scrap metal shear for excavator?
1) The hydraulic rotating excavator shear can rotate 360 degrees, which is more convenient to operate and save man-hours.
2) With The design that covers the heavy-duty pivot, the strong structure, and long-term wear resistance. The service life is prolonged.
3) The use of high-spec heavy duty metal shears blades brings better shearing force.
4) Operator can replace the hydraulic excavator shear blade easily without grinding and welding, just remove the screw to replace the blade.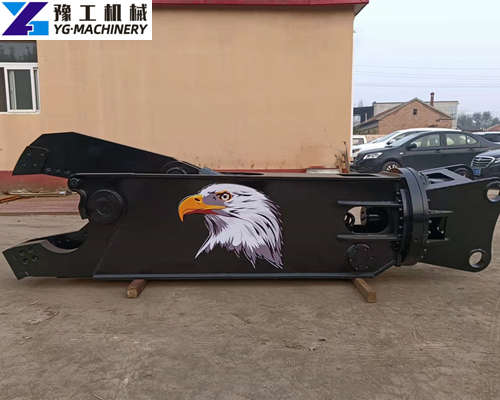 Excavator Scrap Metal Shearing Machine
Excavator metal shear advantages
1) The closed steel plate structure eliminates and reduces any side twisting or bending deformation.
2) The special metal shear blade for excavator design improves productivity. So that it is convenient to replace the blade, which can reduce the downtime of mechanical failure and optimize productivity.
3) The enlarged hydraulic cylinder greatly strengthens the closing force of the jaws so as to cut the hard steel.
4) YG Machinery manufactures heavy-duty hydraulic metal shears for the excavator with high-grade steel, corrosion-resistant treatment, and waterproof design. So as to ensure the strength and wear resistance of the tool.

Hydraulic Metal Shear For Excavator Price
Is it difficult to install?
The installation of heavy-duty metal shears is simple. Connect the pinhole with the pinhole on the front end of the excavator. And then, connect the pipe on the excavator with the hydraulic shears to use, which is convenient for alternate use between attachments. You can install hydraulic scrap metal shears on excavators of various brands and models from home and abroad. Such as Komatsu (PC), Hitachi (EX, ZAX), Carter (CAT, E), Kobelco (SK), Kato (HD), Sumitomo (SH), Daewoo (DH), Hyundai (HY, R). Volvo (VOLVO, EC), Kay (CX), Jolief (JCB), Liebherr (R). Sany (SY), Zoomlion (ZE), Xugong (XCG), Yuchai (YC), Bangli (CE), Sunward Intelligent (SWE), etc. Only one operator of the excavator can operate it, which truly realizes the versatility and economy of the product.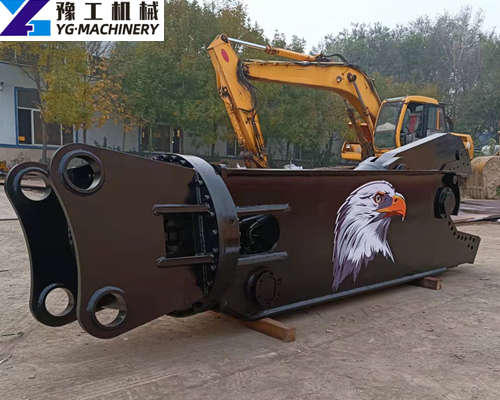 Hydraulic Excavator Shear For Sale
Other Cutting Machine
YG Machinery specializes in the research and production of cutting and demolition machinery. For example, the hydraulic metal scrap shears on this page. There are also punching and shearing machines, hydraulic ironworker machines. Hydraulic wall saw, concrete wall saw. Diamond wire saw, wire saw cutting machine. Rock splitting machine, hydraulic rock splitter. Pile-breaking machines, etc.