Paper Rewinding Machine For Sale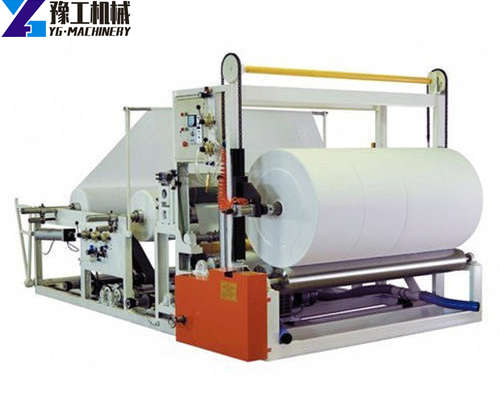 YG paper rewinding machine for sale
Paper rewinding machine is generally used for: rewinding and slitting of mica tape, paper, and film. It plays an important role in slitting wide webs and further slitting again. It is the special equipment for paper, mica tape, and film. YG Machinery is a professional equipment manufacturer specializing in production line equipment. In addition to the single slitter rewinder for sale, we also have tissue paper-making machines for sale and wet tissue machines for sale. If you have any needs or questions about YG rewinding machine for sale, please feel free to contact us.
The paper rewinding machine is the special equipment for paper, mica tape, film. The purpose of the slitting and rewinding machine is to rewind the paper rolls (called base paper rolls) produced by the paper machine in turn. And the paper is made into finished paper after rewinding. YG Machinery has designed, developed, and manufactured toilet paper rewinding machines with different configurations for customers at home and abroad to choose from. The following is a list of hot-selling paper rewinding machines to choose from.
Technical parameters
| | |
| --- | --- |
| Width of base paper | ≤2100mm |
| Finished product diameter: | Φ60~150mm (adjustable elasticity) |
| The inner diameter of the finished paper core | Φ 32~50mm |
| Diameter of base paper | Φ1100mm |
| Inner dia. of base paper core | 3″ |
| Punching pitch | 4 knives, mechanical adjustment 90~180mm |
| Rewinding speed | 0-200 m/min |
| Punching method | pneumatic separation |
| Paper ejection rack | 1-3 layers |
| Dimensions (L×W×H) | 6500×3100×2600 (mm) |
| Machine weight | 3500kg |
| Total power | 4kW |
| Pneumatic system | 3 HP air compressor, minimum pressure 5kg/cm2 Pa |
Multifunctional slitting and rewinding machine
The slitting and rewinding machine adopts the center winding method, which is suitable for slitting and rewinding large diameter coils. This paper slitter rewinder machine is suitable for slitting and rewinding the paper, film, aluminum foil, PVC, and other large coils. The slitter rewinder for sale has a simple operating system, full computer touch screen. Dual-frequency conversion synchronous (PLC) control, optional shaftless feeding, automatic feeding. And photoelectric tracking and edge correction system. This paper rewinding machine has the characteristics of fast and stable slitting and rewinding speed, high slitting precision, flat receiving end surface, and long service life. Contact us to get more information about multifunctional slitting and rewinding machine prices.
Paper core cutting machine
The paper cutting machine is suitable for cutting paper cores of different thicknesses with an inner diameter of 76mm (3″). The paper cutting machine is convenient for loading and unloading, simple operation, and neat cuts.
Surface slitter rewinder
Surface rewinder machine is suitable for slitting and rewinding the paper, film, aluminum foil, PVC, and other large coils. The surface slitter rewinder has functions such as frequency converter speed regulation, PLC touch screen control, automatic meter counting, automatic length fixation, alarm stop, automatic tension control, etc. The surface rewinder machine adopts air pressure feeding and is equipped with a correction device. YG surface rewinder adopts a flat knife/round knife Slitting structure and is equipped with an automatic waste removal device. The machine adopts the surface winding method, which is the best equipment for slitting large coils to small specifications at present. If you are looking for a surface rewinder machine manufacturer, please feel free to contact us.
Servo drive slitting rewinder for sale
Scope of application: Servo drive slitting rewinder is suitable for slitting and rewinding all kinds of super large coils. It is suitable for coils such as kraft paper, white cardboard, photographic paper, aluminum foil, PVC plastic, and non-woven materials.
Performance and characteristics
The servo drive slitting rewinder machine is stable in operation, high in cutting precision, controlled by a computer touch screen, simple in operation, and convenient in maintenance.
It adopts three servo motors and servo drive, automatic constant tension, and maintains a balanced operation during acceleration.
The winding method is the central winding of the upper and lower shafts, and the unwinding method can be equipped with hydraulic shaftless.
Automatic toilet paper rewinder machine for sale
As toilet paper production equipment, paper rewinding machines can be divided into automatic toilet paper rewinders and semi-automatic toilet paper rewinders. The automatic toilet paper rewinding machine adopts PLC computer programming technology, man-machine interface operation, automatic glue spraying, frequency conversion speed regulation, edge banding, trimming, and so on at one time. As a professional slitter rewinder manufacturer, YG Machinery will be your ideal partner if you are looking for a rewinding machine price.
Advantage
Equipped with a processed coreless, solid core, and rolled paper tube toilet paper, the switch between products can be completed in an instant.
Automatic trimming, glue spraying, sealing, and shaft extraction are completed instantly so that the roll paper is transferred to the band saw for cutting and packaging without paper loss.
Pneumatic belt feeding, the rewinding shaft, and each shaft have an independent tension adjustment mechanisms.
Features of automatic toilet paper rewinder machine
Compact structure, easy to operate
Receiving platform with cutting groove
Rewinding, unwinding, and traction all adopt variable frequency drive technology
PLC programmable controller as the core processing unit
Touch screen as a man-machine dialogue interface
High precision tension control
Automatic attenuation tension taper control
Fixed length deceleration
Fixed-length parking
Forward and reverse function
Static elimination function
Working process of slitting and rewinding machine
First, cut off the burrs of the original paper.
Second, cut the entire base paper into several widths that meet the user's specifications.
Third, control the roll diameter of the finished paper roll to make it meet the factory specifications.
Related Products
As a professional machine equipment supplier, we have a series of slitter rewinding machines for sale. At the same time, we have a tissue paper manufacturing machine, wet wipes making machine, wet wipes production line, nitrile gloves making machine for sale, PE gloves manufacturing machine, sanitary napkin machine, diaper manufacturing machine, and so on. If you have any needs, please feel free to tell us at any time.
Email Address: admin@yugongengineering.com
WhatsApp/WeChat: +86 13613856800