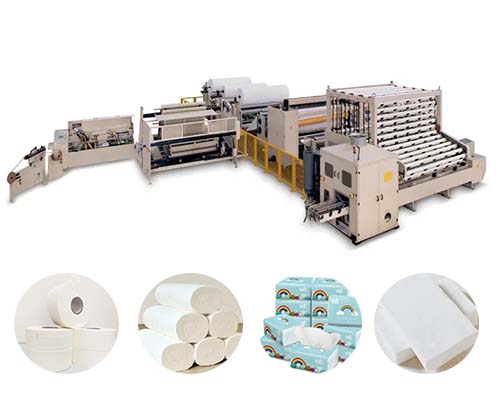 The tissue paper manufacturing machine contains a variety of tissue processing machines to make various tissue paper. Such as toilet paper rolls, paper napkins, facial tissue, etc. The machines involved are toilet paper manufacturing machines, paper rewinding machines, slitting machines, paper core-making machines, packaging machines, and other equipment. Yugong provides a variety of tissue paper production line configurations according to the characteristics and needs of different customers. It meets the needs of large, medium, and small tissue paper manufacturing plants. The automatic toilet paper production line has high production efficiency and various types of toilet paper. It is the best equipment for paper product processing. If you would like to get the tissue paper making machine price and configuration list, please contact us.
Finished Products From Tissue Paper Making Machine
The tissue paper making machine is a general term for the production of tissue paper equipment. The machine can replace the corresponding equipment according to the different types of paper produced by customers. The final paper products that can be produced include tissue paper, roll paper, roll paper, square tissue, facial tissue, and other types of toilet paper. And the diameter and length of the roll paper can be customized.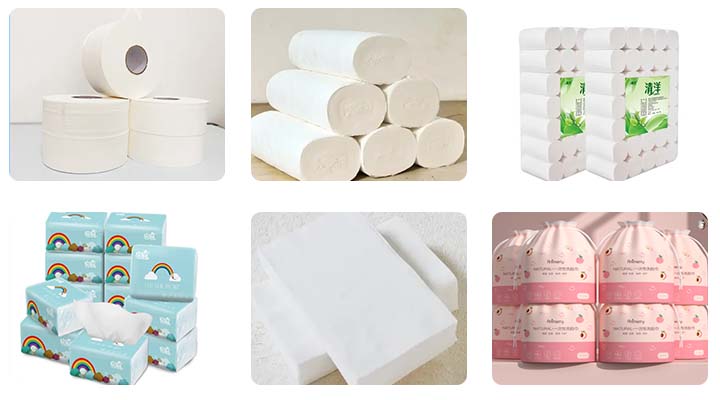 Tissue Paper Production Process
The entire toilet paper production process mainly includes toilet paper Jumbo Roll production, rewinding, slitting, packaging, and other processes.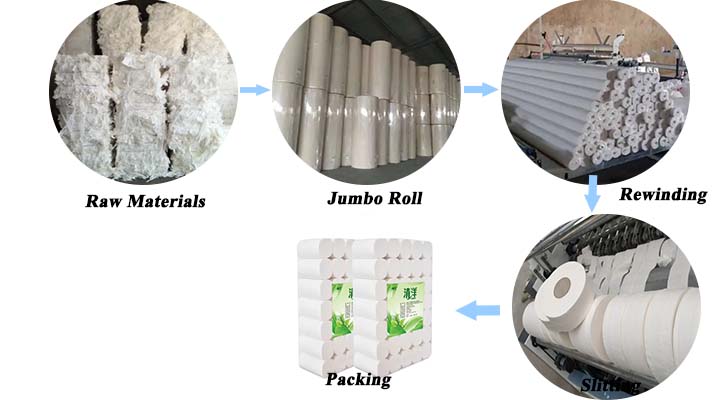 The production of Jumbo roll is mainly to make large rolls of toilet paper raw materials through a series of steps. These steps usually include sizing and streaming, forming, pressing, drying, calendering, and rolling. The production of jumbo rolls is very complicated, and the equipment is expensive. Generally, only large paper mills will buy large tissue paper making equipment to produce toilet paper base paper.
Many small and medium enterprises buy jumbo rolls produced by large paper mills. Then rewind, slit, and package to produce different types and specifications of toilet paper for sale.
Different Configurations Tissue Paper Manufacturing Plant
Yugong tissue paper manufacturing plant has designed several toilet paper production lines with different configurations according to customers with different specifications and needs. It can meet the needs of large, medium, and small-scale tissue paper manufacturers.
Complete Toilet Paper Production Line
A full automatic toilet paper production line is suitable for large paper mills to produce rolls. Its technological process includes raw material, pulping, paper making, rewinding, slitting, packaging, and other processes. The degree of automation of each device is relatively high, and no personnel is required in the production process of each device.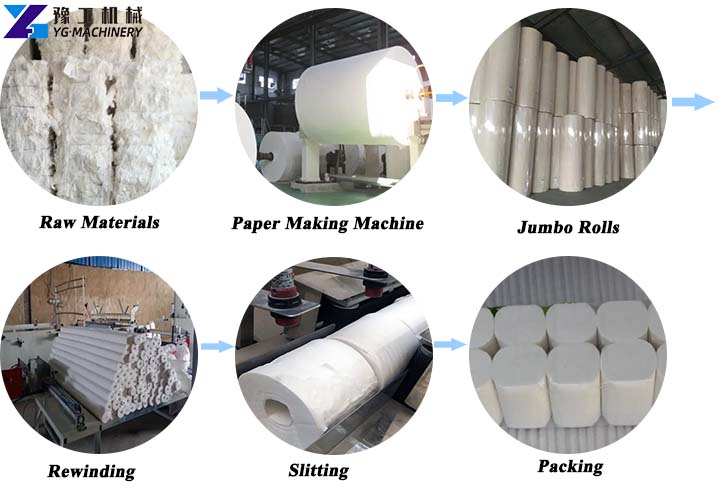 Simple Tissue Roll Paper Production Line
If your paper mill is limited in size and capital, then you can purchase a jumbo roll for reprocessing. The simple tissue paper manufacturing machine includes a rewinder, band saw cutter, water-cooled sealer, and other equipment. So, if you want to buy toilet paper production equipment for your small and medium paper mill, then this simple tissue paper production line will be a good choice.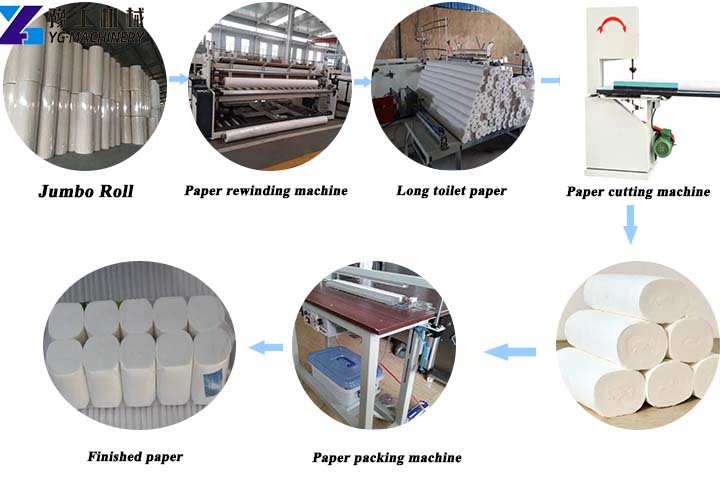 Napkin Production Line
The production of napkins is based on the jumbo roll produced by the paper-making machine, and then matched with a slitting machine, a napkin folding machine, and a packaging machine. This is a relatively simple napkin making machine. If your production scale is relatively large, you can start with the paper-making step.


Simple Facial Tissue Convert Line
Using raw paper as raw material, through the slitting machine, facial tissue folding machine, and packaging machine, the facial tissue can be produced.


Advantages of Tissue Paper Manufacturing Machine
One machine is multi-purpose. One production line can produce many types of tissue paper. Such as roll paper, toilet paper, tissue paper, facial tissue, and other types of paper.
Various configurations. Yugong tissue paper manufacturing machine manufacturers can configure the machines according to the needs of customers. A variety of configuration production lines to meet the needs of large, medium, and small manufacturers.
The high degree of automation. Each tissue paper production equipment is fully automatic, only need to set the parameters, and the machine can run automatically.
High production efficiency. The simple version of the tissue paper manufacturing machine can process about 2 tons of toilet paper in 8 hours.
What is the Manufacturing Cost of Tissue Paper?
The manufacturing cost of tissue paper ranges from a few thousand costs to hundreds of thousands of costs. Because everyone's funds, manpower, factories, etc. are different, it cannot be generalized. If you are new to starting a tissue paper manufacturing business, you can choose a simple tissue paper production line. This simple semi-automatic production line usually requires only two to three pieces of equipment and the investment capital of the equipment ranges from several thousand yuan to tens of thousands of yuan. The price mainly depends on the model and output of the equipment. The larger the output of the equipment, the higher the input cost. If you have enough capital, plant area, and manpower, you can choose a large-scale fully automatic tissue paper production line for mass production.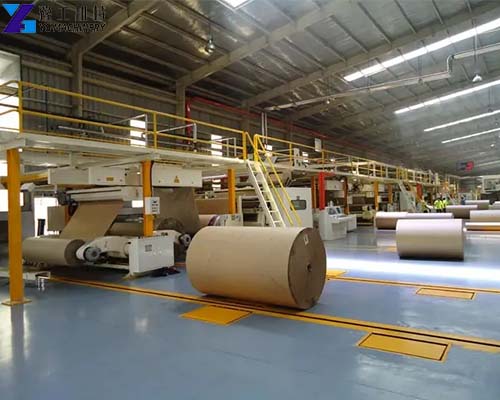 What are the Raw Materials for Making Tissue Paper?
Tissue paper is used for sanitation in people's daily life, so the raw materials for making toilet paper need to use natural and pollution-free raw materials. There are many raw materials for making toilet paper, generally cotton pulp, wood pulp, bamboo pulp, straw pulp, and other materials. Good quality toilet paper is generally made from virgin wood pulp. Tissue paper has strong water absorption, no pathogenic bacteria, even wrinkling, consistent color, and no impurities.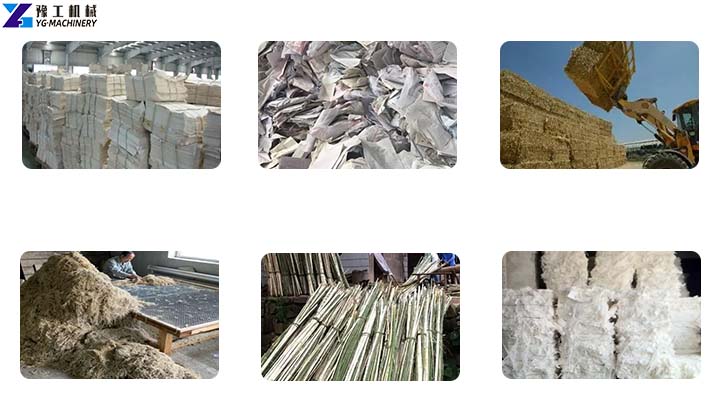 How to Start a Tissue Paper Manufacturing Business?
Research
Before starting a tissue paper manufacturing business, you first need to research the market. Are there any tissue paper processing plants in your market area, what size, and what type and price of tissue paper do they make? Which type and price of tissue paper are sold well locally, these are all things that need to be researched before opening a tissue paper processing factory.
Venue and Equipment
After doing your research, you know what type of tissue paper you should process. Then it is to lease or buy a factory in a suitable location, and then buy the corresponding tissue paper processing equipment. The location of the venue is not demanding, as long as the transportation is convenient. The purchase of a tissue paper manufacturing plant can refer to the above configuration. If you want to know more about tissue paper production line equipment, please contact a YG-professional tissue paper production line manufacturer.
Production and Sales
After preparing the above, you can apply for a production business license with the relevant documents. The process of applying for a business license is very simple and fast. After processing all kinds of documents, you can start manufacturing and selling.
Related Products
As a tissue paper equipment manufacturer, YG not only provides tissue paper manufacturing machines. Yugong also provides paper bag machines, paper cup machines, wet tissue machines, sanitary napkin machines, and other equipment. If you are interested in any of the above equipment, please leave us a message.