YG Machinery Tissue Paper Making Machine Price
YG Machinery is a professional equipment supplier for roll tissue paper-making machines and wet wipe production lines. If you are looking for a tissue paper-making machine price, please contact us. Our sales manager will send a quotation for your reference within 12 hours. This page will introduction tissue paper-making machines in detail.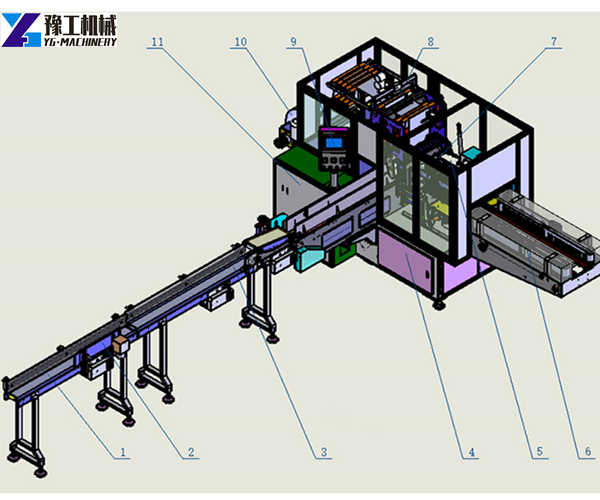 Equipment Composition of Tissue Paper Production Line
Tissue paper production line includes: paper making machine, rewinding cutting machine, paper packaging machine.
Tissue Making Machine
A Paper machine is the general name of a complete set of equipment that makes pulp from the paper web. These include the headbox, wire section, press section, drying section, calendar, paper reel, and transmission section, and auxiliary systems such as steam, water, vacuum, lubrication, and heat recovery. Leave your requirements to get a tissue paper-making machine price.
Process flow: forming section, pressing section, drying section, surface finishing section, transmission system, white water system, auxiliary system.
Paper making raw materials: plant fibers and non-plant fibers (inorganic fibers, chemical fibers, and metal fibers).
At present, the main raw materials for papermaking in the world are plant fibers. And the conifer or hardwood wood used in some economically developed countries accounts for more than 95% of the total consumption.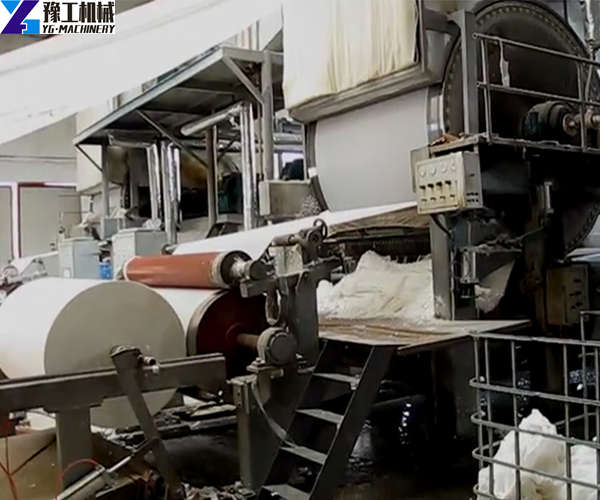 What paper manufacturing machine do you need?
If you are looking for a tissue paper-making machine price, we need to discuss the following items.
What kind of paper do you want to produce?
Which raw materials will be used to produce paper?
What is the grammage (GSM) of the paper (g/m m2)?
The width of the finished paper you need?
What is the daily output of paper (tons/day)?
Is there an on-site venue or factory building? What is the area?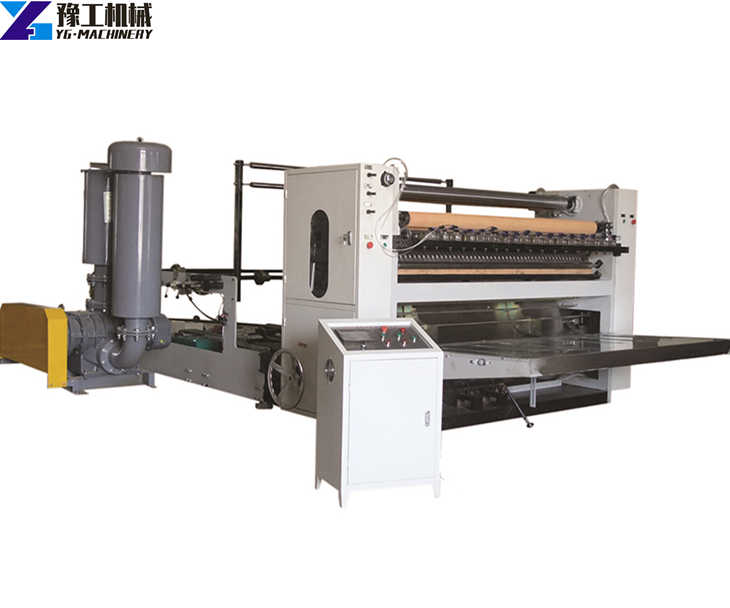 Rewinding cutting machine for sale
Rewinding cutting machine including rewinding machine and paper cutting machine.
The rewinder is the special equipment for paper, mica tape, and film. Its purpose is to rewind the paper rolls (called base paper rolls) produced by the paper machine in sequence. After rewinding, the paper is made into finished paper and leaves the factory. At present, it has become a development trend in the paper-making machinery industry to replace the DC drive with an AC drive in the rewinder. If you want to know the tissue paper-making machine price, please contact us now.
The paper rolled by the paper reel is relatively soft and may be damaged or broken inside. The edges on both sides are not neat. And the width of the paper web cannot be directly used in paper processing or printing machines. Most paper types (such as newsprint, letterpress printing paper, packaging paper, etc.) must be trimmed, slit, and spliced. And re-rolled on the core of the paper roll to form a finished paper roll with a certain specifications and certain tightness requirements before leaving the factory.
The rewinding process mainly completes three tasks. First, cut off the raw edges of the original paper. Second, cut the entire base paper into several widths that meet the user's specifications. Third, control the roll diameter of the finished paper roll to make it meet the factory specifications. If you are looking for a tissue paper machine, please feel free to contact us.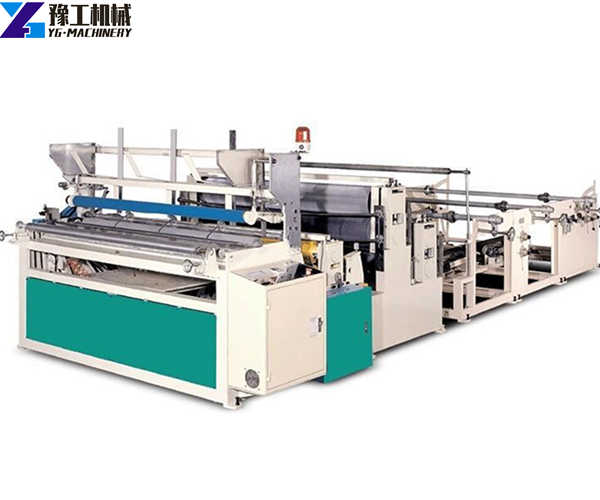 Technical parameters of rewinding cutting machine
Width of base paper: ≤2100mm
Finished product diameter: Φ60~150mm (adjustable elasticity)
The inner diameter of the finished paper core: Φ 32~50mm
Diameter of base paper: Φ1100mm
The inner diameter of the base paper core: is 3″
Punching pitch (please specify): 4 knives, mechanical adjustment 90~180mm;
Rewinding speed: 0-200 m/min
Punching method: pneumatic separation
Paper ejection rack: 1-3 layers
Dimensions (L×W×H): 6500×3100×2600 (mm)
Machine weight: 3500kg
Total power: 4kW
Pneumatic system: 3 HP air compressor, minimum pressure 5kg/cm2 Pa (customer provided)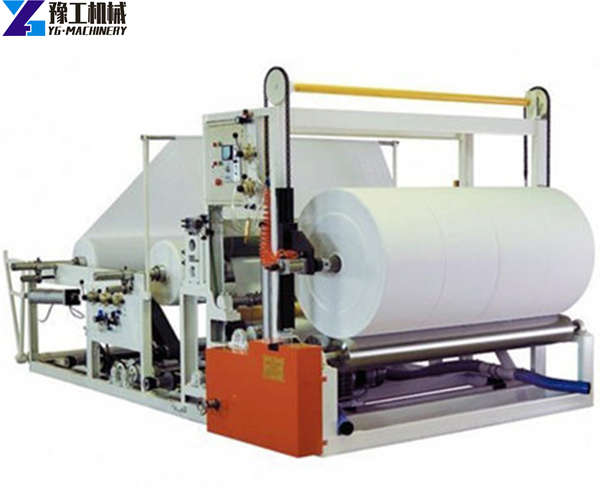 Performance characteristics of rewinding machine
Use Delta programmable controller and touch screen control to maximize the reliability and intelligence of the whole machine.
The full-automatic toilet paper rewinder can process coreless, cored, and roll-tube toilet paper.
Automatic unwinding.
The automatic toilet paper rewinder automatically trims, sprays glue, seals, and draws the shaft instantly and synchronously, so that there is no paper loss when the roll paper is transferred to the band saw for cutting and packaging, thus greatly improving the production efficiency and the grade of the finished product. , The finished product has a paper tail for easy use.
Fully automatic toilet paper rewinder with pneumatic belt feeding, the reel and each axis of the base paper have an independent tension adjustment mechanism.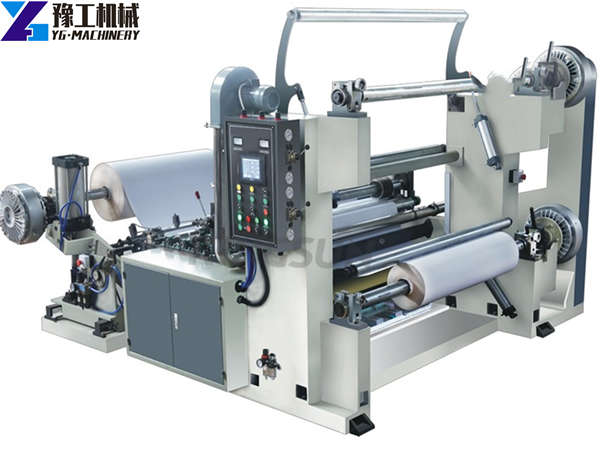 Roll paper cutting machine
Roll paper cutting machine suitable for slitting cored and coreless roll paper.
Technical parameters of paper cutting machine
Rated speed: 150 cuts/min
Design speed: 170 cuts/min
Cutting diameter: φ60—φ130(mm)
Total power: 6.2kW
Cutter motor: 2.2kW
Conveying servo motor: 1kW
Rotary cutter motor: 3kW
Machine noise: ≤65dB
Compressed air: 0.5-0.8MPa
Overall dimensions (length×width×height): 5350×1500×1850(mm)
Machine net weight: about 1500kg
Power supply: 380V/50Hz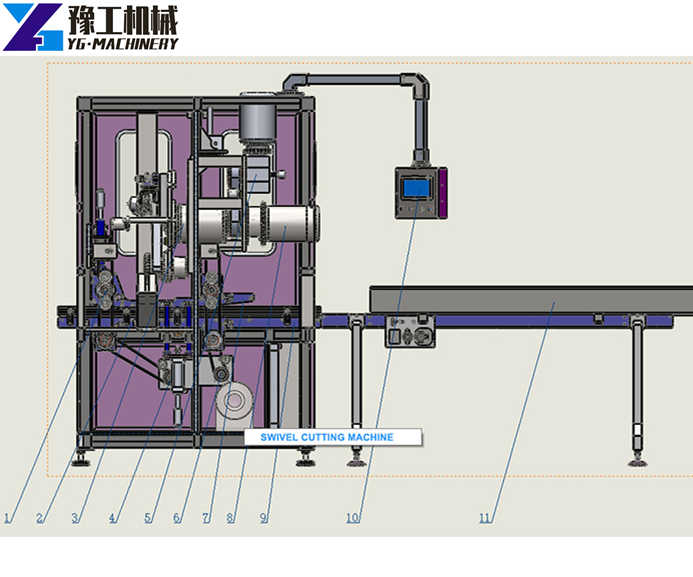 Performance characteristics
Adopt an Omron programmable controller, SICK sensor, touch screen, and servo motor control to maximize the reliability and intelligence of the whole machine.
The minimum diameter of the disc cutter can be up to 400 mm.
The sharpening frequency and grinding wheel feed frequency can be set on the touch screen according to the number of cuts to automatically sharpen the knife.
Low power consumption, the whole machine is 6.2kW.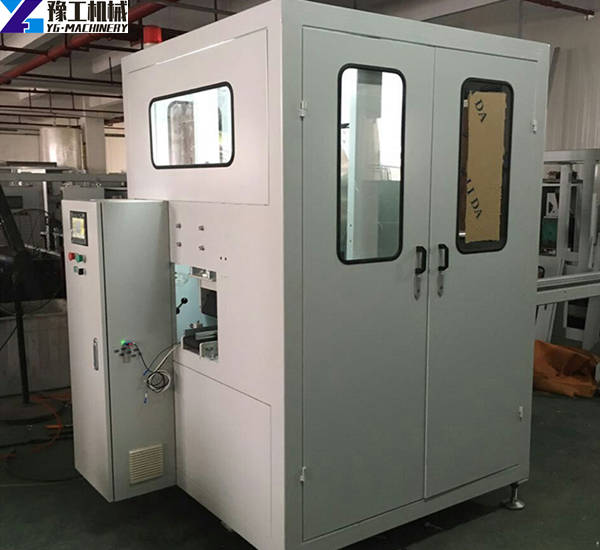 Tissue paper packaging machine
YG roll paper packaging machine is suitable for packing regular materials such as cylinder paper. The whole machine is composed of an automatic material sorting part, the main machine part of the tissue paper packaging machine, and aside ironing part, and a control part. Send your requirement to get tissue paper making machine price.
Technical Parameters of paper packing machine
Rated speed: 110bages/min
Design speed: 120bages/min
Packing specification: length 100-140mm, diameter φ60-φ140mm
Total power: 4.24kW
Machine noise: ≤70dB
Machine net weight: about 1500kg
Overall dimensions (length×width×height): 6730×1310×1480 (mm)
Power supply: 380v, 50Hz
Packaging materials: BOPP, PE/OPP, CPP, PP, etc.
If you are looking for a professional tissue paper manufacturing machine manufacturer, YG Machinery will be your ideal choice. Please feel free to tell us your requirements, our sales manager will send tissue paper making machine price to you shortly.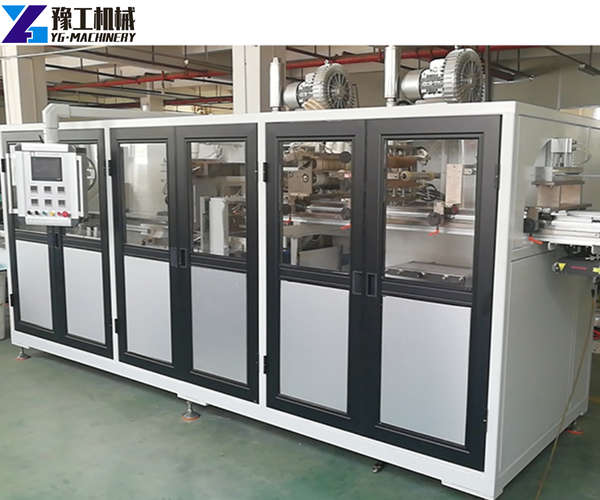 Performance characteristics
Using Panasonic inverter, Omron PLC control, reducing mechanical contacts, low system failure rate, more stable and reliable operation.
This machine adopts gear chain-type continuously variable transmission, and the length of the packaging bag can be changed by rotating the handle.
Digital display function, which can directly display bag length, packaging speed, sealing temperature, output, etc.
The two-way photoelectric tracking system can ensure that the film is cut at the required position and the cut point is accurate.
The automatic positioning and parking function can ensure that the film will not be burned when the machine is stopped. The leakage protection switch installed in this machine can ensure the safety of people and machines.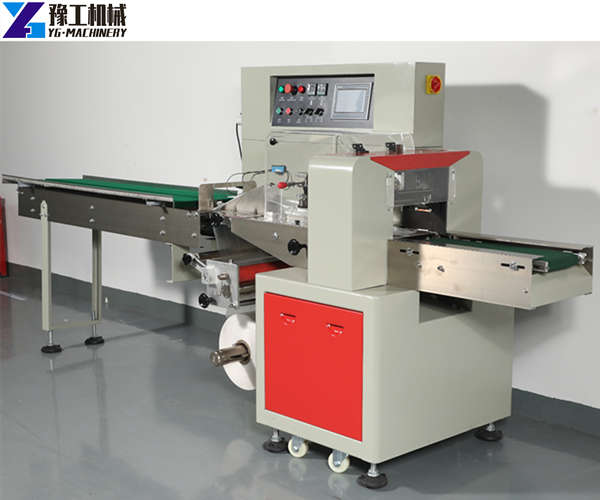 Related products
As a professional machinery production line supplier, we also have paper rewinding machine, wet wipes-making machine, wet wipes production line, gloves-making machine, and so on. If you have any questions, you can leave your message by the following Message Form. Or you can discuss with our customer service online.