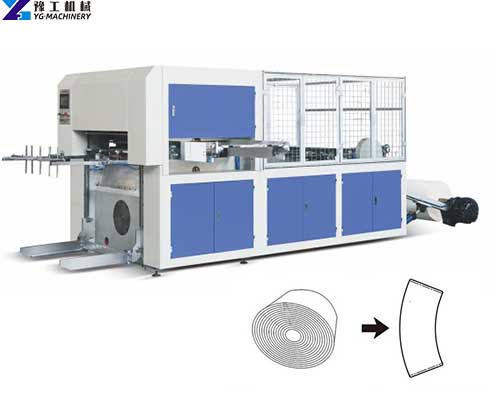 The roll die cutting machine is a device that cuts the printed roll paper or sheet paper into fan-shaped sheets. It generally uses with the paper cup printing machine and the paper cup making machine, and the die-cutting machine and the printing machine are unified typesettings. YG provides various types of paper cup die-cutting machines to meet the needs of customers with different specifications. This equipment die-cuts the roll paper at one time, and the sample cut is relatively smooth. The punching machine meets the die-cutting needs of disposable paper cups, cartons, and other products.
Paper Cup Die Cutting Machine Types
YG paper cup making machine manufacturer provides three types of die cutting machines. Automatic roll paper die cutters, flatbed die cutters, and semi-automatic creasing machines. The automatic paper roll die punching machine die-cuts the web, and separates the cut paper from the waste. The flat die-cutting machine is also mainly used for cutting roll paper, but the die-cut paper and waste need to be separated manually. The semi-automatic indentation machine requires manual operation for indentation, and the price is relatively low, but it has certain risks. The following are the parameters of these die-cutting machines.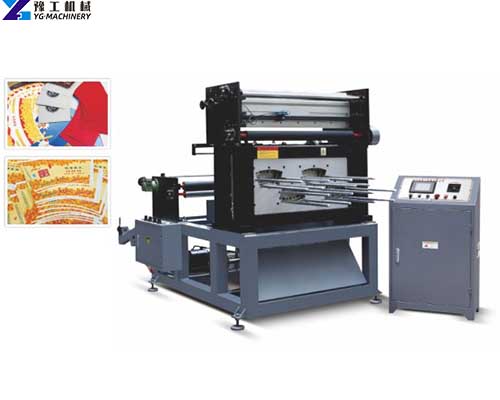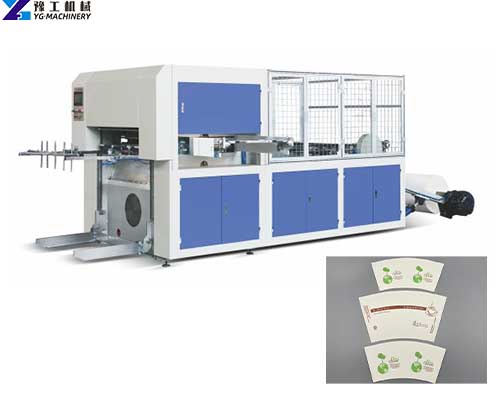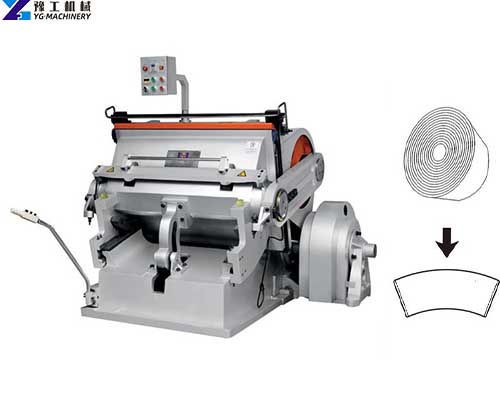 Parameters Of Roll Die Cutting Machine
Model
YG-850
Cutting style
The punching style for roll paper
Cutting speed
150-200times/min
Applicable base paper specifications
125-350g/m² roll of paper
Width Range:360-850m²
Diameter of roll paper
<1.5m
Speed of feeding paper
>35m/min
Compressed air
0.2mm/min,0.5MPA
Length of guide roll surface
950mm
Main power
4kw
Total power
8.5kw
Weight
3T
Main size
2.9*1.4*1.7m
Electrical box size
0.7*0.7m*1.35m
The above 850 model paper cup die-cutting machine uses roll paper as a raw material. It adopts automatic die-cutting die-cutting technology, which can realize roll paper slitting, die-cutting, and stripping. This equipment eliminates the slitting link in the traditional process and directly punches out the samples, which greatly improves work efficiency.
| | |
| --- | --- |
| Model | YG-950 |
| Press Mark Max.Area | 950*550mm |
| Press cut line length | <25m |
| Working speed | 90-120 times/min |
| Main motor power | 7.5kw |
| Applicable paper | 150~450g/m² |
| Air source | 1.5m³/min;0.5-0.7MPA |
| Weight | 6.2T |
| Dimension | 5.0*2.1*2.0m |
The 950 model roll die cutting machine is a device for pressing and cutting various ordinary paper and coated paper. It is production equipment for printing, packaging, paper cups, and other paper container industries.
Paper Cup Fan Die Cutting Machine Application
The paper cup fan die-punching machine is an important piece of equipment for die-cutting paper products. It is suitable for die cutting of roll paper cups, paper plates, cup lids, etc. It is an ideal equipment for die-cutting various paper products such as disposable paper cups, paper bowls, paper boxes, and trademarks.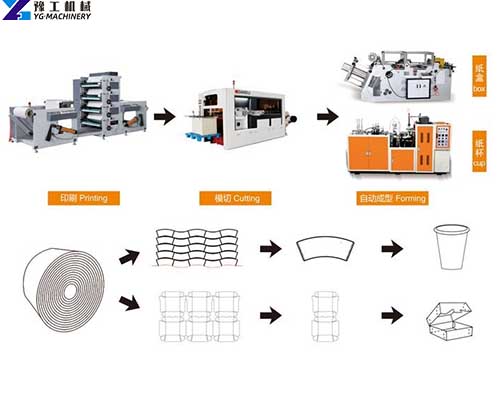 How To Choose Suitable Die Cutting Machine For Paper Cup?
For manufacturers engaged in the production and processing of paper cups, cartons, and other paper products, different capital investments or factory specifications may result in different roll die cutting machine choices.
For large-scale factories, equipment, and capital investment are relatively sufficient, automatic die-cutting machines can be considered, and production efficiency will be relatively high.
For small and medium-sized factories, a flat-bed die-cutting machine can be considered to manually separate paper pieces and waste
For manufacturers who initially invest in the paper cup-making business, you can consider buying die-cut and printed fan-shaped pieces directly, and then using paper cup-forming machines to form them.
Please purchase a suitable paper cup fan roll die cutting machine according to your actual production scale and production needs. YG also supplies related paper cup manufacturing machines, such as printing machines, forming machines, paper cup sleeve machines, etc. If you have any questions, please leave us a message.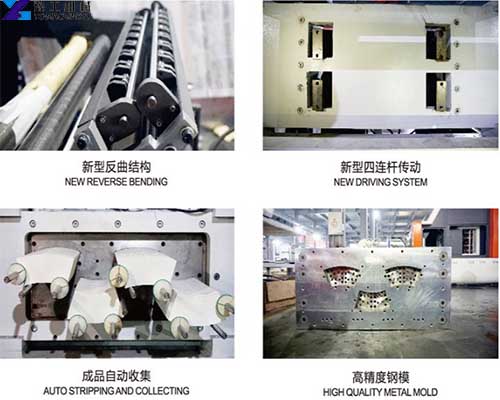 Paper Roll Die Cutting Machine Features
YG provides various types of die cutting machines to meet the needs of customers with different product specifications.
The die-cutting machine meets the die-cutting needs of disposable paper cups, paper bowls, etc.
The key parts of the machine adopt advanced resin sand technology, and the machine runs smoothly
Equipped with an automatic deviation correction device, it can realize stable and accurate feeding with a small error range.
The samples punched out by the automatic die-cutting equipment are cut smoothly, with a high degree of automation and reduced labor costs.
It adopts a professional high-precision gap-feeding mechanism and automatically feeds the paper to realize smooth paper feeding, accurate positioning, and neat paper delivery.
The whole machine adopts an intelligent PLC computer control system to realize the automation of the whole work process.