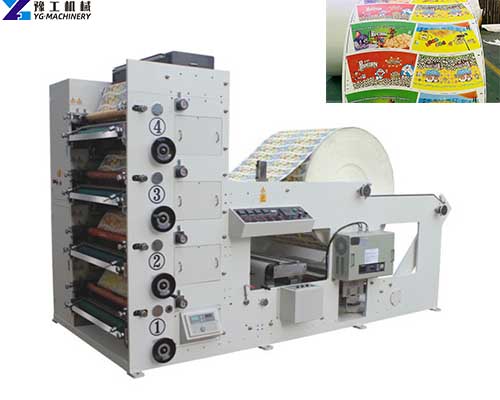 The paper cup printing machine is a flexo printing machine, which is a device for printing patterns on paper cup base paper or die-cut paper. The flexo paper cup printing machine can transport normal-width and irregular shape paper and can print self-adhesive, coated paper, plastic film, and other materials. The paper cup fan printing machine completes the printing process at one time, with a high degree of automation, no blurring, and no falling off. It is the best equipment for paper cup printing.

Printing Sample Show
This paper cup flexo printing machine can be widely used in printing paper cups, bag making, pharmaceutical packaging, non-woven fabrics, plastic films, and other flexible packaging materials. This machine generally uses with the paper cup roll die cutting machine.



Paper Cup Printing Machine Models
| | |
| --- | --- |
| Maximum printing width | 850mm |
| Plate repeat length | 181~450mm |
| Maximum unwinding diameter | 1000mm |
| Maximum recovery diameter | 1000mm |
| Registration accuracy | ±0.12mm |
| Gear specification | 1/8cp |
| Maximum machine speed | 100m/min |
| Plate thickness | 1.7mm |
| Plate thickness | 0.38mm |
| Suitable printing material | 30-300gsm paper printing |
| Host Color | white |
| Operation language | Chinese and English logo |
| Operation console | located in front of the printing unit |
| Air pressure requirements | 100PSI (0.6Mpa), clean, dry, oil-free compressed air. |
| Power supply demand | 380V±10% 3PH phase 50HZ |
| Tension control range | 10-100KG |
| Tension control accuracy | ±0.5kg |
| Drying method | ordinary IR, optional (UV) |
| Heating oven maximum temperature | 80℃ |
Note: The above are the parameters of the 4-color printing machine. In addition, YG also provides 2-color, 6-color, 8-color, and other types of flexographic printing machines and letterpress printing machines. Please leave us a message to get the paper cup printing machine price.
How Does The Flexo Printing Machine To Print Paper Cups?
The paper cups printing process paper mainly goes through the processes of feeding, printing, coating, die-cutting, slitting, automatic deviation correction, and winding. Each step controls by the individual components of the flexo printing press. Therefore flexo paper cup fan printing machine
It is mainly composed of an unwinding unit, printing unit, drying system, winding unit, control system, and other units. During printing, rolls of base paper are placed on the unwinding unit, and the base paper is wound on the printing machine for printing. After printing, the printed paper is dried, and the winding is completed.


Paper Cup Printing Machine Advantages
Quick response. The output per unit time is high, the time utilization rate is high, and the benefit is good.
Support customization. The printing sample can be customized according to customer needs.
Stable performance. Carefully select high-quality raw materials to make machines, the product quality is guaranteed, and the structure is stable.
Easy to use. A high degree of automation, simple operation, convenient use, saving time and effort.
Complete printing in one go. Unwinding, printing, drying, and winding can be completed at one time. It is ideal supporting equipment for paper cup machines and paper bowl machines.
The high degree of intelligence. The ink roller is automatically detached when the machine stops and runs at a low speed to prevent the ink from drying out.
Automatic deviation correction. An automatic deviation correction system is set to keep the roll paper in the correct position during the whole production process.
Customized Service
As a paper cup machine manufacturer, YG provides a complete paper cup manufacturing machine. Such as printing machines, die-cutting machines, paper cup manufacturing machines, paper cup sleeve machines, and other equipment. And YG also supports customized services, no matter what kind of pattern you want to print, please send us your printing style, and YG will customize the equipment for you according to your needs.