The mist cannon dust suppression provided by YG has been welcomed by many customers. YG's fog cannon machine models include 30, 40, 60, 80, 100, and other models. The number of each model represents the furthest distance it can spray. For example, YG-80 means that the farthest distance that the machine can spray is 80m. Every kind of mist cannon dust suppression provided by YG can be installed on trucks, tractors, and platforms for spraying. Contact YG dust suppression system manufacturer for the fog cannon price.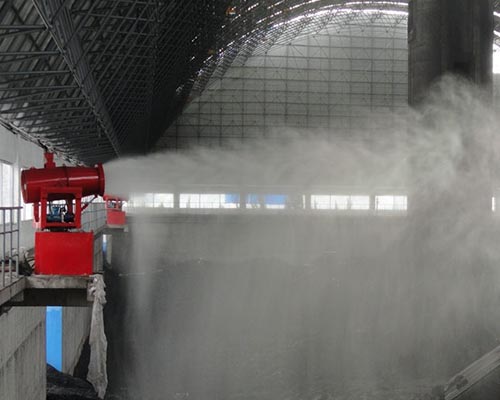 80 Model Mist Cannon Dust Suppression Machine Parameters
| | |
| --- | --- |
| Machine Size | 2.7*2.0*2.3 |
| Rotating motor | 0.4kw |
| Air duct inner diameter | 1000m |
| The inner diameter of the air outlet | 850m |
| Water pump motor | 11kw |
| Pump flow | 2850R/MIN |
| Effective range | 80M |
| Operation | Manual, remote control |
| Pitch angle | 0~60℃ |
| Remote control distance | 150 meters effective distance |
| Atomized particles | 30~150um |
| Fog sending distance | 80m |
| Air supply distance | 75m |
The maximum shooting range of the YG-80 environmental protection fog cannon dust suppression machine can reach 80m. The jet fan of this equipment adopts superfluid technology, and the air volume of the air outlet reaches a large critical value. The spraying device adopts stainless steel, and the nozzles are imported nozzles.
Dust Suppression Case

Dust suppression system in coal handling plant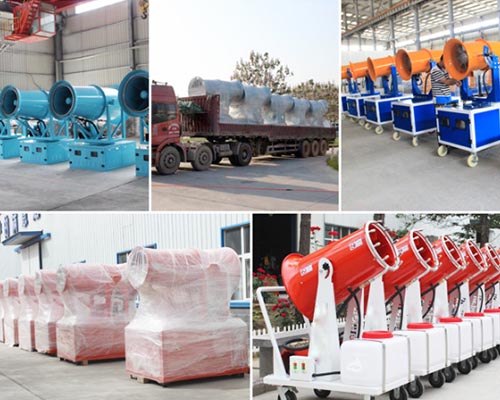 Environmental Protection Mist Cannon Dust Suppression Application
YG environmental protection fog cannon machine is widely used in dust pollution control, cooling and disinfection, and other purposes.
It is suitable for dust pollution control such as open-air material duets, logistics parks, open-pit mining, unloading dust, and coastal port shipment.
The equipment can be applied to control dust pollution generated during construction and demolition, construction waste or waste unloading, and heavy vehicle transportation.
Cooling and disinfection treatment of airports, highways, docks, sports fields, hot venues, etc.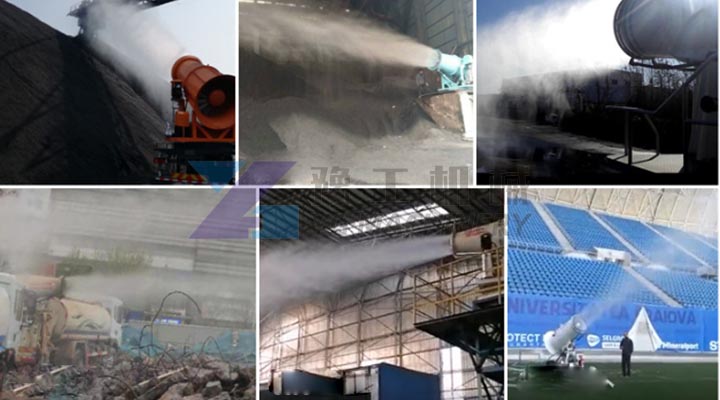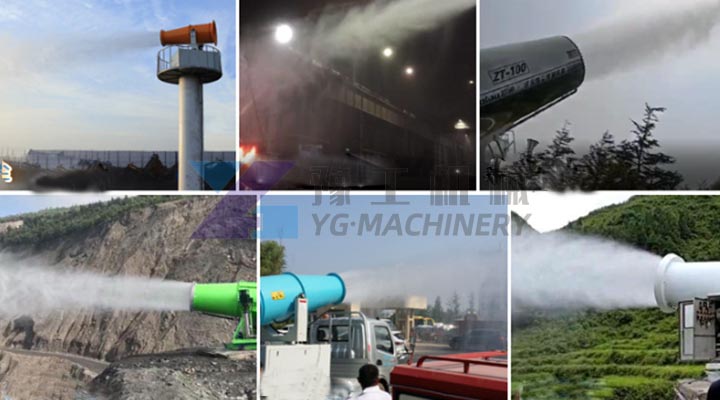 What Factors Affect the Mist Cannon Dust Suppression Price?
When measuring the machine price, the material of the device is usually an aspect that affects its price. The spray device of the YG fog cannon machine adopts stainless steel, the nozzle is the imported nozzle, and the motor is the imported motor. High-quality equipment materials will make the equipment run more smoothly and have a longer service life. In addition, market supply and demand will also have an impact on the price of the fog cannon. Generally speaking, there are more varieties of products supplied in the market, and the prices will be relatively lower. If there is more demand in the market and less product is supplied, the machine price will be higher. There will also be certain differences in shipping costs to different countries and regions. Therefore, if you want to know the YG mist cannon dust suppression price, please contact us to get a quotation.