The disposable paper cups that people use when they gather for tea in daily life are called paper tea cups. This disposable paper cup greatly facilitates people's daily life. Commercially mass-produced paper cups are produced using an automatic paper tea cup machine. The paper cup machine can realize one-time production from raw materials to finished products. In order to meet customers' one-stop paper cup production needs, the YG paper tea cup making machine manufacturer provides all equipment for the production of paper tea cups. Such as paper cup printing machines, die-cutting machines, paper cup sleeve machines, and so on. In addition, paper tea cup machinery can also be used to produce paper coffee cups, ice cream cups, popcorn cups, and other products. If you want to know disposable tea cup making machine price, please leave us a message.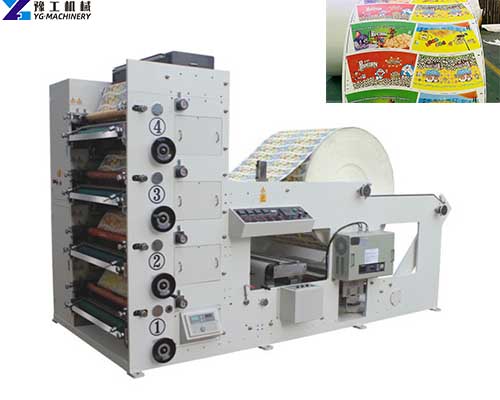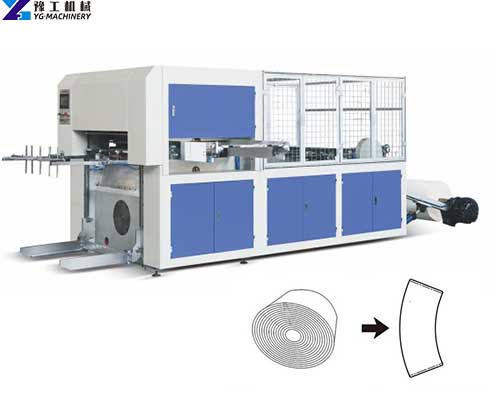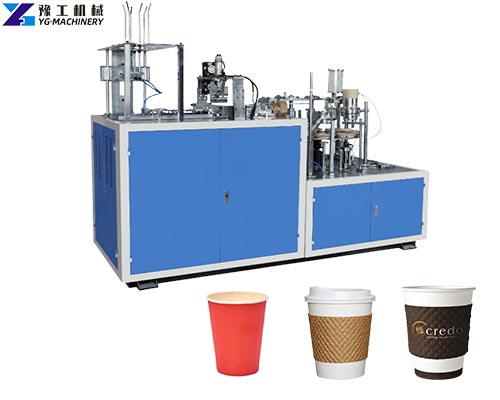 Paper Tea Cup Machine Technical Parameters
| | |
| --- | --- |
| Paper Cup Specifications | 3-12oz(customized and changeable) |
| paper cup material | 180-300g/㎡(Single- or double-sided coated paper) |
| Production speed | 70-90pcs/min |
| power supply | 380v 50hz / 220 50hz |
| Total power | 6kw |
| Air source | 0.4-0.5m3/min |
| Weight | 2500kg |
| Machine size | 2600x1200x1580mm(LxWxH) |
The above list is just another model parameter of the paper tea cup machine. YG also provides 90-120pcs/min and 120-150pcs/min models. YG's paper tea cup making machine can make 2-9oz, and 3-16oz paper tea cups. In addition, other large or small size paper tea cups can also be customized.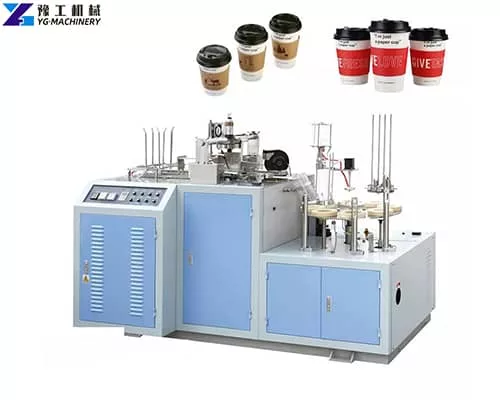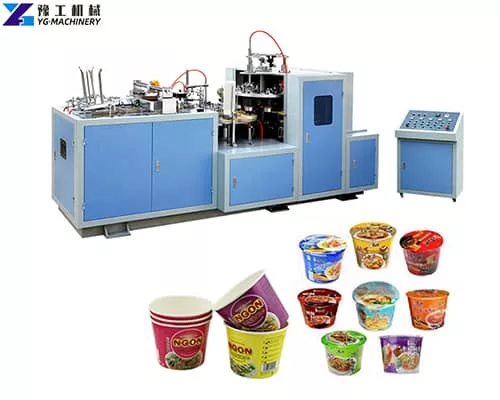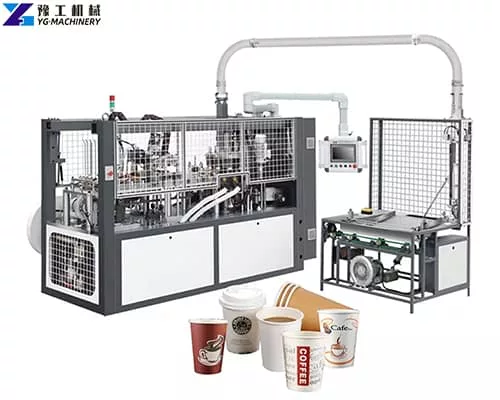 How To Make Paper Tea Cups?
The forming of paper cups requires to use of an automatic forming paper tea cup making machine. It produces paper tea cups through continuous processes such as automatic paper feeding, sealing, oiling, heating, knurling, crimping, and cup collection. The specific production process is as follows:
Put the printed and die-cut fan-shaped piece and the negative into the corresponding position. The paper tea cup machine automatically processes the fan-shaped piece into a cylindrical shape. The bottom and body of the cup are then bonded by thermoforming. After the two are bonded, there will be hot air blowing and bonding. While the bottom is glued, a layer of impression is rolled by mechanical movement. The last step is the curling step, which is to curl the mouth of the paper cup.

What Are The Raw Materials For Producing Paper Tea Cups?
We use paper tea cups for drinking water, so it is food-grade material. The general raw materials of paper cups are food-grade wood pulp paper + food-grade PE film. According to different uses, the raw paper can be divided into single-coated and double-coated. Paper cups made with a single coating are usually used to hold hot tea; while double-coated paper cups are used to hold cold drinks.


Advantages Of YG Paper Tea Cup Machine
The paper tea cup machine produced by YG has been welcomed by domestic and foreign customers. Our paper tea cup making machine is not only competitive in price but also has advantages that other suppliers do not have.
The indexing box we use is 125 type, and the general machine is 100 type.
The 125 type is larger than the 100 type, and the output is more stable and the service life is longer.
The reducer we use adopts the 1:30 100 type, and the general machine adopts the 1:20 80 type.
The output of 1:30 100 is more stable and the service life is extended.
We use 2 times paper feeding, and the general machine only uses one-time paper feeding.
The machine is more stable by adopting 2 times paper feeding, eliminating the problem of paper warping.
We use multi-layer suction skin of silica gel, and the general machine adopts single-layer suction skin of silica gel.
Our company adopts multi-layer suction skin of silica gel, which has stronger suction and eliminates the problem of leakage.
How To Buy Tea Cup Manufacturing Machine?
If you want to buy a tea cup manufacturing machine for your paper cup production business, please make sure of the following aspects:
The paper weight of the cup you want to produce, whether to use single-coated or double-coated paper.
The size and dimensions of your paper tea cups
What is your production output?
According to the above factors, YG paper tea cup making machine manufacturers can recommend suitable paper and paper tea cup making machines for you according to your needs. If you have other questions, please contact YG without hesitation.


Why Choose YG Paper Cup Machine Manufacturer?
Established in 2005, YG paper cup machine manufacturer is a supplier integrating mechanical research and development, production, manufacturing, and sales. After years of development, YG currently has more than 200 employees, including 20 in the R&D team, 40 in the manufacturing team, and 20 in the after-sales team. The paper cup machines produced by YG are directly sold to paper cup manufacturers at competitive factory prices. Moreover, YG provides comprehensive pre-sales and after-sales services for all customers. No matter if you have any problems in the process of using the machine, YG will help you solve them the first time. If you want to know more about YG or our paper cup machines, please contact us.