Mobile Concrete Pump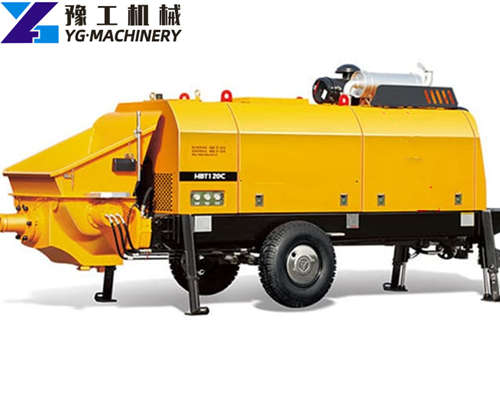 Mobile Concrete Pump For Sale
The mobile concrete pump, also known as the portable concrete pump. A concrete pump machine is composed of a pump body and a conveying pipe. It is a machine that uses pressure to continuously transport concrete along pipelines. Mobile concrete pump is mainly used in the construction of houses, bridges, and tunnels. At present, the mobile concrete pump trailer is mainly divided into gate valve concrete pump and S valve concrete pump. The other is to install the pump body on the chassis of the car, and then equip it with a retractable or flexural placing boom to form a small concrete pump truck. Which kind of concrete pump do you need? Please leave your message.
Electric Concrete Pump Parameter
Diesel Concrete Pump Parameter
Portable Concrete Pump Classification
According to the structure and purpose, the concrete pump machine is divided into trailer concrete pump, truck-mounted concrete pump, and concrete pump truck. According to the power type, the mobile concrete pump is divided into a small electric concrete pump and a diesel-powered concrete pump. Contact us to get the mobile concrete pump price if you are looking for it.
Email Address: admin@yugongengineering.com
WhatsApp/WeChat: +86 15037187716
S-valve Concrete Pump For Sale
The S-valve concrete pump belongs to a closed system with good sealing performance, high conveying pressure, high pumping height but high requirements for materials. The gate valve type is an open system, with easy feeding, relatively low sealing, low conveying pressure, low conveying height, but low material requirements. S-valve concrete pumps are highly popular in the market. Therefore, YG Machinery mainly sells S valve concrete pump types.
Performance characteristics of concrete pump
The triple pump system and hydraulic circuit do not interfere with each other, and the system operates smoothly.
It has the function of the reverse pump, which is conducive to eliminating the pipe blockage fault in time and can be shut down for a short time.
The advanced s-pipe distribution valve can automatically compensate for the wear clearance and has good sealing performance.
Wear-resistant alloy spectacle plate and floating cutting ring are adopted, with long service life.
The long-stroke material cylinder extends the service life of the material cylinder and piston.
The optimized hopper is easy to clean and has better material suction performance.
An automatic centralized lubrication system ensures effective lubrication during machine operation.
With the function of remote control, the operation is more safe and convenient.
All parts adopt national standards with good interchangeability.
YG Mobile Concrete Pump For Sale
YG Machinery is located in Zhengzhou City, Henan Province, specializing in the production of concrete pumps. The company independently developed and manufactured HBT series concrete pumps, small concrete pumps, mixing and conveying integrated machines, shotcrete pumps, and mini concrete pumps, etc., which have been well received by the majority of construction units, and they have effectively improved the project progress.
Sales Regions
As a professional manufacturer of export construction machinery, YG Machinery's concrete pumps, mortar sprayer machine, shotcrete machines, cement mixing and conveying integrated machines, sandblasting machines, and other series of products are exported to more than 30 countries and areas. Especially the United States, India, Pakistan, Philippines, Malaysia, Singapore, Nepal, Chile, Canada, Britain, Portugal, Vietnam, Kenya, Turkey, Saudi Arabia, and other countries and regions. If you are looking for concrete pumps with reliable quality and favorable prices, YG Machinery is definitely your best choice.
[my_redirect url="https://yugongengineering.com/small-concrete-pump/"]