The hose crimping machine is also called a hose swaging machine, which is a kind of hose shrinking machine. It is a general term for hydraulic equipment used for crimping pipe fittings. The crimping pressure is applied through the mold to firmly crimp it on the steel wire hose of the quilt. Hydraulic hose swaging machine is widely used in the crimping of high and low-pressure hoses, air pipes, water pipes, cable joints, and air-conditioning pipes. The hose crimping machine is small in size, easy to operate, non-polluting, and high in efficiency. It has been widely used in vehicles, engineering machinery, hydraulic machinery, welding and cutting equipment, and other industries.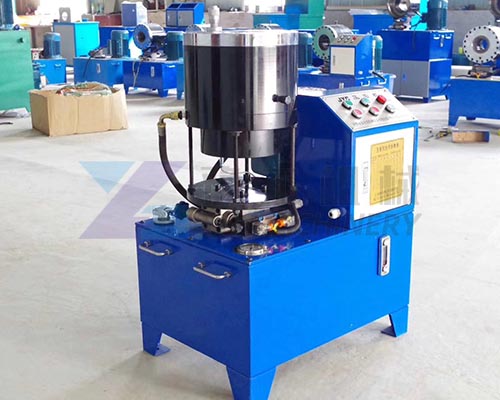 Hydraulic Hose Crimping Machine Application
Construction steel pipe shrinking machine steel vanadium is used in the shrinking butt joint of steel pipes in the construction industry, the diameter reduction and deformation of construction steel pipes, etc.
The waste steel pipes are reused, the steel pipes are lengthened, and the joints are shortened to be used as casing machines.
Withholding of construction accessories and daily hot water pipes
Withholding oil pipes, air pipes, water pipes, cable joints, automobile air conditioning pipes, automobile power steering pipes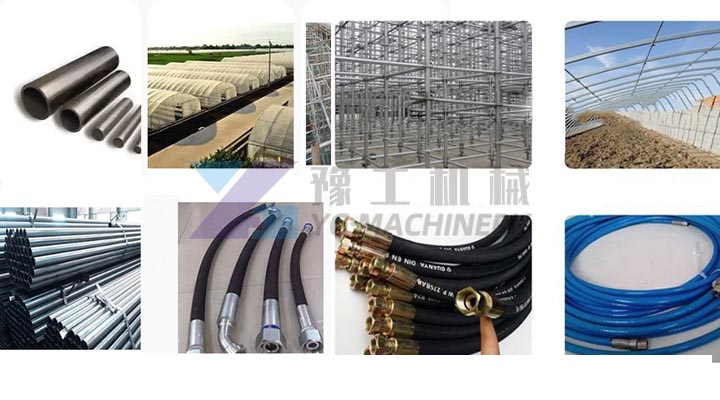 Models of Hose Crimping Swaging Machine
| | | |
| --- | --- | --- |
| Model | YG-48 | YG-58 |
| The scope of work | Can buckle ϕ48~ϕ57 construction tube | Can buckle ϕ48~ϕ60 construction tube |
| Power | 4KW | 5.5KW |
| Maximum mouth opening | 120mm | 135mm |
| Amount of expansion | ±25mm | ±30mm |
| Mouth opening time | ≤2S | ≤2S |
| Mouth Closing time | ≤7S | ≤3S |
| Standard Mold Numbers | Casings and Connections | Casings and Connections |
| System pressure | 31.5MPA | 35MPA |
| Weight | 240kg | 320kg |
| Machine size | 0.7*0.45*1.05m | 08*0.5*1.1m |
Two Types of Pipe Crimping Machines For Sale
YG provides two types of pipe shrinking machines for sale, vertical, vertical and horizontal steel pipe-shrinking machines.
The vertical crimping machine can shrink 48 steel pipe inner sleeves and process 57 outer sleeves. One machine is dual-purpose, and the functions of the two sets of molds are different.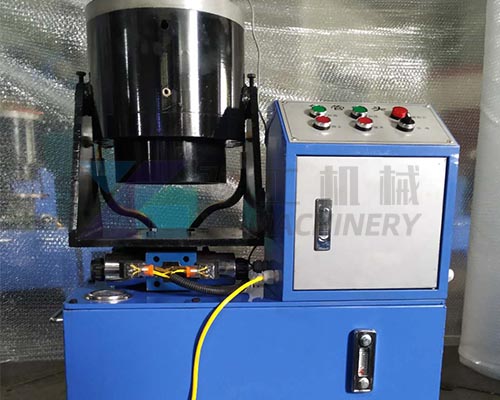 Vertical and horizontal dual-purpose steel pipe shrinker machine shrinks 48 inner sleeves and connects steel pipes, one machine for dual purposes, and two sets of molds are different and have different functions.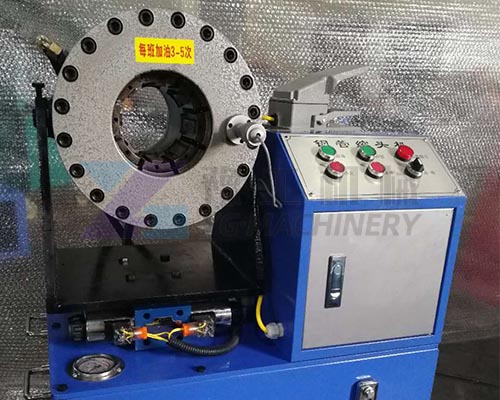 How Does the Pipe Shrinking Machine Work?
The hose shrinking machine is driven by hydraulic pressure. The oil pump is driven by the motor, and the output hydraulic oil pushes the piston to reciprocate. The piston makes the pressing block push the mold base to make the mold base shrink radially to realize the crimping of the rubber hose. When the shrinkage reaches the set value, the crimping will stop automatically. The electromagnetic steering valve is reversed, the plunger in the cylinder moves reversely, the mold is opened, and the rubber hose is released.
Machine Details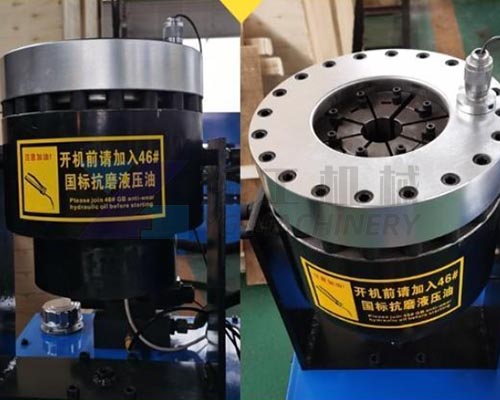 Double dust-proof machine head, good effect of dust-proof oil seal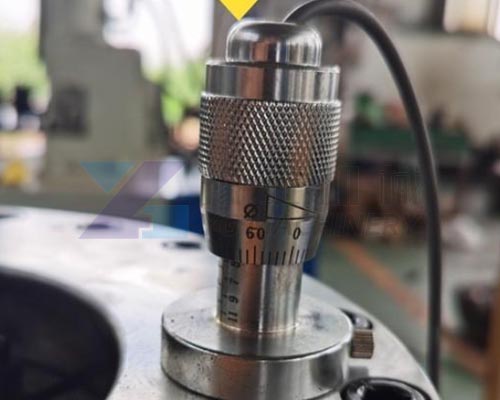 Spiral micrometer, rotating and fine-tuning positioning, high efficiency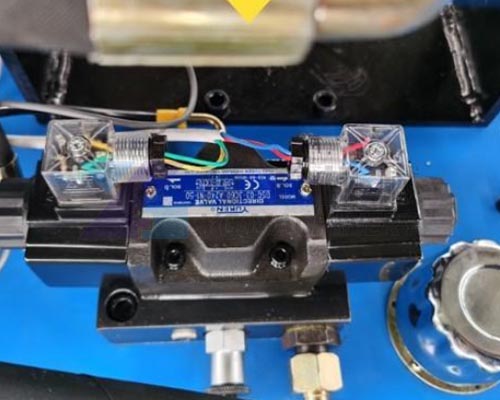 Electromagnetic steering valve, high sensitivity, strong sealing, high-pressure bearing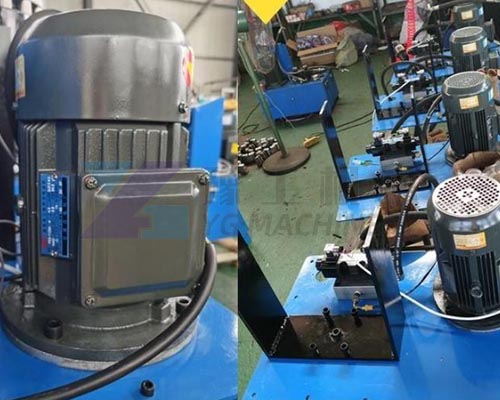 High-power copper core motor, strong power, fast heat dissipation, and long service life.
Advantages of Hydraulic Hose Crimping Machine
Automatic welding, beautiful welding, high efficiency, and low cost.
There are two kinds of vertical shrinking machines, vertical and horizontal crimping machines, and automatic equipment.
It has the characteristics of short processing and forming time, high efficiency, smooth processing, and slight scars.
It is easy to change the mold and can process metal tubes of different shapes by changing different molds.
Widely used in urban construction, engineering machinery, hydraulic machinery, oil fields, and other industries.
The necking effect is good, saving time and effort, and greatly improving production efficiency.
No welding, material saving, good performance of repeated assembly and disassembly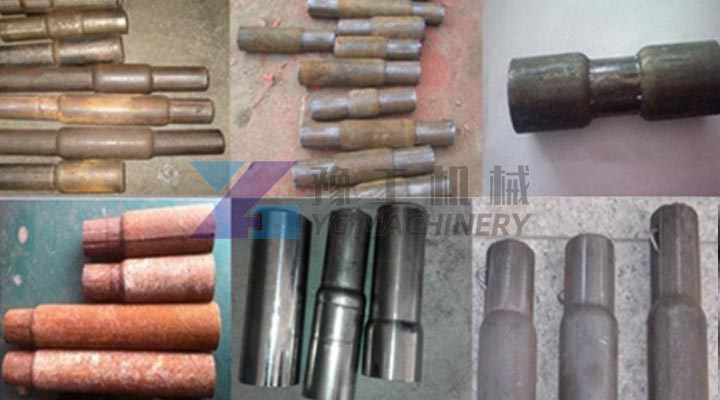 Precautions For Use
When using a hose crimping machine to crimp the joints at both ends of the hose, it is not appropriate to crimp too much or too little. If the amount of crimping is too small, the joint will be too loose, and the head may come off. If the amount of withholding is too high, there will be excessive decompression between the joint and the hose, which will damage the inner rubber and cause bubbling. In addition, when using a hydraulic tube compression machine to crimp, the speed should not be too fast. Too fast a crimping speed will cause the inner rubber and steel wire layer to break, reducing the service life of the hose.
Related Rebar Processing Machine
YG engineering machine also supplies other rebar processing machines. Such as punching and shearing machines, Rebar Upsetting Machines, Rebar Bending Machines, rebar thread rolling machines, Rebar Straightening and Cutting Machines, and other equipment.