Cooking oil bottle making machine is suitable for blowing large diameter PET plastic bottles. It is suitable for blowing 3~5L edible oil bottles, water bottles, etc. The automatic edible oil bottle blowing machine mainly includes two parts, the bottle blowing host and the oven. According to the output, the plastic oil bottle blowing machine mainly has a variety of output such as one cavity, two cavity, and four cavity. YG PET edible oil making machine manufacturer can customize the machine and molds.
Can PET Material Pack Edible Oil?
PET plastic material can pack edible oil. PET obtains by transesterifying dimethyl terephthalate with ethylene glycol or by synthesizing bishydroxyethyl terephthalate by esterification with terephthalic acid and ethylene glycol, followed by polycondensation. Its PET material is a very stable material, and it is light in weight, high in mechanical strength, resistant to beating and recyclable. PET material widely applies in the food industry, and most of the edible oils we see in the market are packed in PET plastic bottles.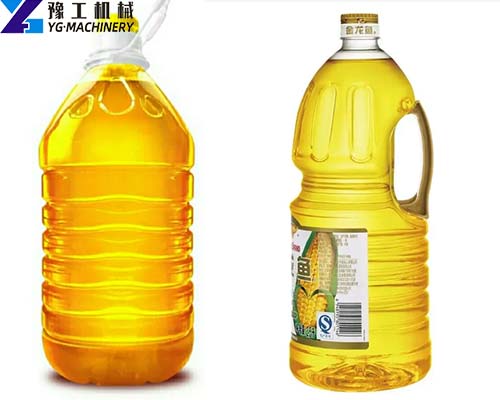 How to Make the Cooking Oil Bottle?
The production of PET plastic oil bottles is similar to the steps of making other plastic bottles with a PET blowing machine. They are all adopt a two-step method, first using a PET preform making machine to process plastic raw materials into preforms, and then heating and blowing the preforms. After getting the plastic oil bottle preform, it is necessary to use an oven to heat the preform body part to facilitate blowing. The bottle mouth part of the preform does not need to be heated, so a cooling device is also required for cooling during this process.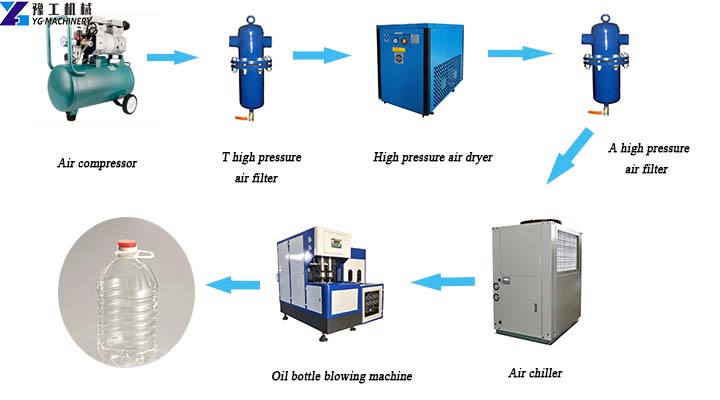 PET Cooking Oil Bottle Making Machine Parameter
| | |
| --- | --- |
| Mold | YG-5L |
| Capacity | 350bp/h |
| Heating Power | 10kw |
| Max bottle volume | 6L |
| Blowing pressure | ≤3.0MPA |
| Motion pressure | ≤1.0MPA |
| Mould thickness | 120-250mm |
| Machine weight | 1200kg |
| Main Body Size | 1.88*0.65*1.3m |
| Heater size | 1.7*0.65*1.45m |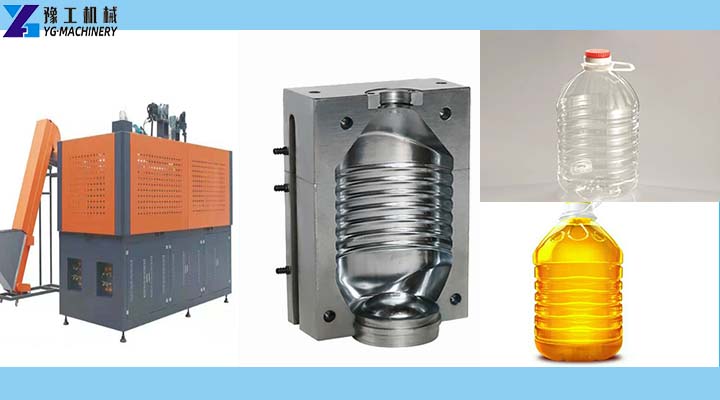 Features of Edible Oil Bottle Making Machine
The edible oil bottle blowing machine has semi-automatic and fully automatic production machines. It can be used to produce 3~5L large-diameter plastic bottles.
It is controlled by touch products, with stable performance and simple operation.
The machine design is reasonable. The PET edible oil bottle making machine production efficiency is high, and the yield is high.
The electric control circuit is used to design the lamp tube heating. And the preform heating is not disturbed by external environmental factors, and is uniformly heated.
The air system has two parts, air action and air blowing, to meet the needs of different air pressures for action and bottle blowing, and to provide stable high pressure to blow special-shaped large-volume bottles.
Yugong not only provides edible oil bottle blowing solutions, we also provide other bottle blowing solutions. Such as 5 Gallon Bottle Blowing Machine,mineral water bottle making machine,Pesticide bottle blowing machine,ect.Also,we equip with the water bottle filling machine for water filling.