YG Gunite Machine For Sale
The gunite machine is a kind of high-efficiency concrete spraying machine. It is also called the shotcrete machine, a concrete gunite machine. The cement slurry pumped by the mud pump is mixed with the sand and gravel sprayed by the gunite equipment and the accelerator is mixed in the mixer. And then, the mixture is sent to the spray gun by the conveying pipe for spraying. YG Machinery has a dry gunite sprayer for sale and a wet gunite machine for sale.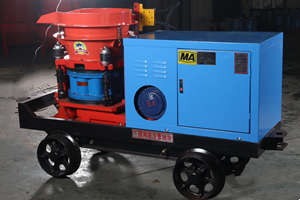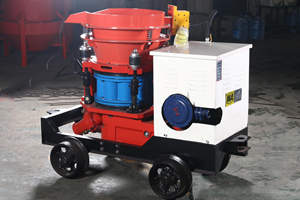 The wet gunite sprayer machine has one more pumping system (accelerator conveying system) than the dry gunite sprayer machine, with a small motor of 0.75KW. Concrete gunite machine is suitable for tunnels, high-speed railways, and highways. The wet gunite machine can spray dry or wet materials. And the dry concrete gunite machine can only spray dry materials. The following are the parameters of the dry gunite machine and wet gunite machine. If you want to know the gunite machine cost, please feel free to contact us.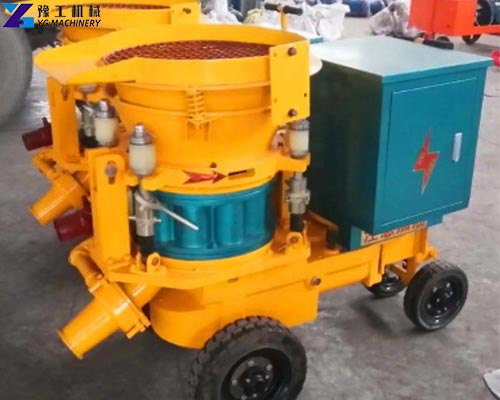 Wet Gunite Machine For Sale
Model
HSP-5
HSP-7
Production Capacity
5m³/h
7m³/h
Lift
30m horizontally and 20m vertically
Max. Particle Size
15mm
15mm
Motor Power
5.5kw
7.5kw
Weight
700kg
800kg
Size (mm)
1280*700-1280mm
2000*800*1300mm
Dry Gunite Sprayer For Sale
| | | | |
| --- | --- | --- | --- |
| Model | PZ-3 | PZ-6 | PZ-7 |
| Production Capacity | 3m³/h | 6m³/h | 7m³/h |
| Maximum Conveying Distance | 200m | 200m | 200m |
| Material Water: Cement Ratio | <0.4 | <0.4 | <0.4 |
| Max. Particle Size | 20mm | 20mm | 20mm |
| Rotor Body Diameter | 350mm | 440mm | 480mm |
| Work Pressure | 0.4-0.6mpa | 0.4-0.6mpa | 0.6-0.8mpa |
| Air Consumption | 3-4m³/h | 6-8m³/h | 7-8m³/h |
| Motor Power | 3kw | 5.5kw | 7.5kw |
| Size (mm) | 1040*550*950 | 1300*705*1300 | 1600*750*1200 |
| Weight | 260kg | 600kg | 700kg |
Application of Concrete Gunite Machine
The small concrete gunite machines are used in mines, tunnels, culverts, subways, hydropower projects, pavement projects, underground projects, and coal mine tunnels.
1) Underground engineering: main support and lining of mine roadway, flexible tunnel, hydraulic tunnel, and various types of cavities (underground power station, underground warehouse).
2) Thin-walled structural engineering: thin-shell roof, construction of pre-stressed construction of reservoirs and storage tanks, etc.
3) Repair and reinforcement work: bridge, seawall, chimney, cooling, bridge, dam, tunnel, wharf, building structure reinforcement, chemical corrosion, fire, earthquake, explosion impact, overload, or the most unfavorable factors of construction quality, such as repairing damaged structures.
4) In geotechnical engineering, slope, dam, tunnel, reservoir, swimming pool, deep foundation pit, irrigation, and breakwater with retaining wall.
5) Protection engineering: all kinds of fireproof coatings for steel structures.
6)Refractory materials project building chimneys and various hot melting furnaces and repairs.

Applications Of Gunite Equipment For Sale
Advantages of YG Gunite Machine For Sale
The structure of the concrete gunite machine is simple and reasonable and easy to operate. Humanized design and reliable performance. Meanwhile, low gunite machine cost, convenient operation and maintenance, and long service life. No dust, low noise, and low rebound rate when working. In addition, this concrete gunite sprayer machine greatly reduces the dust concentration near the machine and at the nozzle. Thereby, the working environment of workers is improved, and the pneumoconiosis caused by dust is reduced. Contact us now to get a free quote for your reference.

YG Gunite Machine Factory
Dry mining gunite machine exported to Australia
At the beginning of April, Yugong Engineering Machinery received an inquiry about a gunite machine from Lewis, Australia. During the inquiry, we learned that the client wanted to shotcrete on the underground mining wall.


Since Yugong provides two types of shotcrete machines, wet type, and dry type, after receiving the inquiry, our sales manager Ann immediately asked the customer whether to use dry or wet material. This customer uses dry materials, and both types of mining gunite machine can be used for dry materials. Our sales manager explained the difference between dry and wet shotcrete to the customer and sent the video and detailed information to the customer. After reviewing the profiles for both machines, Lewis chose the small dry gunite spraying machine. And soon entrusted his friend in China to pay for the machine.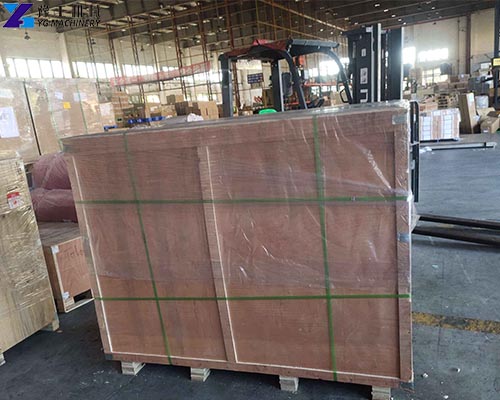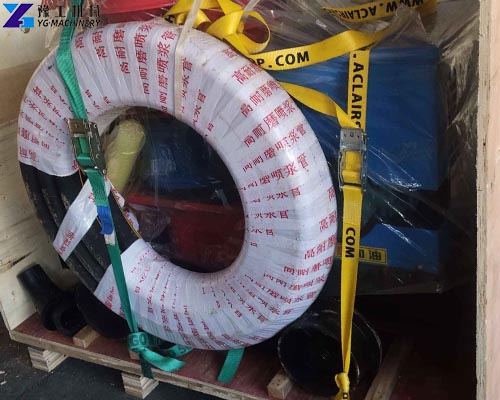 If you also want to use the shotcrete machine on building walls, construction tunnels, slope protection, high-speed railways, highways, mines, etc., please leave us a message.
Related products
YG machinery specializes in producing all kinds of construction machinery, slope tunnel support equipment. For example concrete gunite machine(shotcrete machine), shotcrete truck. Mortar spraying machine(cement spraying machine), mobile concrete pump, small concrete pump, mini concrete pump. Shot blasting machine, sandblasting machine, industrial sandblasting room. pile breaker machine. concrete and rock splitter machine.Putty powder spraying machine, cement foaming machine, etc. If you need any of the above equipment, please contact us directly by Email/WhatsApp/Online Chat.