Diamond Wire Saw Machine For Cutting Concrete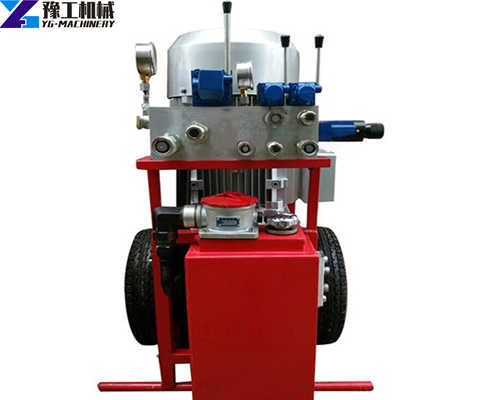 What is a Diamond Wire Saw Machine?
YG diamond wire saw machine is a concrete cutting and removing equipment. Concrete wire saw cutting machine have a wide range of applications. For example, cutting of reinforced concrete beams, columns, bridges, floor slabs, stone processing, etc. It can also be applied to building foundation concrete structures that need to be partially demolished. The diamond wire saw machine for concrete is not controlled by the size of the stone, and can cut the material in any direction, such as cross-cut, vertical, diagonal direction, etc.
Diamond Wire Saw Cutting Machine Application
Diamond wire saw cutting machines are similar in principle to band saws or reciprocating saws. But they use abrasion to cut rather than saw teeth. Depending on the application, diamond material may or may not be used as an abrasive. The concrete wire saw machine can have one strand or many strands braided together (cable). A single-strand saw can be roughened to be abrasive, abrasive compounds can be bonded to the cable. Or diamond-impregnated beads (and spacers) can be threaded on the cable. Wire saw machines are often cooled and lubricated by water or oil.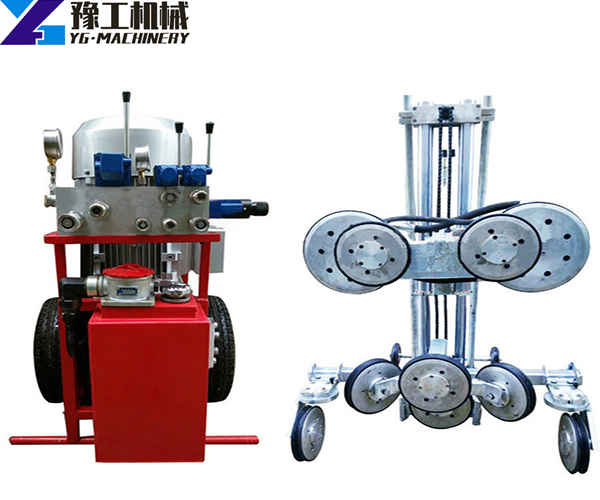 Mine and quarry companies commonly use a wire saw concrete into large blocks. Which can directly be moved to processing plants to be refined. Or moved to distributors (in the case of granite or marble for building). These diamond wire saw cutting machines are large machines that use diamond-impregnated beads on a cable. At the same time, YG diamond cutting wire saw prices has a concrete wall saw for sale. If you need to buy a high-quality hydraulic wire saw or concrete wall saw, please feel free to contact us.
Parameters
Wire Saw Wheel
Parameters
Hydraulic Pump Station
Parameters
Wire Drive Mode
hydraulic
Rated Output Power
22/25KW
Model Type
HM-40/80
Working Voltage
380v 50Hz
Minimum Input Power
25HP/33HP
Hydraulic Pump Station
Gear pump
Output Shaft Speed
350/940/1300r/min
Motor Working Floe
40-100L/min
Maximum Wire Length
18m
Working Pressure
15-20Mpa
Feeding Method
Fully hydraulic
Oil Tank Volume
16L
Wire Saw Wheel
64kg
Weight
98kg
Motor Weight
13kg
Dimension(mm)
650*550*1150
Cutting Type
Transverse and longitudinal cutting
Advantages of Using a Concrete Wire Saw Machine
The concrete wire saw machine cutting method of use is flexible, horizontal, and vertical. A wire saw concrete is a saw using a metal wire for cutting concrete. Industrial wire saws usually need to be powered. On the other hand, hand-powered survivalist wire saws are suitable for cutting some branches. Wire saws are usually classified as continuous (or endless, or loop) or oscillating (or reciprocating). Sometimes the wire itself is regarded as a "blade". Leave your message to get the diamond cutting wire saw prices for your reference.
Components of Hydraulic Concrete Cutting Machine
A hydraulic concrete cutting machine is mainly composed of three parts, a hydraulic pump station, frame, and diamond saw wire.
The hydraulic pump station is to provide power for the whole wire saw machine. The oil pressure of the hydraulic pump station drives the hydraulic motor to rotate. The hydraulic motor drives the driving wheel to rotate, and the driving force drives the diamond rope to rotate. The diamond rope cuts the concrete. The direction of diamond wire cutting can be controlled by the guide wheel.
Diamond Wire Saw Machine Cutting Process
Diamond wire cutting is the process of using various diameters of wire, impregnated with diamond dust of various sizes to cut through materials. Despite the hardness of diamonds, the machine can cut through most materials that are softer than the diamond abrasive. Diamond wire cutting is also practical and less expensive than some other cutting techniques. This technique is widely used in many countries of the world and workers are easy to handle.
Diamond wire cutting produces less kerf and wasted materials compared to solid blades. On very expensive materials, this could save a lot of costs. In addition, diamond wire cutting needs only water or some fluid to lubricate, cool the cut, and remove debris. On some materials, diamond wire cutting may not need water or cutting fluid. Therefore, it can be leaving a clean dry cut.
Why Choose YG Diamond Wire Saw Cutting Machine Manufacturers?
The hydraulic wire saw is a new generation of fully automatic reinforced concrete cutting equipment. It is developed by our company based on years of construction and product design experience. The machine is powerful and uses Australian motors and Italian hydraulic components. So as to ensure the weight is under the same volume. Lightest design, ensure that the cut is straight and neat during construction. No trimming is required and can be cut on reinforced concrete, ceramics, or glass.
The YG diamond wire saw machine is vibration-free and has low-noise positioning during work. It is very suitable for cutting complex sections. In addition, concrete wire saw machine is widely used for reinforcement renovation of cutting and dismantling industries. Such as houses, bridges, floors, beams, pillars, and so on. In general, the diamond wire saw cutting machines mainly combines with a hydraulic power station group, with cutting wheels and directional wheels. If you are looking for a reliable diamond wire saw for concrete manufacturers, YG will be your ideal partner.
What are the Features of a Diamond Wire Saw For Concrete?
The portable vertical all-aluminum single-operable hydraulic wire saw produced by our factory can realize various cutting of thick concrete. YG concrete wire saw for sale is the most suitable cutting construction equipment for cutting. And removing concrete walls, bridges, and pillars, and repairing work. The wire saw is good for densely packed reinforced concrete structures. Even for underwater cutting of 30 to 50 meters.
The hydraulic wire saw can meet the cutting depth that the wall saw can't reach, and the cutting operation depth is unlimited. At present, it is the leading advanced cutting construction equipment widely used in the construction of buildings, bridges, tunnels, and wharves, replacing the traditional methods of heavy-duty chiseling, drilling, and blasting. Click the button to tell us your requirements about the diamond wire saw machine now.
YG Diamond Cutting Machine For Sale
YG Engineering Company diamond wire saw cutting machine is of high quality and receives high remarks from our clients. We have sold the wire saw for many years and won our clients' trust. YG can guarantee the price and quality of the wire saw. We insist quality is the foundation of our reputation and we put it in our first place. YG keeps stepping forward and exploring new technology to make work more efficient and much more convenient constantly. We can produce different types of diamond wire saw for clients' requirements. Just contact us if you need a diamond wire saw machine. You will get our best service surely.
Related Products
As a professional concrete cutting machine manufacturer, we have a series of concrete cutting machine for sale. For example, large rock splitter, concrete wall saw, hydraulic wall saw, pile breaker machine, pile cutting machine, and so on. Just tell us which cutting machine you need.
Email: admin@yugongengineering.com