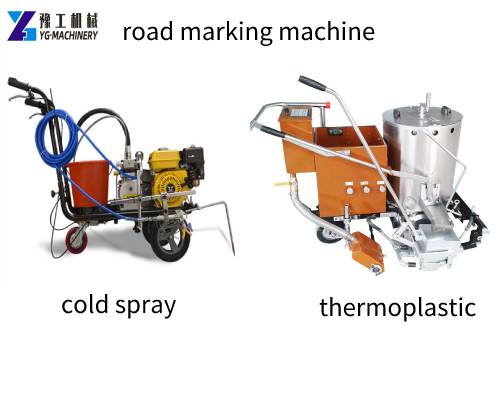 What is Road Marking Machine?
A road marking machine(pavement marking machine, parking lot marking machine) is a kind of road construction machine. It can draw different restrictions, guidance, and warning signs on flat ground. Road marking paint machine is widely used in roads, pavement, fields, highways, parking lots, squares, and runways. The road line marking machine has played a huge role in urban planning and highway construction due to its advantages of being fast, efficient, and accurate. And it saves the construction period and economic investment of pavement construction to the greatest extent. YG road marking machine manufacturer has a high-efficiency line striping machine for sale always. If you want to buy a cheap & best line striping machine, Henan Yugong(YG) Machinery Co., Ltd will be your ideal choice.

road marking

road line painting
Structure of Road Marking Paint Machine
The road line marking machine has various structures. Due to different production design conditions or applications in different construction sites and different raw materials, the marking machine will also differ in structure. Generally, the marking machine shall equip with an engine, air compressor, paint (melt) barrel, marking bucket (spray gun), guide rod, controller, etc. In addition,  road painting machines shall equip with various power-assisted driving carriers as required. YG Engineering Machinery has a professional and high-quality road marking machine for sale. Contact us to get the road marking machine price for your reference.
How to Mark Road Line? Check This Video
Types of Road Marking Machine
According to the construction temperature, the road marking machine is roughly divided into thermoplastic striping equipment and cold paint road marking machine.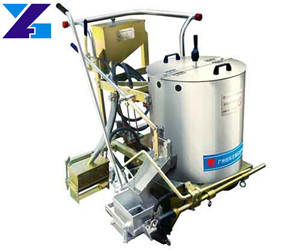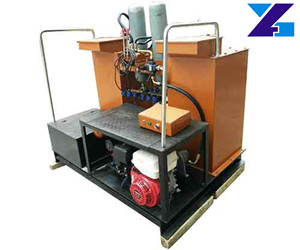 Thermoplastic road striping machine
Thermoplastic road striping machine is gradually developed and improved with the development of hot-melt coating. A thermoplastic road striping machine has a high degree of automation. The construction of a thermoplastic road line marking machine requires a set of equipment to complete the construction functions of each link from melting material to marking. This set of equipment is generally composed of the hot melting kettle, road marking machine, pre-marking machine, and undercoating machine. Leave your message to get more road marking machine for sale details. View this page to know more about our thermoplastic road marking machine for sale.
Of course, you can choose different models, grades, and functions of equipment configuration according to your own economic budget, engineering quantity, and degree of specialization. According to the different marking methods, thermoplastic road marking machines can be divided into three types: thermoplastic scraping type, thermoplastic extrusion type, and thermoplastic spraying type. We have these three types of road marking machines for sale. Which kind do you need?
As a professional road marking machine manufacturer in China, YG machinery has many types of thermoplastic road marking machines. For example, hand-push, automatic thermoplastic road line striping machine, thermoplastic convex vibration line marking machine, and some of its supporting equipment. If you are looking for a professional and efficient road paint machine, please contact us. And you will get a reasonable road marking machine price list.
Cold Paint Road Striping Machine
Cold spray road paint machine is a kind of conventional marking machine with the longest history. This type of machine is generally completed construction by a normal temperature marking machine. According to the different marking methods, the cold road paint machine can be divided into two types: high-pressure airless type and low-pressure air-assisted type. The different types of applicable coatings, it divides into three types: normal temperature solvent type, normal temperature aqueous type, and heating solvent type. As a professional cold paint road marking machine manufacturer, we provide all kinds of road marking machines for sale.
YG Machinery Manufacturer has all types of thermoplastic and cold line marking machines for sale. Contact us now and let's start a pleasure business cooperation.
How to Choose the Right Road Painting Machine?
Faced with different types of road marking machines, how to choose the most suitable for you?
Firstly, according to the construction scope, thermoplastic type for municipal roads, urban roads, provincial roads, rural roads, etc. Cold type is generally used for garages, parking lot, residential areas, driving schools, etc. Temporary surprise inspection can also use a cold paint road spray paint machine.
Secondly, accounting is based on the cost to choose the best road striping machine for yourself.
Thirdly, according to the construction conditions and special requirements, we can customize the road marking machine for you. Please feel free to leave your message and requirement, and our sales manager will reply with the pavement marking machine price for your reference. There are hand-push and automatic road marking machines for you to choose from.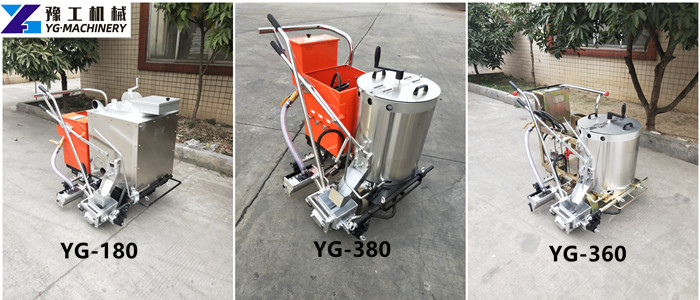 Why Choose YG Road Line Marking Machine?
When you search for line marking equipment for sale online, you may see that there are different road marking machine suppliers on the market. Then why choose YG Machinery as your partner from many roads marking machine manufacturers? Here are some of the advantages of our road marking equipment.


History: Henan Yugong Machinery Co., Ltd. has been engaged in the machinery industry for more than 20 years.
Scale: YG is an integrated large-scale manufacturing enterprise that includes R&D, production, and sales of mining equipment, tunnel construction, and construction equipment for roads and bridges. You can get factory direct sale road striping machine prices from YG company.
Certificate: Our products strictly stand by SGS, ISO90012000 quantity control system standards. We have CE certification and so on. Send your inquiry to get a road painting machine for sale price right now.
Raw materials: The raw materials of all the machines we produce strictly follow the product quality control system from selection to purchase.
Production experience: More than 20 years of the production process and skilled workers have rich experience in manufacturing.
After-sale service
We have a good after-sales service system. Please feel free to contact us if you have any questions during the warranty period.
Professionalism
With the development and innovation of technology, all walks of life are advancing. Yugong Machinery Co., Ltd. in the machinery industry is also advancing with the times. Use the latest technology and the best product quality to continuously improve our professionalism and provide customers with the best quality and low price products.
Sales area
Yugong's road marking machine covered the country and was exported to the Asia Pacific, the Middle East, Africa, North America, Oceania, South America, and other parts of the world. Leave your message to get road line marking machines for sale price.
Customer feedback
Our company experienced 20 years of high-speed development, gathering a large number of talents and winning a sound reputation and credibility. Customers at home and abroad have expressed their willingness to continue to cooperate with us. Send your requirement to get road line marking machine price.


Other Products
In terms of road machinery, we have a thermoplastic road marking machine. Cold paint road marking machine. Crack sealing machine. Road roller machine. Mini road roller machine. As a leading construction equipment supplier, we also have many types of drilling machine for sale. Down the hole drilling machine, water well drilling machine, small water well drilling rigs, portable water well drilling machine, horizontal directional drilling machine, and so on.