The asphalt coring machine is a device for drilling concrete and asphalt roads surface. It is road testing equipment for compressive and flexural tests by drilling and coring the road surface. The pavement coring machine is easy to operate, and flexible to use, and the maximum coring can reach 700mm. It is an ideal engineering testing equipment.

Asphalt Road Coring Drilling Machine Technical Parameters
| | |
| --- | --- |
| Maximum drilling diameter | 200mm |
| Maximum drilling degree | 700mm |
| output speed | 800-1200 r/min |
| Power | 13 horsepower |
| Weight | 140kg |
| Oversize | 1080×780×1150mm |
Concrete Road Coring Machine Application
Asphalt coring machine is widely used in roads, airports, docks, dams, etc. for coring testing experiments. It can core cement concrete, asphalt concrete, limestone, and other pavements. The pavement coring machine. It can also be matched with other equipment for drilling and coring, core sample cutting, core sample grinding, and other operations. In addition to road inspection and other uses, it can also drill holes to install large machinery and equipment, bridge handrails, etc.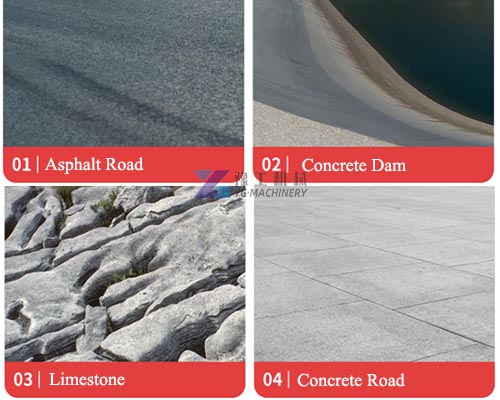 Concrete Asphalt Road Surface Drilling Step
Checking work. Before you can work with this pavement coring machine, you need to do some preparatory work. Add lubricating oil, turn the handle and output shaft, and check whether the feed and rotation are flexible. Prepare the water source and check whether the screws in each part are loose.
Install the coring machine. After the drill bit is aligned with the hole position, lift up the three walking wheels and let the base fall to the ground. If the hole diameter is small, the asphalt coring machine can be fixed and punched by the weight of the equipment itself. If the diameter of the drilled hole is large and the machine cannot be stabilized by its own weight, a heavy object can be placed on the chassis to fix it.

Drilling the hole. After doing the above work, install the diamond drill bit, turn on the gasoline engine, and put the water pipe into the bucket. Turn up the throttle and shake the feed handle to make the drill bit touch the ground slowly for drilling. During the drilling process, it should be noted that the feed speed should be slow and the drilling pressure should be small.
Features of Asphalt Pavement Coring Machine
One machine with multiple functions can be used for drilling, coring, cutting, grinding, etc., reducing equipment investment and greatly improving work efficiency.
It is suitable for coring work on various structural pavements, such as cement concrete, asphalt concrete, limestone, etc.
It adopts a double-column structure, spiral feeding method, good performance, and simple operation.
The drilling and sampling dimensions are accurate, and the surface is smooth without damage after drilling.
It is not only suitable for concrete projects such as roads, airports, and docks but also can be used for drilling and coring other non-metallic materials.
Gasoline generator is used for power, quick start, and reliable operation.
Equipped with synthetic diamond thin-wall drill.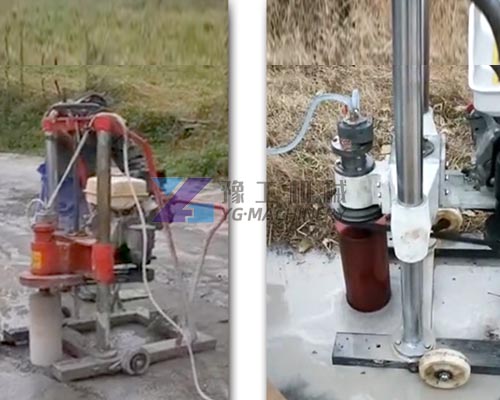 YG Road Machinery Manufacturer
As a leading manufacturer of road machinery, YG offers a wide variety of high-quality road machinery for sale. For example, road line marking machines (cold spray marking machines, thermoplastic road marking machines), crack sealing machines, road milling machines, chisel machines, shot blasting machines, road compaction equipment, and other equipment. If you want To get a quote for pavement machinery, please contact us.