Pile Cutting Machine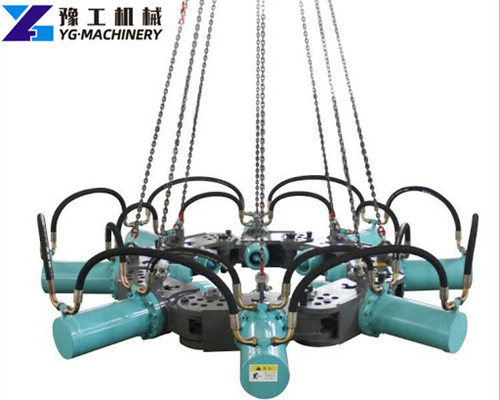 Concrete Pile Cutting Machine
A pile cutting machine is a kind of construction machinery suitable for fast cut-off pile head in pile foundation engineering. It can cut off cast-in-place pile, precast pile, etc. Pile head breaking machine is the fastest equipment to break a solid cast-in-place pile. As a result, the hydraulic pile breaker machine is praised by customers as "Construction Site Speed-up Artifact"!
The pile cutting machine can quickly break the concrete and retain the steel bars without affecting the mother pile. The concrete pile head is cut off through remote control to avoid the risk of personal injury caused by manual construction. The efficiency of the concrete pile cutter machine is dozens of times that of manual construction. Contact us to get a cheap hydraulic pile cutter machine price right now.
Pile Cutter Machine Parameter
Classification of pile cutting machine
Pile head cutter machine is generally divided into modular pile cutting machine and fixed pile cutter machine.
The modular pile-breaking machine uses the modular combination of the pile breaker to maximize the removal of solid cast-in-place piles of different pile diameters. So that customers can add or reduce modules to quickly cut piles when cutting piles of different pile diameters in different projects. In addition, YG fixed pile cutting machine is suitable for group pile removal with large number of piles. Which kind of pile breaker machine do you need? Please leave your message freely.
Application of pile cutter machine
Pile cutting machine is widely used in high-speed railway, bridge, building pile foundation engineering, etc. A concrete pile cutter machine can easily cut off round and square pile heads.
Generally speaking, the circular concrete pile breaker machine is suitable for pile diameters of 250mm-2500mm. The square pile cutter is suitable for piles with a length of 250-650mm. YG hydraulic pile breaker machine can meet the requirements of various large-scale foundation construction.
Why choose YG concrete cutting machinery?
Henan Yugong Machinery Co., Ltd. is a large-scale construction machinery manufacturer integrating R&D, production, and sales of mining equipment, tunnel construction equipment, road and bridge construction equipment, etc. Our factory locates in China's national central city-Zhengzhou, with rich resources and convenient transportation.
After 15 years of rapid development, Henan Yugong company has eight product series and more than 100 products. Including concrete cutting machinery. Rebar processing machinery. Environment Machinery. Prestress Machinery. Road & Bridge Machinery. Protective Equipment. Construction Machinery. Engineering Machinery. Our customers come from more than 100 countries and regions around the world! Many products of Yugong have been widely adopted and promoted in a large number of national key construction projects and major projects!
Yugong Machinery insists on "Excellent Factory, High Quality & Best Price". Continues to improve product quality and service quality. YG has won a good customer reputation and corporate reputation. Our company warmly looks forward to sincere cooperation with our customers and friends, mutual benefit & win-win all the time. Choose Yugong Company as your partner is an ideal choice.
Related Products
As a professional concrete cutting machine manufacturer, we have a series of concrete cutting machines for sale. For example, large rock splitter, concrete wall saw, hydraulic wall saw, diamond wire saw, pile breaker machine and so on. Just tell us which cutting machine do you need.