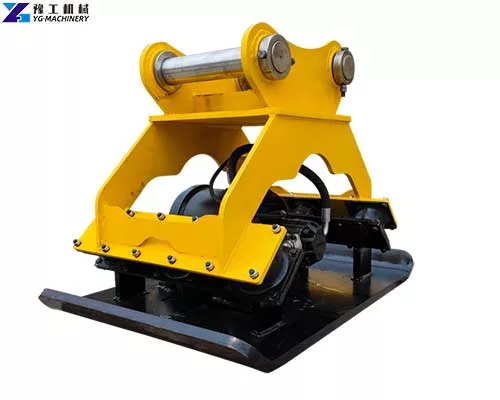 The excavator compactor attachment is a special compacting tool for excavators. It uses high-frequency vibration to compact various terrain parts. The excavator vibratory plate compactor is suitable for a variety of terrains and a variety of operation methods. It can complete flat compaction, slope compaction, step compaction, trench pit compaction, and other complex foundation compaction. It has the characteristics of high efficiency, high vibration frequency, strong amplitude, and strong compaction. YG excavator and attachment manufacturer also provides hydraulic breaker hammers, vibratory pile drivers, pile breaker machines, concrete pulverizers, and other excavator attachments.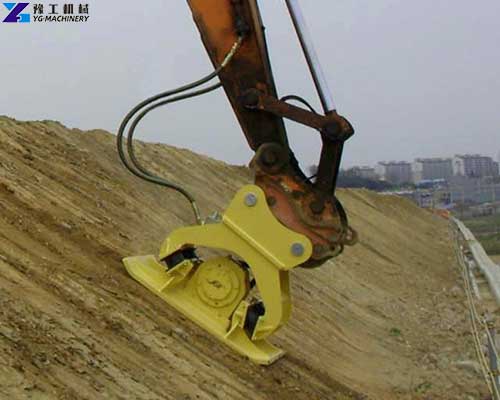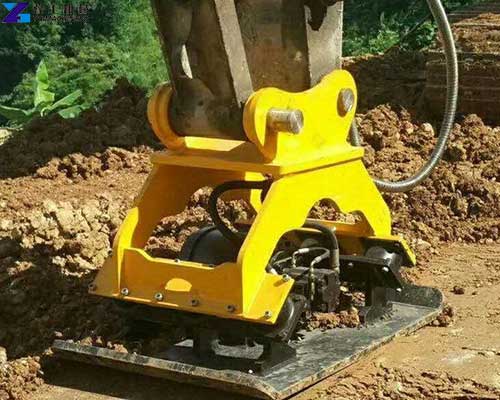 Main Parameters of Excavator Compactor Attachment
| | | | | |
| --- | --- | --- | --- | --- |
| Model | YG-32 | YG-50 | YG-80 | YG-107 |
| Vibration force(KN) | 40 | 65 | 110 | 150 |
| Excitation frequency(RPM) | ≥2000 | ≥2000 | ≥2200 | ≥2200 |
| Working pressure(MPA) | 15 | 15 | 15 | 15 |
| Maximum flow(L/min) | 60 | 100 | 160 | 160 |
| Suitable excavators(T) | 4-9 | 10-18 | 20-27 | 30-40 |
| Length/width/height(mm) | 900*550*750 | 1160*700*930 | 1350*900*1000 | 1350*900*1050 |
| Machine weight(KG) | 380 | 550 | 920 | 1050 |
| Hit area(mm) | 900*550 | 1160*700 | 1350*900 | 1350*900 |
Excavator Vibratory Plate Compactor Purpose
This machine has multiple functions and a wide range of applications. The excavator compactor attachment widely applies in slope roads, road shoulders, railway subgrade compaction, civil building foundations, municipal side ditches, etc.
Highway or railway subgrade construction: compaction and reinforcement of highway and railway subgrades, backfill compaction of urban subways, compaction of road and railway subgrades such as abutment backs, culvert sides, and Jizhuogou.
In the field of industrial and civil construction: basic treatment of low-rise buildings; on-site treatment of construction waste.
Application of large-scale bearing sites: ground treatment of large areas such as airports and ports; seepage treatment of salt ponds in the salt industry.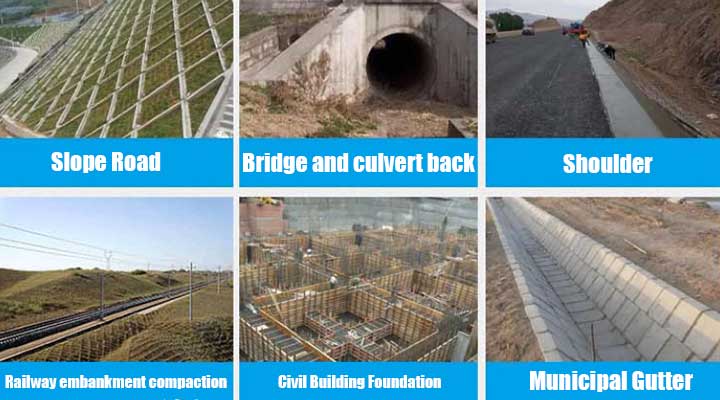 Excavator Compactor Attachment Features
The hydraulic power of the excavator is used to drive and control, the structure is simple, and the use and maintenance are convenient.
It is suitable for 4-40T excavator models and has high versatility with the breaker product line.
It can work where walk-behind compactors cannot.
The mechanical structure is reasonable and the tamping strength is strong.
Full hydraulic drive realizes low-noise operation and does not affect the surrounding environment during construction.
The power sources are diversified, and various brands and models of excavators can be equipped according to the construction site conditions to truly realize the versatility and economy of the product.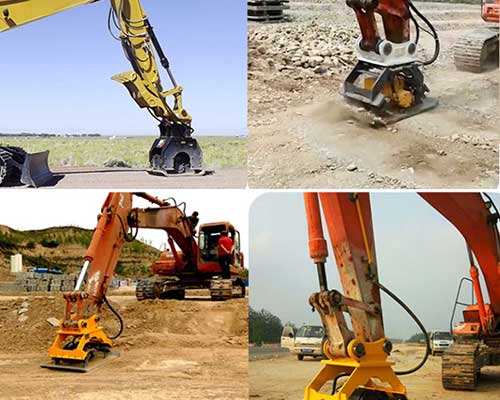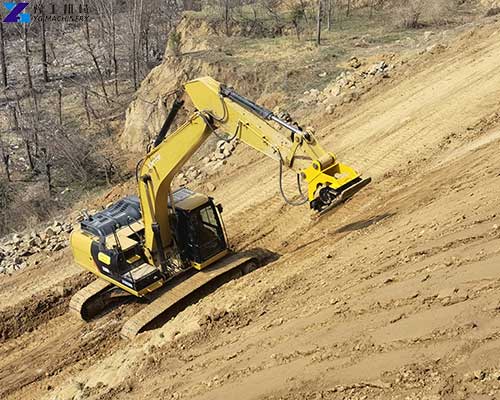 Other Excavator Attachments
As a professional construction machinery manufacturer, YG provides a variety of excavators and attachments.
Crushing bucket series: double shaft crushing bucket, single shaft crushing bucket;
Screening bucket series: high frequency vibrating screen, trommel screen, double trommel screen, crushing, and screening bucket;
Cutting Series: Hydraulic Saw, Rotary Hydraulic Saw, Orbital Hydraulic Saw;
Milling and digging series: horizontal milling and digging machine, vertical milling and digging machine, chain milling and digging machine without blind zone;
Ditching series: Chain-type rock ditching machine, rock milling wheel, chain-type soil ditching machine;
Demolition series: demolition shears, hydraulic crushing pliers, round pile breaker, square pile breaker, claw pile breaker.
In addition, YG also provides small excavators and other excavator attachments. If you are interested in YG excavators and excavator attachments, please contact us.