YG granule packing machine for sale
YG Machinery is mainly engaged in vertical packaging machines, pillow packaging machines, lapel machines, combination scales, semi-automatic packaging equipment, and various full-automatic packaging equipment. As well as custom-designed packaging and automatic filling production lines on demand. This page mainly introduces our hot sale granule packing machine YGB4-X320AT-Z1. Granule packing machine, also known as particle packaging machine. If you are looking for a granule packaging machine for sale or a particle filling machine, YG will be your best granule packaging machine supplier choice.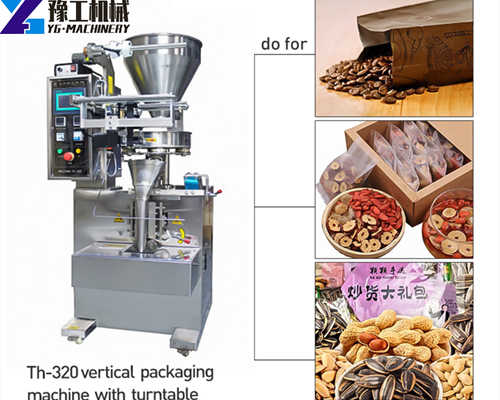 Particle Packaging Machine With Turntable
Related Post

Rotary Pill Candy Tablet Press Machine
Single Punch Tablet Press Machine
Flower Basket Tablet Press
YGB4-X320AT-Z1 Granule Packaging Machine
YGB4-X320AT-Z1 granule packing machine is YG's highest-selling packaging machine. Because of the low granule packing machine price, easy operation and high comprehensive cost performance. We will describe in detail the structure, performance, characteristics, scope of application, and parameters of this particle three-side sealing packaging machine in the following. If you want to know more about our products, please do not hesitate to contact us.
Main parameters
| | |
| --- | --- |
| Bag Style | 3 side seal(Back seal/4 side seal/ Triangle bag) |
| Packing Speed | 20-80 bag/min |
| Bag Length | 30-150mm |
| Bag Width | 25-145mm(Need to replace the former) |
| Filling range | 2-20ML |
| Power Consumption | 1.8KW |
| Weight | 250KG |
| Dimensions | 750*1150*1950mm |
| Carton Size | 1220*850*1820mm |
Features of particle packing machine
1: The shell of this particle of three edge sealing packing machine is all made of 304 stainless steel. The exposed parts are all made of stainless steel. So as to adapt to more applications. Except that the spring copper sleeve cutter is not suitably made of stainless steel.
2: This granule packing machine adopts the current international advanced microcomputer chip control. 5.-inch large-screen LCD display. Simple and easy-to-use operation interface, with photoelectric eye tracking detection. Accurate sealing and cutting in two packages, optional coding machine, and even package, exhaust, or inflatable device. If you have any questions, please contact us directly.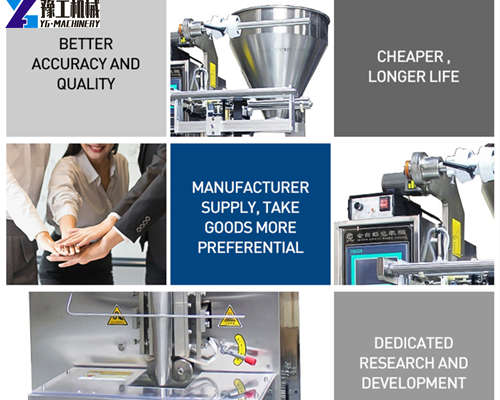 Granule Packing Machine Customer Feedback
Application
This granule packaging machine is suitable for various granules, monosodium glutamate, oatmeal, and desiccant. And three-in-one coffee, sesame paste, soy milk powder and other powder materials with good fluidity. Various nuts, peanuts, sunflower seeds, whole grains, wolfberry, red dates, and other granular items. What do you want to pack? Please tell us your needs. Packaging form, bag size, desired packaging speed, and packaging weight. Then we will reply to you with the best price later.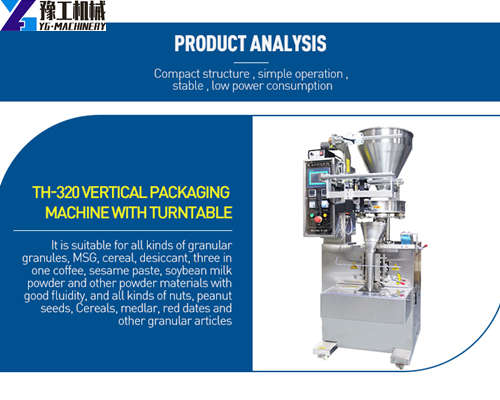 Granule Packaging Machine With Turntable Details
Our packing machine product series
As a professional packaging machine manufacturer, we have pillow packing machines for sale. Vertical packaging machine for sale. Horizontal form fill and seal (HFFS) machine. Bag packing machine. Box packing machine. Liquid packaging machine. Powder packing machine. Granule packing machine. Particle filling machine. Pouch filling machine. Auto sealing machine, etc. What kind of packing machine do you need? What's more, we have semi-auto and automatic packaging machine production line equipment. Just feel free to leave your requirements.