The disposable PE gloves packing machine is a device that repeatedly folds PE gloves and then packs them. The small bags of PE gloves folded and packaged by this equipment are widely used in the catering industry. Compared with manual labor, fully automatic glove four-sided sealing packing equipment saves 90% of labor, increases hygiene, and greatly improves production efficiency. The PE gloves packaging machine can not only be used alone, it can also be used in conjunction with the disposable PE glove-making machine.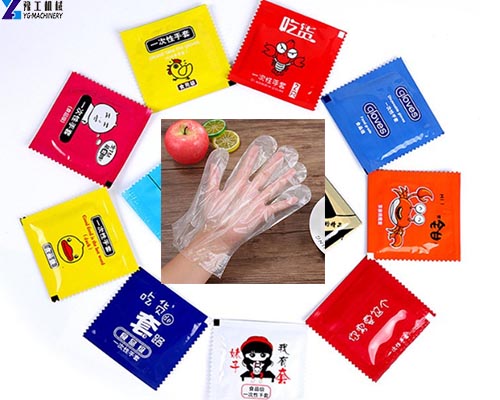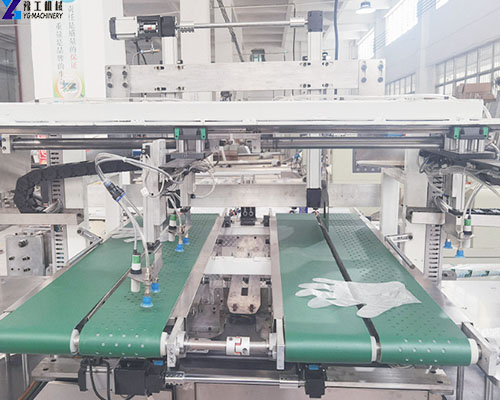 Finished Product Display
Disposable PE gloves are widely used in food, beauty salons, hotels, factories, and other industries.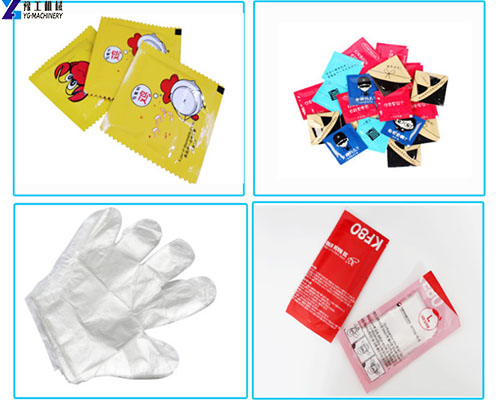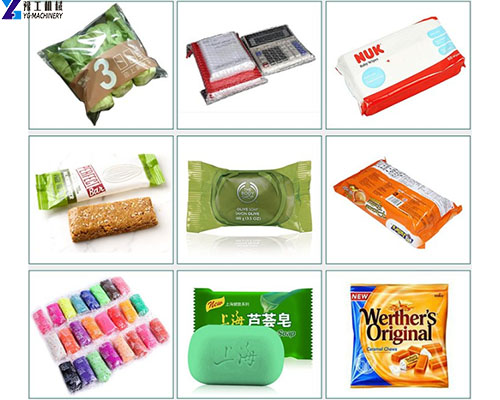 Related Products

Plastic Apron Making Machine
Veterinary glove making machine
Shoe Cover Making Machine
Advantages of Independent PE Glove Packaging
In daily life or production life, there are many times when it is necessary to keep clean and hygienic, and PE gloves need to be worn at this time. The individually packaged PE gloves are very convenient to use, and one bag is enough for both hands. And don't worry about contaminating and wasting other gloves. In catering distribution, it usually chooses this kind of independent small packaging PE gloves, which also saves costs for restaurants.
Disposable PE Gloves Folding Packaging Machine Principle
The disposable PE glove folding packaging machine uses the eccentric wheel of the servo machine to make the push plate fold back and forth, and then pack it.
First, put the PE gloves made by the disposable PE glove making machine into the discharge box. The negative pressure adsorption manipulator of the glove folding packing machine moves back and forth between the discharge port of the discharge box and the working end of the negative pressure adsorption plate. By folding layer by layer, the four side glove sealing packing machine will fold the whole glove into a small size and then pack the PE gloves.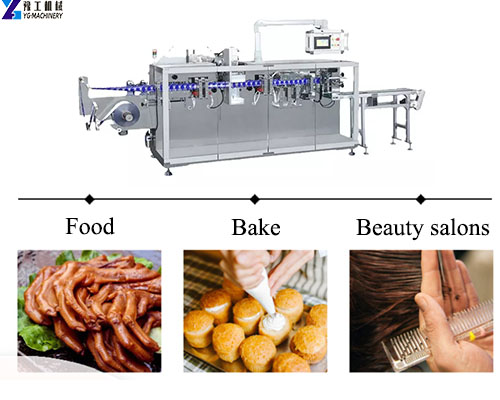 Four Side Glove Sealing Packing Machine Parameters
| | | | | |
| --- | --- | --- | --- | --- |
| Packaging film width | 250mm | 80/320mm | 450mm | 600mm |
| Bag width | 115mm | 30/150mm | 40/210mm | / |
| Bag length | 70-190mm | 150/680mm | 160/320mm | 180/330mm |
| Product height | 55MM | 55mm | 70mm | 70mm |
| Packing Speed | 40/230packets per minute | 40/230packets per minute | 40/180packets per minute | 40/150packets per minute |
| Machine Size | 3.8*0.9*1.5mm | 3.8*0.8*1.5mm | 4.2*0.92*1.5mm | 4.3*1.0*1.5mm |
| Machine Weight | 400kg | 450kg | 550kg | 500kg |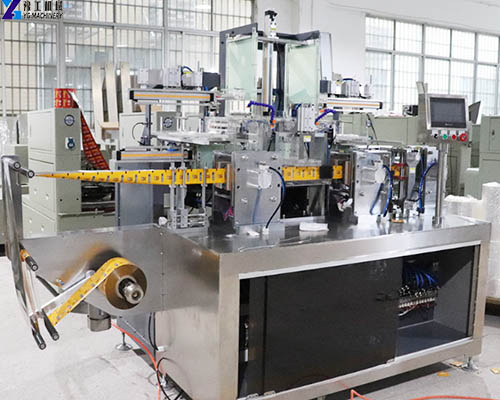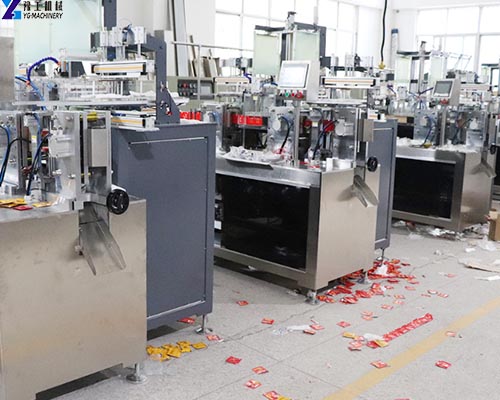 Features of PE Gloves Packing Machine
Fully automated equipment. It can replace the traditional manual folding packaging method, greatly improving production efficiency.
Clean and hygienic. The use of fully automatic packaging methods reduces manual contact and increases product hygiene.
Man-machine interface. Various parameter settings are clear at a glance, and the setting of parameters is convenient and quick.
Stop function automatically. When there is no glove package, the machine will stop automatically, with no knife sticking, no waste of film.
Automatic temperature control. This automatic disposable PE glove folding packaging machine adopts PID automatic temperature control, which is suitable for various packaging materials.
Precise sealing and cutting. The whole machine is tracked by a high-sensitivity photoelectric eye color mark, and the sealing and cutting position is digitally input to make the sealing and cutting position more accurate.