The disposable PE glove making machine makes a disposable glove from low LDPE, high HDPE, and other materials. The machine can realize continuous production and large production output. The PE glove machine can realize one-stop production from raw materials to finished products. The thickness, color, and specification of the gloves can be customized according to the needs of customers. Yugong disposable plastic glove production machine manufacturers provide a variety of plastic material glove production machines. Such as PVC glove making machine, PE glove machine, VINYL glove production machine, HDPE glove machine, etc. Which glove machine do you want to know, please contact us for a free quote.
Free Quote
What are PE gloves?
PE gloves are disposable gloves made of low LDPE, high HDPE and other additives. Since PE gloves are polyethylene materials, PE gloves can touch food. Therefore, PE gloves are often used in the catering industry. The plastic bags that we often use in our lives and the white transparent gloves that come into contact with food are all made of PE.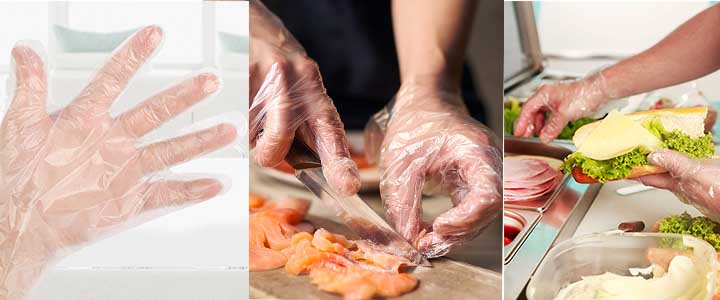 YG plastic gloves manufacturing machine for sale
We have fully automatic disposable PE gloves-making machine for sale and semi-automatic double-layer plastic gloves-making machine for sale. A fully automatic hand gloves manufacturing machine is a mechanical arm to tear the finished disposable clear plastic gloves. Semi-automatic plastic hand gloves manufacturing machine is manually tearing the finished PE gloves. Which is PE glove-making machine do you need? Also, YG Machinery has a high-quality nitrile gloves-making machine, PE gloves Packing Machine and wet wipes-making machine for sale.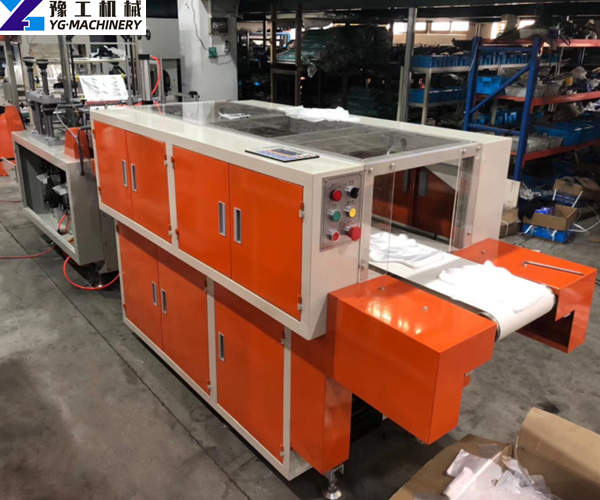 Free Quote
>
Automatic double-layer PE gloves making machine features
The whole PE gloves machine is controlled by microcomputer, towed by

servo motor

and automatically torn edge, realizing

full-automatic production

.
Any fixed length, step photoelectric tracking, accurate and stable, automatic stop when losing standard,

photoelectric control

is adopted for feeding.
Automatic counting and

settable counting alarm

.
Automatic

constant temperature

makes the bag mouth sealed firmly and smoothly.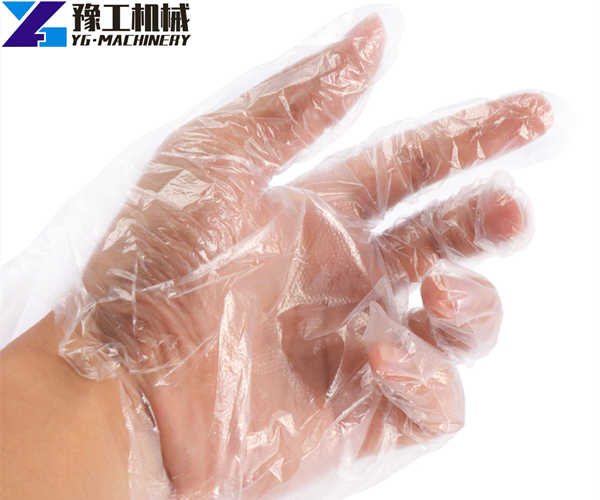 Free Quote
What is the PE gloves machine configuration?
Computer
Main motor
Main motor frequency converter
Discharge ac * 2
Conveyor gear motor
Feed motor
Glove mold*2 sets
400MM cutter
Temperature control
Electrostatic apparatus
Rear discharge rubber roller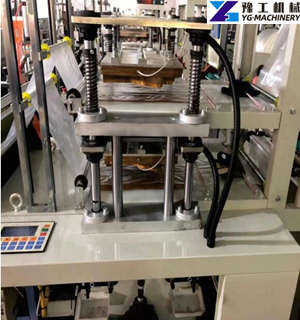 An important structure of the machine: Iron Plate H10 Channel Steel No. 8 Cast Iron Pig Iron
Free Quote
PE hand gloves making machine parameters
| | |
| --- | --- |
| Model | YG-PE500A |
| Unwinding Diameter | ¢600MM |
| Bag Making Width | 240-300MM |
| Bag Length | 200-350MM |
| Cutting Speed | 320-400 Pc/Min |
| Membrane Thickness | 0.008-0.02MM |
| Power | 4.8KW |
| Machine Weight | 1000KG |
| Dimensions | 3000*1050*1850MM |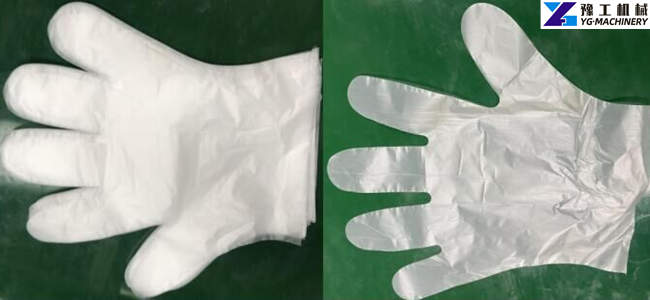 Free Quote
Configuration list of automatic edge tearing machine
Servo motor and driver*1Set
Stepping motor and driver for the bag out*1Set
Single-phase geared motor*1Set
Synchronous wheel*10Pc
A timing belt (rubber)*5Set
Conveyor (PVC)*4Set
Cylinder*7Pc
Trachea and fast interface*1Pc
PLC*1Pc
Manipulator*1Pc
Proximity switch*1Pc
Photoelectric switch*1Pc
The main structure (Channel steel)*1 set
Other structures (A3 iron plate H1/H3/H6)*1Set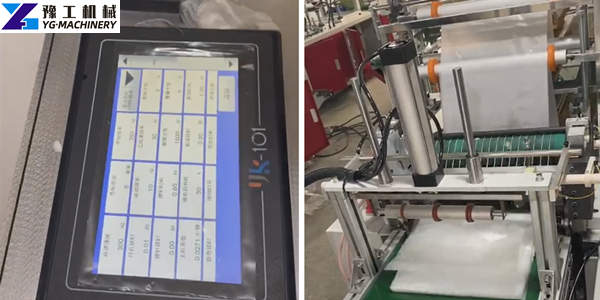 Automatic edge tearing machine parameters
| | |
| --- | --- |
| Size | L2450*W1050*H1450MM |
| Weight | 350KG |
| Supply | AC220V/50Hz |
| Power | 3.5KW |
| Gas Source | ¢12MM,0.6~0.8MPa |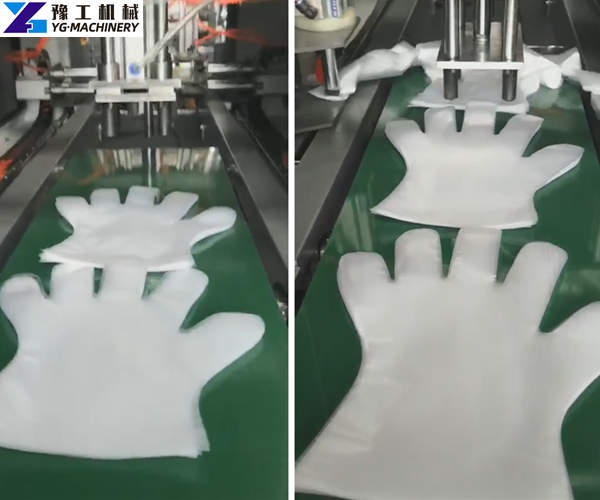 Free Quote
Why choose YG PE gloves manufacturing machine?
YG Machinery specializes in R&D, manufacturing, and sales of machinery and equipment production lines and provides whole plant project proposal service. For example, disposable (Latex/Nitrile/PE/PVC) gloves making machine. Mask-making machine. Melt-blown fabric cloth production line. Wet wipes production line, tissue paper making machine, veterinary glove making machine, and so on. In addition to the unified machine developed and produced by ourselves. YG Machinery can also accept machine customization. So as to manufacture machinery that is more in line with your needs, in order to reduce your cost of purchasing machines and save energy during use. Please feel free to leave your requirements.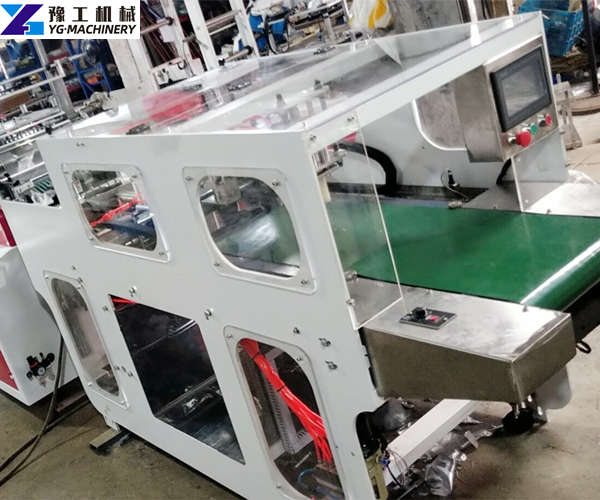 Free Quote
Plastic hand gloves machine delivery time
In general, PE gloves making machine delivery within 20 days after receipt of advance payment (down payment).
YG plastic PE gloves machine after-sales service commitment
After the equipment arrives at the buyer, personnel are immediately dispatched to install and debug the equipment and assist the operator in providing guidance if the customer needs it. In addition, the warranty period of the equipment is one year, and spare parts can be replaced free of charge during the warranty period. If you are looking for a reliable and powerful gloves production line manufacturer or wet wipes machine factory, Henan Yugong Machinery Co. Ltd will be your ideal partner.
Other Products
In addition to disposable (Latex/Nitrile/PE/PVC) gloves making machine, we also have these production line equipment. Tissue paper making machine, paper rewinding machine, water bottle filling machine, wet wipes making machine. etc. Leave your message now.