The wet wipes production line contains not only one piece of equipment, but it also contains a series of machines for producing wet wipes. It can be used to produce a variety of wipes such as baby wipes, sanitary wipes, disinfectant wipes, kitchen wipes, wet toilet paper, etc. Yugong wet wipes production line manufacturers provide various types of wet wipes equipment to provide suitable solutions for your wet wipes production.
An overview of the wet wipes production status
Applicable base paper: spunlaced cloth, hot-rolled cloth, degradable non-woven fabric, wet strength paper, etc.
Production of wet tissue texture: plain, reticulated, pearl.
Wet tissue packaging style: single pack, 1-5 sheets/pack, 1-10 sheets/pack, 5-30 sheets/pack, 30-120/pack, 40-120/pack.
Applicable packaging material: PET/PE, BOPP, PET/AL/PE, and other hot air materials.
Folding style: independent extraction, continuous extraction, and various special folding methods.
Types of wipes produced: baby wipes, sanitary wipes, disinfectant wipes, kitchen wipes, and wet toilet paper.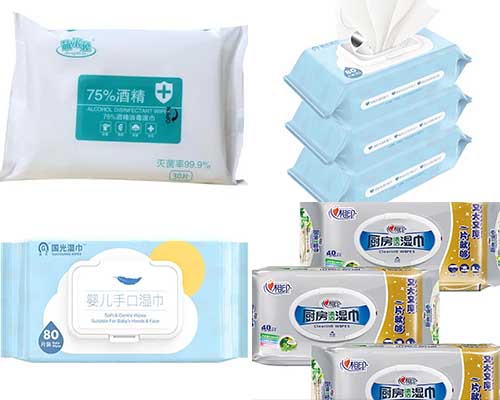 Wet wipes production process
Wet wipes production line manufacturing process: unrolling – slitting fabric into lanes – folding – wetting – cutting – pile&counting – delivering
Main production technical parameters(suitable to wet tissue for large-size packing)
Product Type
wet wipes(non-cross folding)
Product speed
250-380 cuts/min (3000-4500 pcs/min )
Suitable raw material
air-laid paper, spun lace /hot-rolling nonwoven fabric
Weight of raw material
40-80g/㎡
Folding way
"Z" shape (pop-up and non-pop-up)
Cutting unite
A: Double paper shelves
B: 10 lanes or 12 lanes,2 rolls
Raw material roll width
900~1000mm
Length of wet tissue
140-220mm (setting via touchscreen)
Size of raw material
(1000-1250)×Ø1000 (mm, W×Dia)
Wet tissue unfolded size
(140-220)×(150-250) (mm,L×W)
Wet tissue folded size
(140-220)×(90-110) (mm,L×W)
If you have any other questions about YG 30-120 pcs/pack wet wipes production line, please leave your message.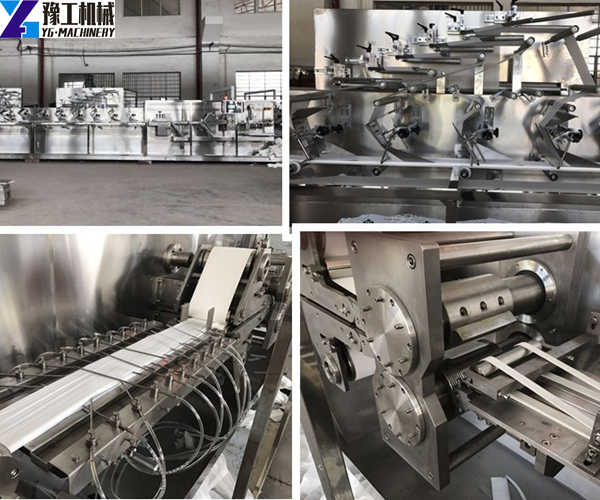 YG Wet Wipes Machine Manufacturers Factory
Wet Wipes Manufacturing Machine Configuration
| | |
| --- | --- |
| Material supply system | Servo motor |
| Cutting system | Converter motor |
| Piling system | Servo Motor |
| Power supply | 380V 50HZ |
| Power | 10KW |
| Size of machine | 10200×3300×2000(mm, L×W×H) |
| Weight of machine | 5000 kg |
| Water Tank | 400L / 2 unit |
| Optional making | wet tissue packing machine |

Wet Wipes Manufacturing Machine Structure
YG Wet Wipes Production Line For Sale
YG Machinery specializes in the manufacturing of high-speed wet wipes production lines. As professional wet wipes machine manufacturers, we have different types of wet wipes manufacturing machines for your choice. For example, a fully automatic single-channel wet tissue manufacturing machine. Fully automatic double channels wet wipe production line. If you are looking for wet wipes production line for sale, please feel free to contact us.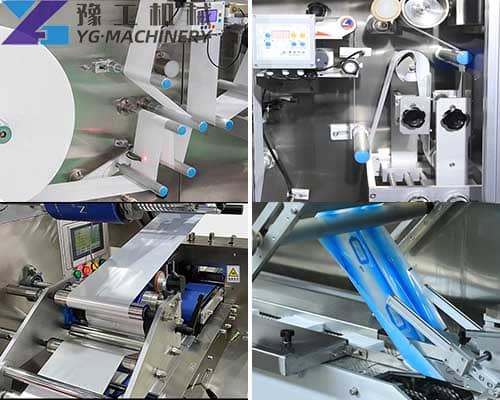 According to the packing method, we have 1-2 pcs/pack automatic single or double sheet wet wipes production machine. 5-30 pcs/pack semi-auto wet tissue folding machine. 30-120 pcs/pack high-speed wet wipes production machine (Auto-splicing). Which wet wipes production line do you need? Let's talk about the 30-120 pcs/pack High-Speed Wet Wipes Folding Machinery in detail on this page. Or you can view this page to learn more about YG wet wipes making machine and other information.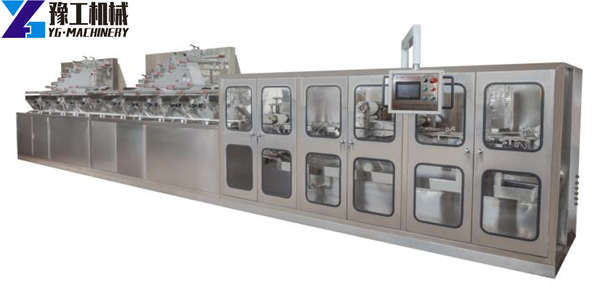 Automatic Wet Wipes Production Machine
Why Choose YG wet tissue production line supplier?
As a professional wet wipes production line manufacturer, YG Machinery has more than 15 years of experience in the production of wet tissue machines. Therefore, regardless of production experience, product quality, customer service, and other aspects, we are in a leading position in the industry. At the same time, our wet wipe rewinding machine, wet tissue packaging machines, and other wet wipe-making machinery has won unanimous praise from customers. Are you looking for wet tissue machine manufacturers?
At the same time, If it is convenient for you, welcome to visit our wet wipes production machine factory. If you are looking for disinfection wipes production line or baby wipes making machine. Just feel free to contact us. You can tell us your requirement by the following message form.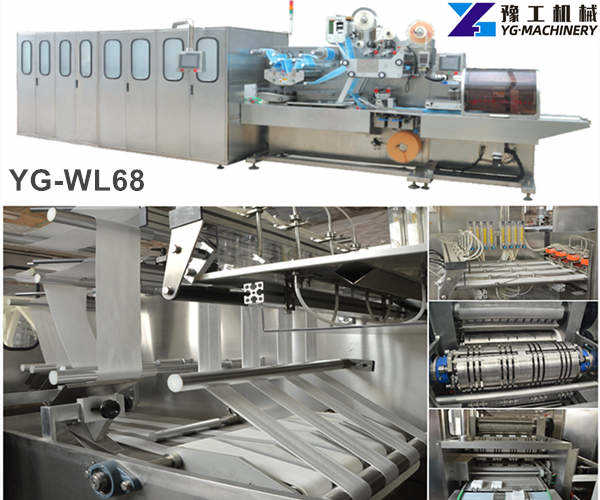 Wet Tissue Manufacturing Process Display
Other Products
Our wet wipe production lines are exported to Mexico, Singapore, Brazil, Indonesia, South Korea, Turkey, Vietnam, Malaysia, the Philippines, and other countries. Check here to know more about YG wet wipes making machines and wet wipes manufacturing machines for sale. In addition, we have a paper tissue-making machine, paper rewinding machine, PE gloves making machine, nitrile gloves production line. LaTeX gloves making machine. Welcome to contact us.