Sanitary Napkin Machine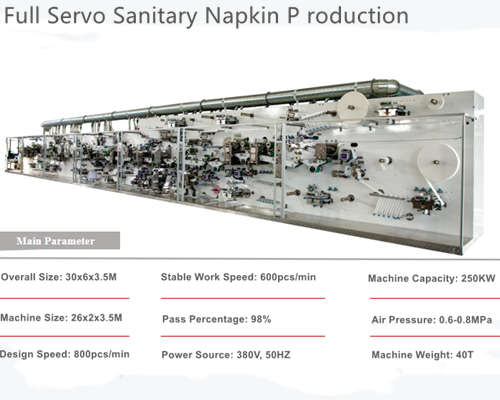 Sanitary Napkin Machine For Sale
The principle of sanitary napkin production is a process of physical combination and pressure-cutting through a sanitary napkin machine. The raw materials are non-woven or cotton cloth, perforated film, fluff pulp, water-absorbent resin, cast film, hot melt adhesive, etc. The production process of sanitary napkins generally includes the pulverization of fluff pulp and the mixing of polymer materials from front to back. Cotton cutter assembly, diversion assembly, circumferential seal assembly, forming knife assembly. Four chemical press cutting assembly and fabric, base film, chip, base film, film unwinding process and mask, base film, glue gun, and glue machine system. If you need a sanitary napkin making machine price, please feel free to contact us.
Full Servo Sanitary Napkin Production Line Parameter
| | |
| --- | --- |
| Overall Size | 30*6*3.5m |
| Machine Size | 26*2*3.5m |
| Design Speed | 1300pcs/min |
| Stable Work Speed | 600pcs/min |
| Pass Percentage | 98% |
| Power Source | 380V,50Hz |
| Machine Capacity | 250Kw |
| Air Pressure | 0.6-0.8Mpa |
| Machine Weight | 40T |
Configuration
Product size
Daytime use: 240mm
Night use: 285mm(customized design)
Safety system
Safety guard installed at the operating side, with emergency stop switch, security identifier. The driven side is equipped with a safety pull wire.
Control system
PLC control system. Operating on the touch screen. Configure HDTV monitor
Materials corrective system
Germany BST automatic web guide system (optional).
Drive system
Convey servo drive, imported timing belt, key position adopt the imported bearing.
Product structure
Tissue paper,sap paper,topsheet nonwoven,double side nonwoven(3pcs),ADL,back sheet,back&wings release paper,packing film
Tension system
Tissue paper, cotton core (SAP),  Top sheet nonwoven, ADL, PE film,back&wing release paper, packing film A&B shaft unwinding by Inverter motor
Benefits of Starting Sanitary Pad Machine Manufacturing
There are many specifications of sanitary napkins, ranging from 210mm to 420mm in length.
Sanitary pad machine advantages: According to different markets, machine specifications are different. The fully automatic sanitary napkin-making machine has a long service life.
Applicable market: Applicable to domestic and foreign markets。
Sanitary napkin production line operation: The machine has low difficulty in operation, fewer production stations, and mature equipment.
According to different sanitary pad machine requirements, the fastest production speed can reach 1300 pieces per minute.
The Concept of Sanitary Napkins
Sanitary napkins are an absorbent material. The main materials are cotton, non-woven fabric, and paper pulp. Or high molecular polymer and high molecular polymer composite paper formed by a composite of the above materials. The side design is mainly used to prevent side leakage. Therefore, sanitary napkins with soft material sides are more popular among women.
Sanitary Pad Making Machine
Sanitary napkin manufacturing machine, also called sanitary pad making machine. In most cases, sanitary napkin specifically refers to products used during menstruation. Sanitary pad refers to the smaller pads used before and after menstruation. We have a sanitary napkin manufacturing machine, sanitary pads manufacturing machine, and baby nappy & adult diaper making machine for sale. Please feel free to tell us what do you need, and we will reply to the sanitary napkin-making machine price to you asap.
YG Products Overview
YG Machinery specializes in the production and sales of various sanitary equipment production line machinery. For example, low-cost sanitary pad-making machines. Baby diapers making machine. Adult diaper-making machine. Tissue paper-making machine. Wet wipes making machine. Paper cup-making machine. Nitrile gloves making machine.