Diaper Manufacturing Machine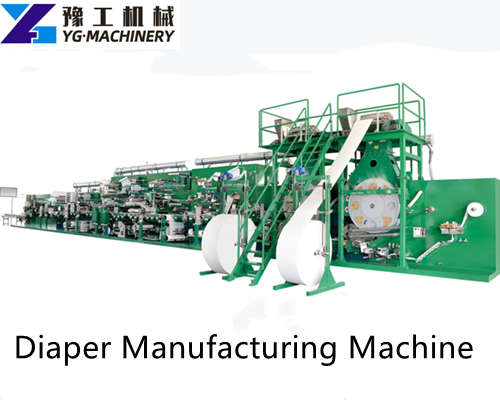 Diaper Manufacturing Machine For Sale
YG Machinery specializes in the production of sanitary equipment. Including sanitary napkin making machine, pad production line, adult diaper making machine, baby diaper manufacturing machine. This page mainly introduces the diaper manufacturing machine for sale. Contact us to get the diaper manking machine price.
Pull Up Diaper Manufacturing Machine
Full Servo Full Elastic Waistband Diaper Making Machine
T Shape Baby Diaper Manufacturing Machine
I Shape Baby Diaper Production Line
Adult Diaper Making Machine
Pull Up Diaper Manufacturing Machine Parameter
| | |
| --- | --- |
| Overall Size | 35*8*4m |
| Machine Size | 30*6.2*3.5m |
| Design Speed | 600pcs/min |
| Stable work speed | 450pcs/min |
| Pass percentage | 98% |
| Power source | 380V,50HZ |
| Machine capacity | 400Kw |
| Air pressure | 0.6-0.8Mpa |
| Machine weight | 80T |
Full Servo Full Elastic Waistband Diaper Making Machine Parameter
| | |
| --- | --- |
| Overall Size | 30*8*4m |
| Machine Size | 23*6*3.5m |
| Design Speed | 600pcs/min |
| Stable work speed | 450pcs/min |
| Pass percentage | 98% |
| Power source | 380V,50HZ |
| Machine capacity | 300Kw |
| Air pressure | 0.6-0.8Mpa |
| Machine weight | 65T |
T Shape Baby Diaper Manufacturing Machine Parameter
| | |
| --- | --- |
| Overall Size | 30*6*4m |
| Machine Size | 26*6*3.5m |
| Design Speed | 600pcs/min |
| Stable work speed | 450pcs/min |
| Pass percentage | 98% |
| Power source | 380V,50HZ |
| Machine capacity | 270Kw |
| Air pressure | 0.6-0.8Mpa |
| Machine weight | 65T |
I Shape Baby Diaper Production Line
| | |
| --- | --- |
| Overall Size | 30*6*4m |
| Machine Size | 22*2*3.5m |
| Design Speed | 600pcs/min |
| Stable work speed | 450-500pcs/min |
| Pass percentage | 98% |
| Power source | 380V,50HZ |
| Machine capacity | 260Kw |
| Air pressure | 0.6-0.8Mpa |
| Machine weight | 60T |
Adult Diaper Making Machine Parameter
| | |
| --- | --- |
| Overall Size | 33*8*4.5m |
| Machine Size | 31*2.2*4.5m |
| Design Speed | 230pcs/min |
| Stable work speed | 180(auto)-250(full servo)pcs/min |
| Pass percentage | 98% |
| Power source | 380V,50HZ |
| Machine capacity | 400Kw |
| Air pressure | 0.6-0.8Mpa |
| Machine weight | 90T |
Pull Up Diaper Making Machine Configuration
Product size: M – 450×410 L – 480×410 XL – 510×410 XXL – 530×410
Pull up diaper structure: Cotton core+SAP, top(bottom)tissue paper, hydrophobic non-woven fabric(Leg cuff), top sheet non-woven fabric, ADL, back sheet, spandex, waistband non-woven fabric.
Drive system: Full servo drive, timing belt, and flat belt are import products, and all the key parts, are import bearings.
Control system: PLC control system, operating on the touch screen, configure HDTV monitor.
Safety system: It has a safety device on the operating side, matched with an urgent stop switch. The high audio fan uses sound insulation or a silencer.
Packing Way: Equipped with the stacker at the request of the client.
Materials corrective system: Germany BST automatic web guide system (optional).
Tension system: Top tissue paper, bottom tissue paper, sap core, hydrophobic nonwoven(leg cuff), top nonwoven, ADL, back sheet, back sheet nonwoven are adopted A&B shaft active unwinding by inverter motor.
Contact us to get diaper manufacturing machine prices right now.
Difference between Pull-up Diapers and Baby Diapers
Pull-up diapers and baby diapers are both diapers. But pull-up diapers are like underwear. It can be put on directly, suitable for babies who are learning to walk or older babies. Pampers diapers need to be pasted. Suitable for use when the baby is relatively young. The most obvious difference between baby diapers and pull-up diapers is that baby diaper has no elasticity, but pull-up pants have elasticity at the waist. The bond of the baby diaper is on the lower abdomen, and the bond of the pull-on diapers is on both sides of the thigh.
Anyway, if you want to set up a diaper production line or sanitary napkin production line, please tell us your requirement. We will send diaper making machine price for your reference.