The frozen french fries production line produced by Yugong has high-quality equipment, high throughput, fast running speed, and low failure rate, which are welcomed by many customers. Yugong provides semi-automatic and fully automatic french fries production lines. The output of the production line ranges from 50kg/h to 2t/h. Yugong's frozen French fries line has been exported to many countries and regions in the world. Recently, our French fries production line was exported to Turkey.
Introduction of French Fries Production Line
The French fries production line is a production line composed of many potato processing machines for processing potatoes into fried frozen French fries. The complete french fries production line mainly includes washing and peeling machines, cutting machines, blanching machines, dehydrators, frying machines, deoiling machines, freezers, packaging machines, and other machines. If it is a small semi-automatic french fries production line, it only contains the above hosts. If it is a large-scale fully automatic production line, in addition to the above hosts, it also requires a matching conveyor belt to connect the two hosts to realize automatic production.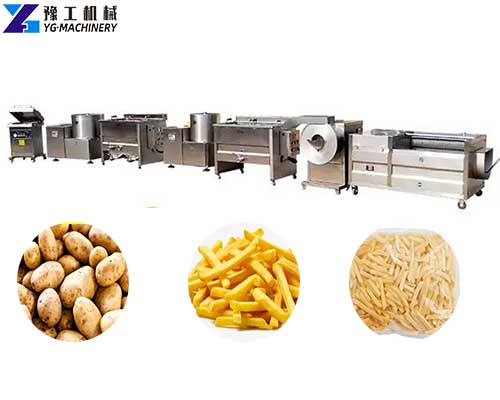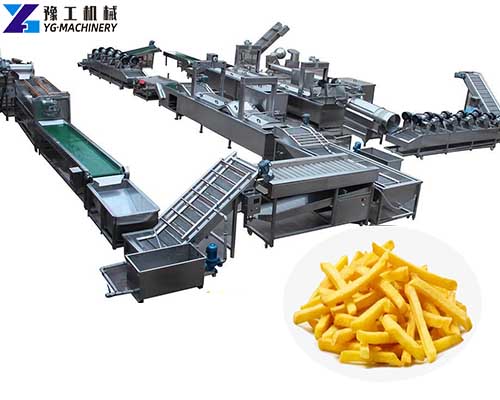 Why are the french fries line popular in Turkey?
High production efficiency
Using automated machinery and equipment to make french fries makes production more efficient. For example, the number of potatoes cut by a 200kg/h potato slicer in one hour can replace the workload of 4 to 5 people a day. And the shape of the potato chips cut by the machine is regular and complete.
Equipment can be customized
Whether it is a semi-automatic or fully automatic french fries processing machine, all equipment can be customized. Yugong French fries production line manufacturers provide machine customization services for all customers. No matter what your needs are, we can meet them.
The machine is of high quality, all 304 stainless steel
All potato processing equipment in the Turkish fries production line adopts all 304 stainless steel. The machine uses all 304 stainless steel has good corrosion resistance and is a high-quality material often used in the food industry.
Whether it is a semi-automatic or fully automatic french fries production line, the equipment that Yugong comes out with has already been installed and debugged in the factory. Therefore, after you receive the equipment, you only need to place the equipment in a suitable position, and then plug in the power to run the machine. The operation is very simple.
How to make frozen fries using a french fries line?
So how to use an automated french fries production line to produce frozen fries? First of all we should know the production steps of french fries. From raw potatoes to frozen French fries, it needs to go through the steps of washing, peeling, cutting, blanching, dehydrating, frying, degreasing, freezing, packaging, and so on. Therefore, the equipment in the french fries production line replaces the above processing steps by hand. The following takes the semi-automatic french fries production line as an example to introduce the french fries production process of the export Turkish french fries production line.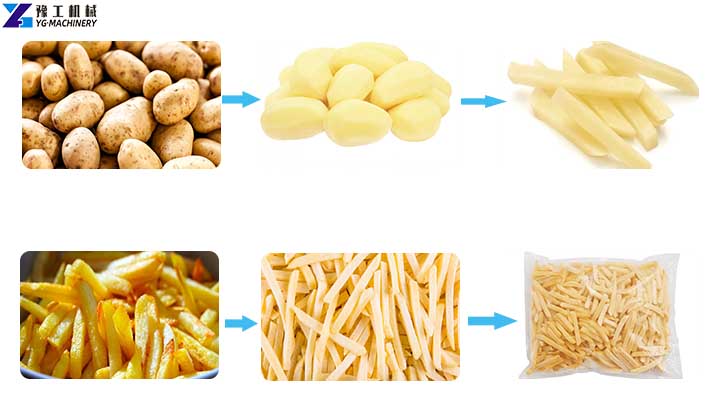 Frozen fries production process
Washing and peeling potatoes: First, you need to use a potato washing and peeling machine to get clean potatoes. The potato washing and peeling machine has two functions washing and peeling.
Cutting potato strips: Commercial potato strippers can cut potato strips in lengths of 2~12mm, and blades of other sizes can also be customized.
Blanching: A vegetable blanching machine is needed to blanch potatoes before frying to remove starch and enzymes from the potatoes, making the fried fries with good quality and taste.
Dehydration: To avoid splashing due to excess moisture in the fries when frying, a dehydrator is required to remove excess moisture from the potatoes.
Frying: Fryer fryers get ripe, well-flavored fries. The temperature of frying french fries is about 180 degrees, and it is enough to fry for 40~60s.
Degreasing: Excess grease will affect the flavor of fried fries, so a degreasing machine is needed to degrease.
Freeze: Cool well-fried fries in the freezer to make sure they don't stick.
Packaging: The French fries packaged by the French fries packaging machine can be sold in the market.
Yugong's french fries production line is not only popular in Turkey but also in Belgium, the Philippines, Saudi Arabia, Afghanistan, Russia, and other countries and regions. If you are interested in our fries production line, please contact us for details of the machine.