The automatic wet wipes making machine realizes one-time automatic completion from raw materials to finished products. The production of wet wipes mainly goes through the steps of unwinding, slitting, folding, cutting, stacking, counting, packaging and so on.
The automatic wet wipes machine has a variety of models, which can meet customers' production of single-piece packaging, 1-5 pieces/pack, 1-10 pieces/pack, 5-30 pieces/pack, 30-120 pieces/pack, 40-120 pieces/pack Production of wet wipes of various specifications such as bags. The whole production process is stable, efficient, safe and hygienic.
YG wet wipes making machine for sale
YG company specializes in manufacturing wet wipes machine. We have a series of wet wipes making machine with different specifications. For example, fully automatic high-speed wet tissue machine. Auto-splicing high-speed wet wipes manufacturing machine. Wet tissue folding machine. Wet wipes packing machine. According to the number of wet wipes per pack, we have a single sachet , 5-30pcs, 30-120pcs wipes making machine. According to the degree of automation, there are fully automatic wet tissue making machine&semi-auto wet wipes production line. If you are looking for a baby wipes machine or wet tissue paper-making machine for adults use, YG will be your ideal partner. Please feel free to leave your requirements to get wet wipes making equipment price.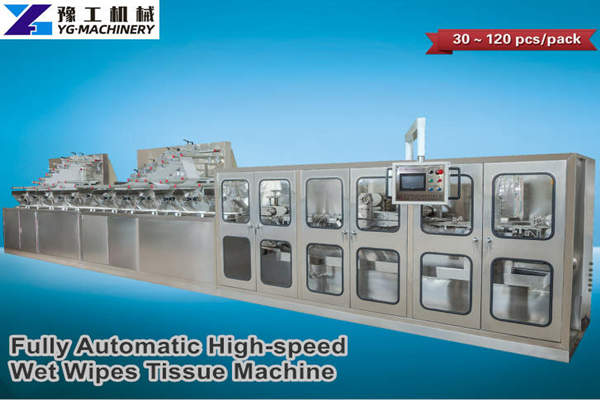 Fully Automatic High-speed Wet Wipes Production Line
Wet tissue manufacturing machine series
| | | |
| --- | --- | --- |
| Model | Capacity | Dimension(mm) |
| YG-BWL80 | 16000Pcs/Min 200Bags/Min | 58000*5500*2100 |
| YG-BWL52 | 12000Pcs/Min 160Bags/Min | 43000*3800*2100 |
| YG-BWL40 | 9600Pcs/Min 160Bags/Min | 36550*3800*2100 |
| YG-BWL20 | 4800Pcs/Min 80Bags/Min | 21500*3800*2100 |
| YG-WL10 | 3600Pcs/Min 45Bags/Min | 16000*3500*2100 |
| YG-WL12 | 4000Pcs/Min 50Bags/Min | 17500*3800*2100 |
| YG-WL16 | 6400Pcs/Min 80Bags/Min | 19500*3800*2100 |
| YG-WL20 | 8000Pcs/Min 80Bags/Min | 21500*3800*2100 |
| YG-WL68 | 1400Pcs/Min 80Bags/Min | 9600*3800*2100 |
| YG-GWL68 | 1800Pcs/Min 100Bags/Min | 17000*1500*2100 |
Technical Parameters
Applicable materials: spun lace nonwoven. Thermal bond cloth, degradable non-woven fabrics, wet strength paper, etc.
Specification of nonwovens: Max W220x2, Φ>1200mm, two independent rolls in one reel shaft.
Applicable packing materials: PET/PE BOPP PET/AL/PE and other hot sealable materials.
Film rolling specification: Max W420mm, Φ360mm.
Applicable labels: transparent labels & non-transparent labels; Metal labels are optional.
Label specification: Max W100mm, Φ400mm 2-axis labels are prepared.
Folding type: independent extraction, continuous extraction and varied special folding types.
Size of wet wipes: L 120-225mm W 80-110mm.
Unfolded size: L 120-225mm W 140-220mm.
Packing size: L 150-330mm W 80-120mm H 10-95mm.
Power: AC380V 50/60HZ
Air source required:0.6-0.8Mpa
As one of the most professional wet wipes machine manufacturers, we can supply many kinds of wet wipes manufacturing machines to you.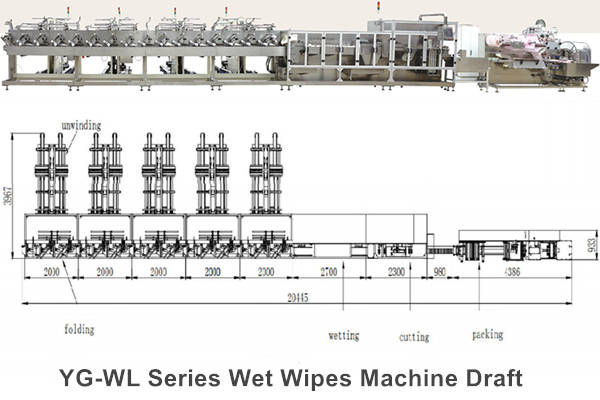 Wet Wipes Production Line Draft
Specification of wet wipes manufacturing machine
Control drive system: HD touch screen, multiaxial motion control, precise drive with a servo.
Unwinding mechanism: independent drive of unwinding device, online automatic splicing, automatic control of tension.
Folding and traction mechanism: adjustable folding width, synchronous conveying with a servo.
Quantitative humidifying system: precise control of flow meter, zero reclamation of lotion during the whole process.
Flail knife cutting system: synchronous cutting with big flail knife, precise control of cutting length, flexible and convenient for nonwovens length adjustment. Contact us to get wet wipes making machine price right now.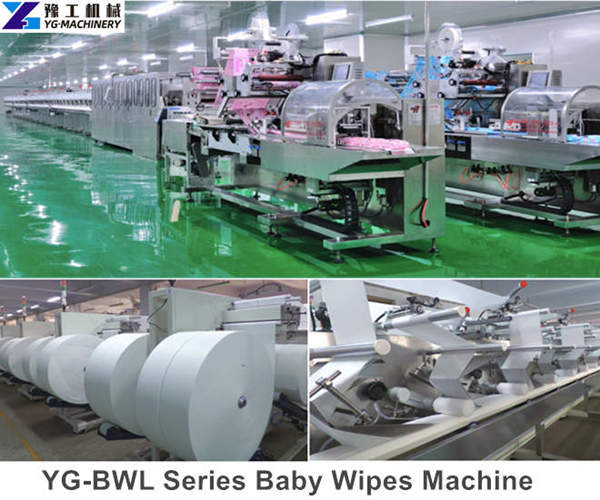 Baby Wipes Making Machine Price
Compression stacking device: accurate compression with the manipulator, uniform stacking under intelligent control.
Separating and feeding mechanism: automatically separating and conveying nonwovens to several packaging machines, linkage and stable running. Which speed of wet tissue manufacturing machine do you need?
Automatic feeding mechanism: automatic adjusting the position of nonwovens, synchronous and isometric conveying, avoiding nonwovens jamming.
Portiforium and labeling device: several portiforium shapes and dimensions are optional. Synchronous labeling and non-stop label changing can be finished automatically. Send your inquiry to get YG wet tissue making machine price list.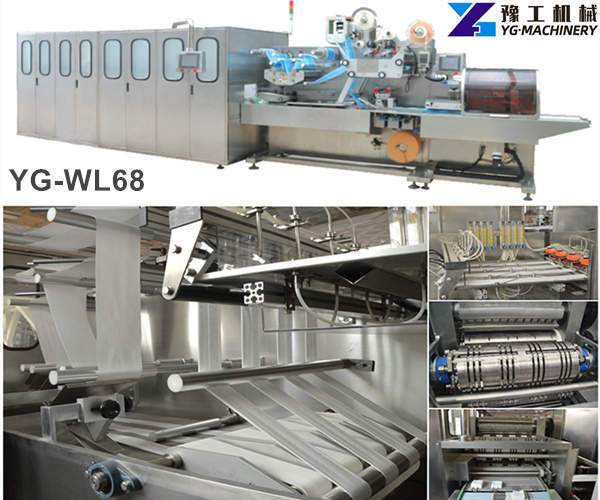 YG-WL68 Wet Wipes Manufacturing Machinery
Bag making and forming device: the tension of the film and width and height of packing bags can be adjustable automatically.
Packaging, cutting&sealing device: adopting vertical sealing technology, advanced horizontal sealing of the Chinese mainland. The seal is firm and beautiful. Get wet wipes production line quotation now.
Frequency division detecting system: online monitoring and alarm for material joints and non-conforming products.
Safety guarantee system: Fixed, movable and closed preventive device, conforming to IS014120:20021. Please feel free to send information to us if you have any questions about equipment.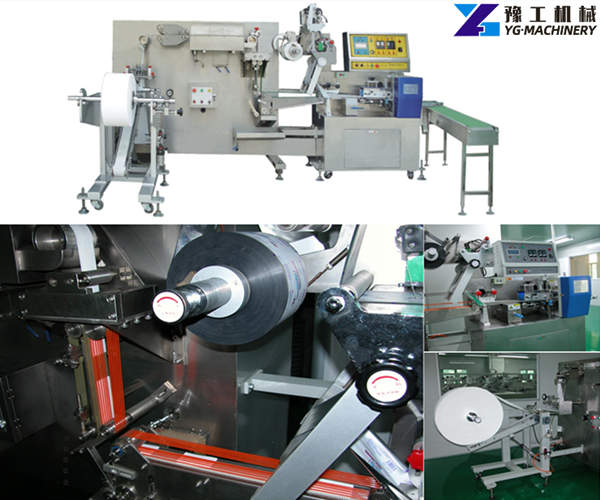 Single Sachet Wet Wipes Making Equipment
Optional wet wipes making equipment configuration
The following are optional additional configuration machines for the wet wipe production line. Therefore, you can choose according to your need and budget. Leave your message to know more YG wet wipes production line related details.
Date coding machine. Visual inspection system. Automatic correcting system. Automatic lid applicator machine. Metal detector. Robotic Palletizer.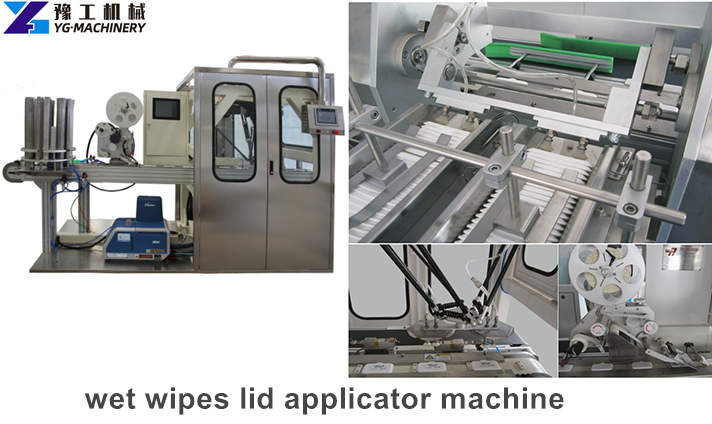 Wet Wipes Lid Applicator Machine
Market area
Our wet wipe production lines are exported to Mexico, Brazil, Indonesia, South Korea, the United States, India, Vietnam, Malaysia, the Philippines, and other countries. Click these pages to know more about wet wipes machine details. 30-120 PCS/Pack Wet Wipes Production Line. Wet wipes manufacturing machine.