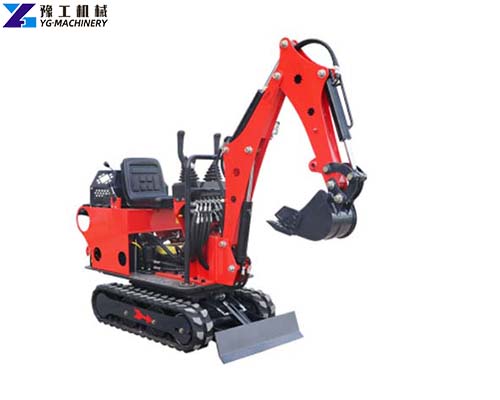 The small excavator is widely welcomed because of its small size, wide application, and obvious price advantage. It is widely used in construction engineering, gardening, and agronomy. This compact excavator can be matched with different excavation tools to realize excavation, crushing, drilling, compaction, and other functions. It has a compact body and is convenient for indoor work, allowing construction workers to complete their work more easily and conveniently. YG offers various types of small excavators and excavator attachments for sale. Please contact us for an excavator quotation plan.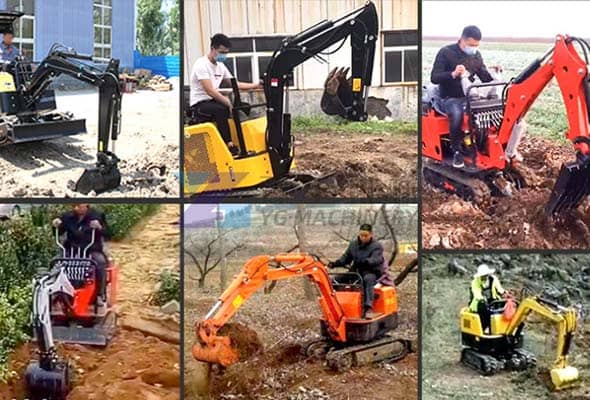 0.8~2T Small Excavator Parameters
| | | | | | |
| --- | --- | --- | --- | --- | --- |
| Model | YG08 | YG10 | YG13 | YG17 | YG20 |
| Bucket capacity(m³) | 0.02 | 0.02 | 0.03 | 0.04 | 0.05 |
| Bucket width(cm) | 30 | 40 | 40 | 40 | 40 |
| Engine brand | KOOP | KOOP | KOOP | KOOP | CHANGCHAI |
| Digging height(cm) | 243 | 250 | 250 | 282 | 295 |
| Digging depth(cm) | 120 | 132 | 240 | 190 | 220 |
| Unloading height(cm) | 165 | 182 | 182 | 200 | 215 |
| Bulldozer lift height(cm) | 12 | 12 | 33 | 33 | 33 |
| Vehicle size(M) | 2.2*0.7*1.2 | 2.2*0.9*2.2 | 2.2*0.9*2.2 | 2.3*1.1*2.2 | 2.3*1.2*2.2 |
| Total Weight(Ton) | 0.8 | 0.9 | 1.2 | 1.7 | 1.9 |
The above are the parameters of a 0.8T~1.9T small digger. YG provides equipment with various driving methods such as electric, gasoline, and diesel. Please send us your requirements, and YG will provide you with detailed machine details.
Compact Excavator Application
The compact excavator is mainly suitable for urban construction, landscaping, farmland reconstruction, and other operations.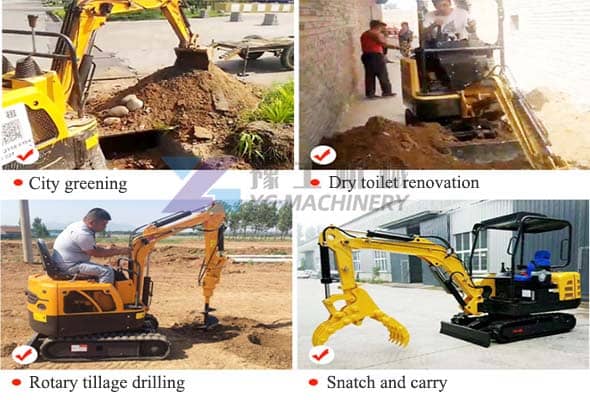 Municipal road engineering operations. In municipal engineering, there are many projects that need to excavate pipe trenches and bury pipes in foundation pits, and excavators are required to dig trenches. YG also provides road marking machines, crack sealing machines, asphalt coring machines, manhole cover cutting machines, and other road construction equipment.
House decoration. It is necessary to remove the rotten holes in the wall during house decoration. Using the micro digger can easily enter the room to remove the rotten holes.
Road expansion of self-built houses in rural areas. When self-building rural houses, artificial foundation pits are required to excavate the sewer subgrade and pipe trenches. Small excavators can improve digging efficiency and increase operating speed.
Tunnel construction. The height of the compact excavator is not high, and it can enter some small and medium-sized tunnels for engineering construction.
Landscape work. The agricultural and forestry landscape operation environment is relatively limited, and it is often blocked by surrounding saplings and crops. Micro excavators can be used to perform operations well.
Vegetable greenhouse. Greenhouse vegetables are relatively short, and large equipment cannot work inside, so miniature excavators can be used.
Cleaning slag of steel-making furnace. A large amount of slag will be produced during the steel-making process, and it is necessary to use a mini excavator to turn over and remove the slag frequently.
Dangerous work at heights. The micro digger can be suspended on the cliff to carry out cliff construction or disaster relief work.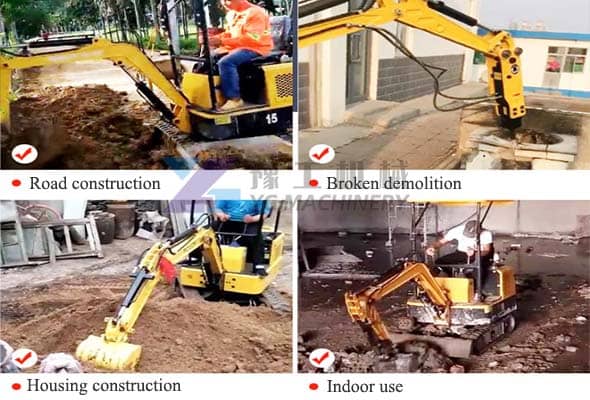 Classification of Small Excavator
With the continuous increase in people's demand for construction machinery and equipment, the market demand continues to increase, and there are more and more types of excavators. According to different classification standards, excavators can be classified into the following five categories.
According to size, there are compact excavators, medium excavators, and large excavators. Generally speaking, those below 20 tons belong to micro diggers, those between 20 and 30 tons belong to medium excavators, and those above 30 tons belong to large excavators.
According to the drive mode, there are internal combustion engine drives and electric drive excavators.
According to different walking methods, excavators can be divided into crawler excavators and wheeled excavators.
According to the different transmission methods, there are hydraulic and mechanical excavators.
According to the bucket, there are front shovel excavators and backhoe excavators.
YG provides the above types of excavators and attachments (such as hydraulic excavator shear, and vehicle dismantler). Please leave us a message to tell us your needs, and we will match you with the appropriate type of equipment.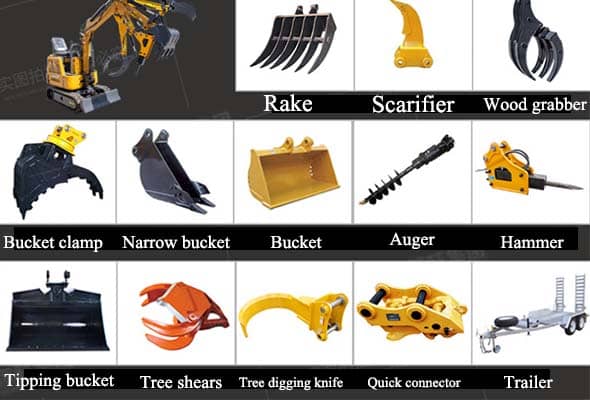 Why Compact Excavator is Becoming More and More Popular?
With the advancement of modern technology, mechanized production is becoming more and more common. Mechanized operation greatly improves production efficiency and saves labor costs. The small caterpillar excavator has a compact body and can be operated in many narrow areas. One excavator can replace the work of more than 10 workers, saving a lot of labor and financial resources. In addition, the small digger is not as complicated as a large excavator, it is simple in structure and easy to maintain. Finally, small excavators have a very large price advantage over large excavators. Therefore, the above advantages make compact excavators popular with many customers.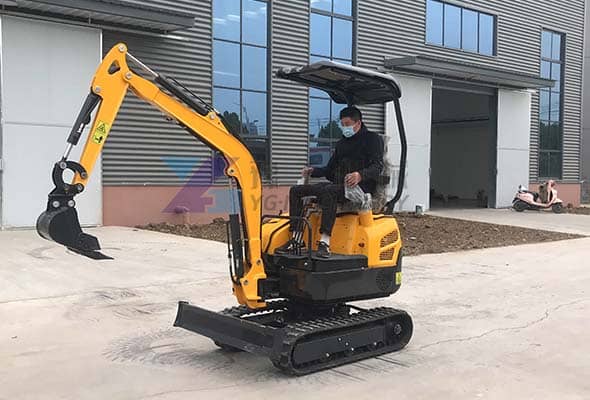 Composition of Micro Digger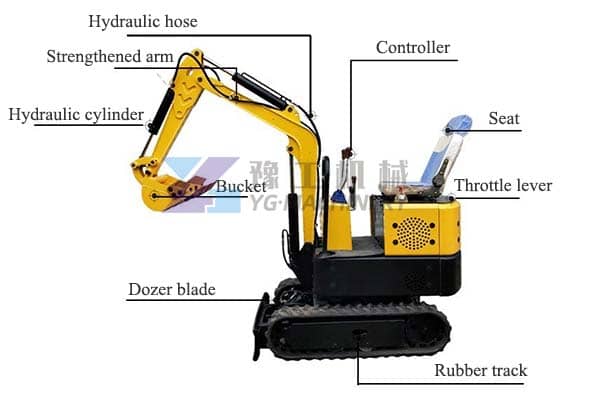 As shown in the figure, the micro digger consists of the above parts. The more important parts are bulldozing blades, operating control levers, hydraulic cylinders, hydraulic oil pipes, and other parts.
Advantages of Small Excavator
YG supports customized services, the color of the machine, the cockpit, and the side swing can all be customized according to your needs.
The persistent operation, and high excavation efficiency, bid farewell to traditionally hired workers.
A variety of digging attachments are available and can be customized. Therefore, the small excavator can meet the purposes of agriculture, engineering construction, and the like.
It adopts a hydraulic oil cylinder, which has good sealing performance, reliable operation, and stable operation without jamming.
Two-hand pilot operating system, simple and easy to operate, easy to use.
It is suitable for a variety of working environments, and one machine can be used for multiple purposes to meet different construction requirements.
It is welded with a high-strength iron plate and has a high-strength boom.