5 Gallon Bottle Blowing Machine For Sale
The 5-gallon water bottle has a large volume, holds a lot of water, and is easy to replace, making it a must-have for every home. A gallon is a unit of volume and one gallon is equal to 3.785 liters. The 5 gallon water bottle is also made with a PET preform machine and a PET blowing machine. The 5 gallon bottle blowing machine is available in both semi-automatic and fully automatic. Semi-automatic one-cavity, two-cavity models. The fully automatic 5 gallon water bottle making machine for sale can complete the whole process of water bottle making and blowing.
How to Make a 5 Gallon Water Bottle?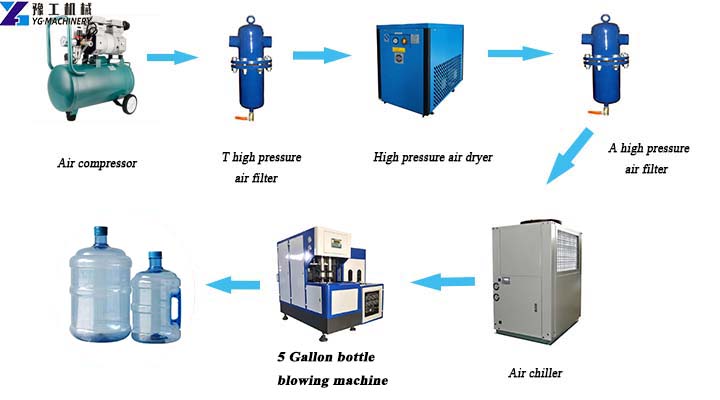 The above is the production process of the two-step 5-gallon bottle blowing machine. First, the plastic raw materials are processed into PET preforms. It is then preheated and economically blow molded using PET blow molding. The body of the preform needs to be preheated before blowing, and the neck of the preform does not need to be preheated. Moreover, it needs to be cooled down during the blowing process, so it is necessary to use high-pressure air compressors, chillers, refrigeration dryers and other supporting equipment. The semi-automatic 5 gallon bottle making machine has low cost and high production efficiency, which meets the needs of most small and medium water bottle processing plants. The fully automatic blowing machine occupies a large area and is expensive, and is generally suitable for large-scale processing plants.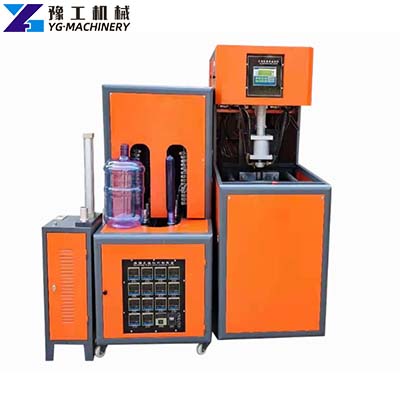 5 Gallon Water Bottle Blowing Machine Benefits
The semi-automatic equipment adopts the two-step method to make water bottles, with high output and low scrap rate of plastic bottles.
The infrared rotary oven heats the inner lamps, and the width and temperature of the reflector can be adjusted to adapt to the heating of preforms with different structures.
It is heated by infrared lamps, which has strong penetrating power.
Different heating lamps are equipped with independent temperature control devices, so that the preform has an ideal heating effect.
Adopt advanced intelligent PLC intelligent control system operation, simple operation and small error.
The machine has simple structure design, easy operation, convenient maintenance, small footprint and low power consumption.
How About the 5 Gallon Bottle Making Machine Price?
The 5 gallon water bottle blow molding machine price mainly affects by the machine model and capacity. The machines used to make 5 gallon water bottles are mainly semi-automatic or fully automatic. The semi-automatic equipment has various models such as one cavity, two cavity, four cavity and six cavity. Different models have different yields. Therefore, we need to quote you with your needs. What size water bottle factory are you? What model water bottle maker do you need? Please leave your requirements, we will provide you with the appropriate model of the machine.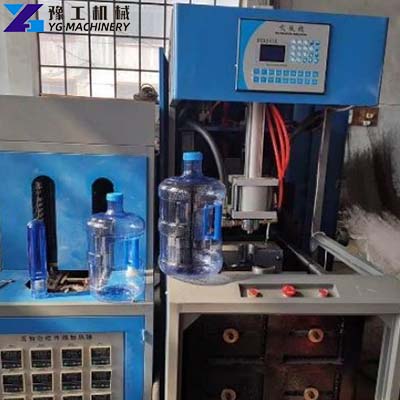 Choose a Professional 5 Gallon Bottle Blowing Machine Manufacturer
For many people who are new to the plastics industry, they need to know a lot of professional knowledge before choosing equipment. Some people rely on simple prices to judge manufacturers, but the more expensive the machine is not necessarily the more suitable for you. For small and medium-sized drinking water, mineral water and other manufacturers can choose semi-automatic equipment and purchase a PET preform making machine and a semi-automatic blowing machine for production. This can not only meet the production needs of manufacturers, but also reduce production costs.
For some large manufacturers, the volume of packaging is very large, and production and filling are often integrated. So you can choose a fully automatic 5 gallon bottle blowing machine. In this way, it can meet the assembly line production. The production is efficient, and the quality is stable and reliable. In addition, Yugong Machinery also provides water bottle filling machines,PET cooking oil bottle blowing machine,ect. The PET preforms making machine has exported to India. If you have any questions about the machine, please contact us in time.