Cement Spray Machine For Sale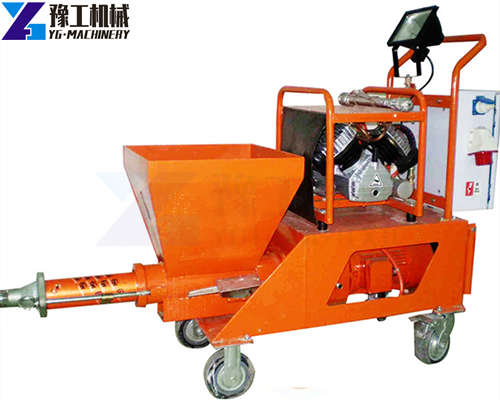 Why choose YG's cement spray machine?
YG Machinery specializes in the production of mortar spraying machines, gypsum spraying machines, white cement spray machines, stucco sprayer machines, render spray machines, and other plaster spray machines. Faced with many cement spraying equipment on the market, which one should you choose? Why can YG Machinery stand out among many equipment suppliers? This page mainly introduces the advantages of YG Machinery and some hot-selling spraying machine parameters. Or you can tell us your requirement directly, so we can give your professional advice and the most competitive quotation.
YG712 Stirring and Spraying Machine parameter
| | |
| --- | --- |
| Delivery flow | 4m3/h |
| Max. pressure | 6MPa |
| Material ratio (water:ash: sand) | 0.7:1:3 |
| Power(Main motor/stirring motor) | 7.5kw/3kw |
| Through particle size | ≤6mm |
| Conveying distance | Horizontal:50m/Vertical:30m |
| Hopper volume | 100L |
| Air compressor displacement | 4m³/min |
| Voltage | 220-380v |
| Total Weight | 370kg |
Automatic plaster spray machine parameter
| | |
| --- | --- |
| Mixer capacity | 115L |
| Power supply | 380V/50HZ |
| Throughput | 30L/Min |
| Material height | 90cm |
| Conveying distance | Horizontal:50m/Vertical:60m |
| Maximum particle size | 6mm |
| Standard pumping pressure | 50Bar |
| Motor power | 5.5KW |
| Air compressor power | 3KW |
| Total weight | 220kg |
YG800 Plaster mortar spraying machine
| | |
| --- | --- |
| Delivery flow | 3-6m³/h |
| Max. pressure | 3MPa |
| Material ratio (water:ash: sand) | 0.7:1:3 |
| Power | 6.5kw-8.0kw |
| Through particle size | ≤8mm |
| Conveying distance | Horizontal:60m/Vertical:40m |
| Hopper volume | 100L |
| Total weight | 280kg |
| Voltage | 380mm |
| Dimension | 1700mm*700mm*720mm |
Mortar pump and cement spray machine for sale
YG's mortar sprayer machine and mortar pump series are designed to save your labor costs and simplify your work. Manual application of cement-based materials is very time-consuming. But YG airless plastering machine and mortar pump (piston and rotor-stator) can double the production efficiency. Our mortar pumps have a variety of sizes and functions to support everything from residential operations to large-scale commercial projects and high-rise buildings. In addition, since the new plaster spray machine you purchase is a YG product, it can be used for a long time!
Cement spray machine VS manual wiping
Our wall plaster spray machine and mortar pump will improve daily work efficiency while ensuring quality standards. Contractors can use these mortar pump products to develop their business and obtain higher profits. At the same time save more time to complete more work. In addition, these reliable portable mortar pumps can be easily moved on the job site for easy operation. If you want to know more about the white cement spray machine and stucco sprayer machine, please leave a message. We will send product details to you shortly.
Cement spray machine saves labor cost&time
Compared with the mortar pallet and trowel method, the use of a YG fast cement plaster spray machine and pump can increase productivity. The fastest cement plaster spray machine can enter the areas that are difficult to apply by hand without damaging the surrounding areas and easily spray or pump the repair mortar. The effect is remarkable. Generally speaking, the same workgroup of five to six people can complete twice as much work. Please feel free to contact us to get the cement plaster spray machine price.
Flexible enough to handle any material
The mortar spraying machine designed and manufactured by YG can handle a variety of materials. Including epoxy mortar, non-slip coating, waterproof coating, and cement-based coating. Contractors use these durable materials in water and wastewater treatment plants, parking lots, road construction, mining, and oil and gas applications. These are just a few examples.
Easy to use and mobile
The compact and portable YG mortar equipment is easy to move between different work sites. You only need to install it near the location that needs to be pumped or sprayed, and then you can easily clean the pump and get ready for the next construction job.
Maximize team productivity
The use of YG's mixing and spraying integrated machine can improve the productivity of the worksite. Thereby reducing labor costs and increasing profits. Allows you to flexibly transfer staff to other positions. The more work, the more benefits. YG mixing and spraying integrated machine uses high-quality components to provide long-lasting excellent performance. The mixing mortar sprayer machine & stucco sprayer machine we design and manufacture can provide years of reliable service in harsh industrial environments. Each product is made of durable, high-quality components and enjoys the best warranty service in the industry.
Related Products
As a leading construction industry equipment supplier, we have a series of construction machinery. For example, mortar sprayer machine, mobile concrete pump, mini concrete pump, small concrete pump. Shotcrete machine, gunite machine. Wet sandblasting machine, shot blasting machine, floor shot blaster. Fog cannon machine, road marking machine, down-the-hole drilling machine, water well drilling machine, hydraulic rock splitter, diamond wire saw machine, etc. If you have any need for construction, please feel free to leave your requirement.