The hydraulic tube end forming machine is processing and forming equipment for shrinking and expanding tubes. In addition, it can also replace different forming molds to process tubes such as expanding, shrinking, bulging, and upsetting. The pipe end forming machine has manual and automatic modes, and can be equipped with automatic loading and unloading device to improve efficiency. The tube end forming machine can be equipped with a chamfering mold to complete the chamfering at one time.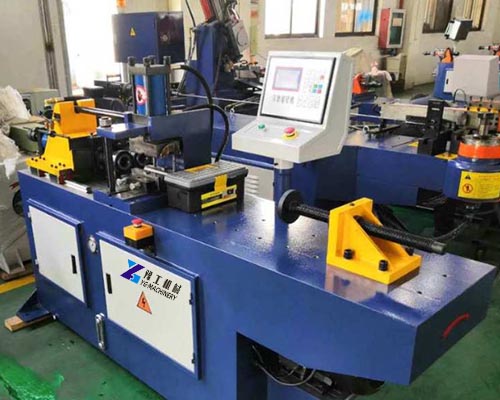 Formed Tube End Display
Tube end forming machine is widely used in the processing and forming of pipe fittings, automobile oil pipes, water pipes, air-conditioning pipes, iron pipes, aluminum pipes, and other connecting pipes.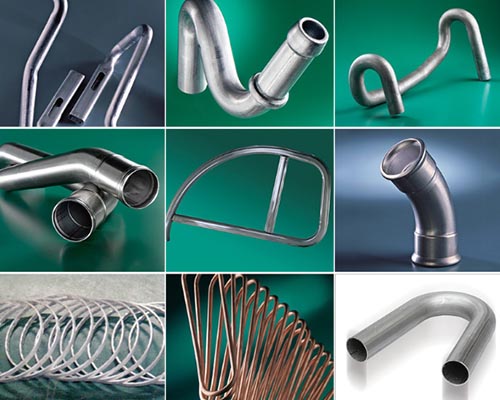 Processing Shape
The pipe end forming machine can process the pipe into various shapes such as concave, convex, knotted, long and flat, square, extended, oblique, V-shaped, open elbow, flat elbow, etc. It replaces different forming molds to process the pipe into the above various shapes. Besides the machine, YG also supplies the hose crimping machine. Please send us the pipe style you need to process, and we will customize the mold for you according to your needs.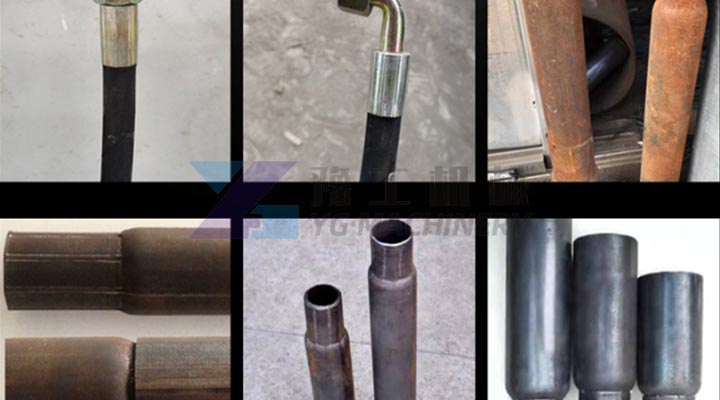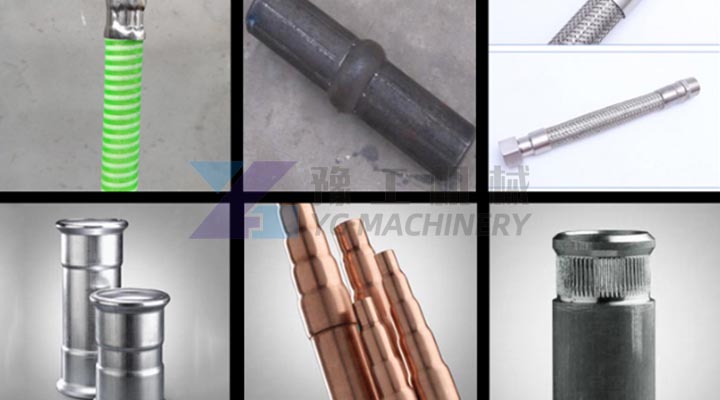 Hydraulic Tube End Forming Machine Working Principle
The pipe end forming machine shrinks or expands the diameter of the pipe under normal conditions. Through mechanical transmission, the steel pipe is driven to rotate and the end to be processed is heated. A forming die is used to fix the heated tubing into the shape of the die, which can be set after cooling.
The equipment can realize the actions of pipe shrinking and pipe flaring. Pipe necking is a forming process that reduces the diameter of the end of the tube blank. It is an action that produces tangential shrinkage in the deformation zone. The pipe flaring is a flaring plastic deformation that produces tangential stretching in the deformation zone.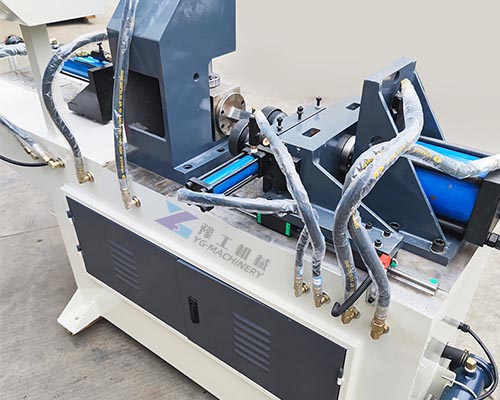 Tube End Forming Machine Parameters
| | |
| --- | --- |
| Model | YG-60 |
| Maximum processing pipe diameter specification | ¢60×2.5T |
| Maximum working stroke(mm) | 140 |
| Shrink time | Adjustable |
| Motor Power | 5.5KW |
| Hydraulic working pressure | 14Mpa |
| Machine Oversize(mm) | 2600×850×1400 |
Pipe End Forming Machine Features
It adopts Microcomputer control to automatically control the operation of machinery and equipment.
The overload protection function is installed to automatically detect machine failures and automatically shut down to protect the equipment when necessary.
Using high-quality machine materials, the machine has high performance.
Customized service, various styles, customized according to customer needs.
There are manual and semi-automatic operation modes to meet the needs of different customers
Equipped with a large-capacity cooling system to effectively control the working temperature.
It has a wide range of applications and can process pipes into various shapes.