Disposable paper cups are a product that is frequently used in our daily life. We can use paper cups to hold hot drinks, cold drinks, tea, coffee, etc. Disposable paper cups can be seen everywhere, and they can be thrown away after use, which is hygienic and convenient. Do you know how this handy paper cup is made?
Composition of Disposable Paper Cups
Disposable paper cups are mainly composed of a cup body and a cup bottom. An automatic paper cup forming machine can complete the production of the paper cup body and cup bottom. The paper cup body is made by folding fan-shaped pieces and heating and fixing them with a heat gun. The bottom of the cup is made by impacting the impact part of the paper cup manufacturing machine. Then fix the impacted circular cup base on the cup body to complete the production of the paper cup.


Disposable Paper Cup Manufacturing Process
Laminating. First, use the laminating machine to coat the PE film on the base paper.
Slitting. Use a slitter to cut the coated paper into rectangular sheets and webs.
Printing. Use a printing machine to print various patterns on rectangular pieces of paper.
Die cutting. Use a flat creasing and cutting machine to cut the printed paper into fan-shaped sheets for paper cups.
Molding. Put the fan-shaped paper and roll paper in the corresponding position of the automatic paper cup forming machine, and the automatic paper cup forming machine will automatically make paper cups.
Packaging. The formed paper cups are folded into a stack by the collecting device of the machine and then packed by the packaging machine.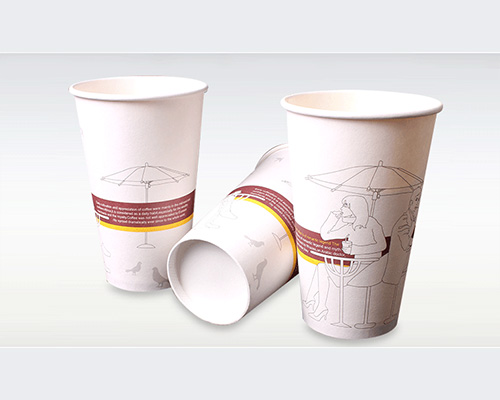 About Paper Cup Forming Machine
A paper cup forming machine is professional equipment for making paper cups. It is a multi-station automatic molding equipment. Automatic paper feeding, sealing, oil filling, bottom punching, heating, knurling, curling, and other processes can be realized on one paper cup making machine. It can produce paper cups from 2 to 14 ounces, and the mold can be customized. Use this automatic paper cup forming machine to make disposable tea cups, coffee cups, water cups, and other hot or cold drink cups. In addition, YG also provides paper cup lid making machines, plastic cup lid making machines, printing machines, die-cutting machines, and other equipment. the device.