On the 15th of this month, we packed a paper cup making machine, which will be shipped to Korea. The paper cup machine ordered by the Korean customer is used to produce 8oz plastic paper cups with a production efficiency of 70-90 Pcs/Min. The paper cup making machine is one of Yugong Machinery's hot-selling products. The mechanically produced plastic paper cups can be used to hold tea, beverages, coffee, and other foods.
Other Paper Cup Machine Cases

1-8OZ Paper Cup Machine Sold To UAE
100-200PCS/Min Paper Cup Machine Exported to Italy
Koera Paper Cup Making Machine Details
The customer sent an inquiry about the paper cup machine to Yugong's website in early March. After receiving the customer's inquiry, our sales manager Eileen quickly contacted him and confirmed the customer's needs immediately. The customer wants to produce 8 oz paper cups to supply to a beverage store. The dimensions of the specific paper cups were also quickly provided to Eileen for confirmation. After receiving the customer's cup style and size, Eileen confirmed that the YG-80 model paper cup machine can make 8oz paper cups. And provide customers with the parameters and video of this model of the machine. After receiving the quotation from Yugong, the Korean customer quickly paid the deposit.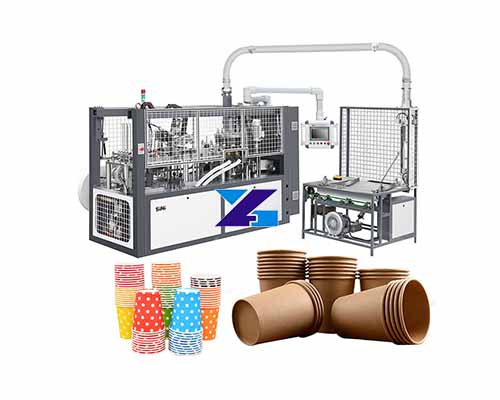 Machine Parameters
| | |
| --- | --- |
| Model | YG-80 |
| Cup Size | 3-9oz |
| Speed | 70-90 pcs/min |
| Top Diameter | 45mm(min)-82mm(max) |
| Bottom Diameter | 35mm(min)-60mm(max) |
| Height | 40mm(min)-85mm(max) |
| Raw material | 160-350g/㎡ |
| Configuration | ULTRASONIC |
| Output | 5.5KW,380V/50HZ |
| Working Air Source | 0.4-0.6Mpa; 0.4m³/min |
| Weight | 1600KG |
| Dimension of machine | L:2115mm;W:1000mm;H:1700mm |
| Dimension of cup collector | L:900mm;W:600mm;H:1500mm |
Korea paper cup making machine parameters
The model of this paper cup machine can make 3~9oz size paper cups and can produce 70~90 paper cups per minute. And the size of the top, bottom, and height of the cup can be customized. Yugong also offers other sizes of paper cup making machines, if you are interested, please contact us.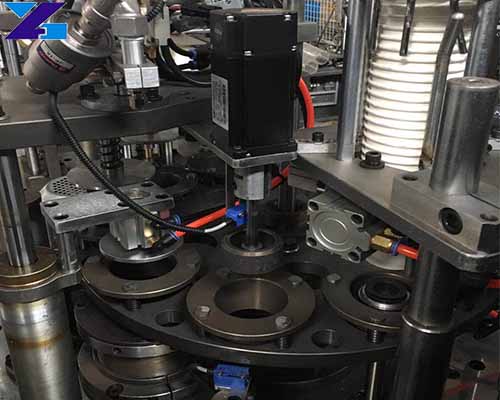 Why Choose YG Paper Cup Machine?
The high degree of automation
The new paper cup machine designed by Yugong is a fully automatic machine, which can realize one-time forming from raw materials to finished products.
Paper cup size can be customized
The automatic paper cup making machine provided by Yugong can produce paper cups of different sizes. And the top, bottom, and height dimensions of the produced paper cups can also be customized according to customer needs.
High stability
The new paper cup machine adopts intelligent control panel operation, and one person can operate the machine. Multi-row automatic paper feeding, the paper anti-backward device ensures the stability of the production process.