Hydraulic Rock Splitter For Sale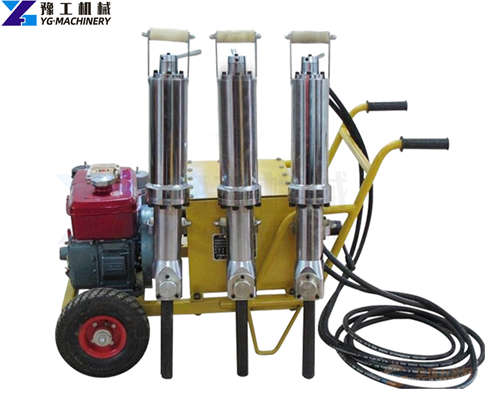 What is a Hydraulic Rock Splitter Machine?
Hydraulic rock splitter, also known as rock splitter machine, is one of the useful concrete cutting tools. Rock splitter machine applies in demolition aspects that involve breaking large blocks of concrete or rocks. Hydraulic rock splitting machine uses a hydromechanical method to split rock. Hydraulic concrete splitter is a piece of innovative equipment for efficient cracking of hard rock. It has great technical advantages in crushing rock when mining cannot be used in construction and earthwork engineering. If you are looking for hydraulic rock splitter manufacturers, we will be your ideal choice. Contact Hotline: +86 15037187716
Parameter of Hydraulic Rock Splitter Machine
| | | | |
| --- | --- | --- | --- |
| Model | YG-250 | YG-350 | YG-450 |
| Wedge Length(mm) | 250mm | 350mm | 450mm |
| Piston Stroke(mm) | 90/220mm | 90/220mm | 90/220mm |
| Drilling Depth(mm) | >500mm | >700mm | >900mm |
| Punching Diameter(mm) | 42mm | 46mm | 46mm |
| Crack Width(mm) | 10-20mm | 10-20mm | 10-20mm |
| Cleavage Time(s) | 10-15/s | 10-15/s | 10-15/s |
| Splitting Force(T) | 500t | 800t | 800t |
| Weight(kg) | 240kg | 250kg | 260kg |
The above are the parameters of the hydraulic rock splitting machine. The equipment model is named according to the length of the wedge. The longer the wedge length, the deeper it drills. The hydraulic splitting machine is powered by the hydraulic pump station, and the splitting force can reach 500t or even 800t. The splitting width is large, the splitting time is short, and the power is large. The equipment is used to split rocks, concrete, etc., jade, metal ore, etc. It is the best equipment for hard materials.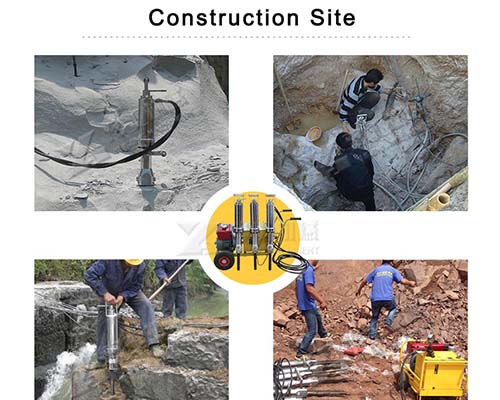 What are the Advantages of a Large Rock Splitter?
Safety. The YG rock splitter machine keeps working statically so it won't create any hazards.
Convenience. It can be used indoors or on a narrow site, as well as underwater operations.
Huge splitting force up to 800 tons.
Good efficiency. It can finish splitting fast and work continuously without interruption.
Low costs. Rock splitter for excavator doesn't require isolation or time-consuming and costly safety measures.
The operation is very simple and easy, workers can handle it easily.
Environment-friendly and low noise. It won't produce shock, noise, and dust when working. It can work in densely populated areas and indoors without interference.
High accuracy. The machine can control the direction of the split and determine the shape, and size of the part that needs to be removed in advance.
Features of Hydraulic Rock Splitter for Sale
Hydraulic splitter for rock can help improve working efficiency and bring great benefits for the construction. Rock splitter for concrete has been widely used in China's quarrying and mining industry, construction engineering, demolition engineering, chemical industry, smelting production, and overhaul engineering. And various rescue fields. It has a wide range of uses, leading technology, faster, stronger, provincial strength to serve our customers. At the same time, the hydraulic splitter produced by our company is mainly used in various construction projects for the removal of large rocks. Please leave your requirement to get the YG rock splitter price right now.
Efficient Rock Splitter Structure
YG hydraulic splitter for rock mainly consists of a pump station and splitter. Operators drill a hole of the specific diameter and depth on the rock or concrete block that needs splitting. Then insert the wedge block into the hole, which usually consists of an intermediate wedge and two reverse wedges. When the device is on the run, the high-pressure oil output from the pump station drives the oil cylinder to produce a huge thrust.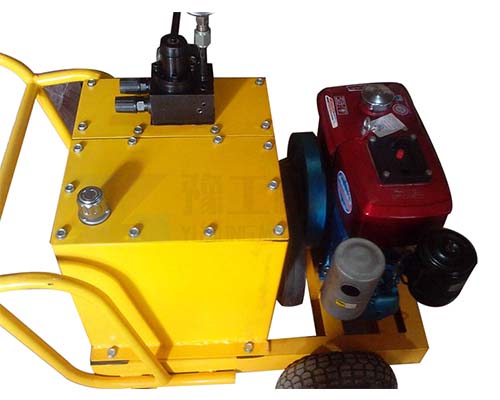 In addition. The intermediate wedge moves forward between two reverse wedges through the action of hydraulic pressure, releasing great energy from the inside out. And splitting the rock in the predetermined direction within a short time. Please contact us if you are ready to buy a rock splitter machine recently. In addition, you will get a surprise hydraulic splitter for rock price.
Working Principle of Rock Splitter Machine
Rock, concrete and other hard stones have high compressive strength, but low tensile strength and are brittle. The YG hydraulic rock splitter is designed to split stones using the wedge-shaped principle. The equipment mainly composes of hydraulic power station and splitting gun. The hydraulic power station adopts hydraulic drive, and the huge driving force obtained by the oil cylinder pushes the splitting rod into the rock. Splitting forces of thousands of tons cause the rock to split in the direction of the wedge drilling.
As one of the top professional hydraulic splitter manufacturers, YG Machinery sells efficient hydraulic rock splitters at low prices.
YG Rock Splitter for Sale
A high-quality hydraulic rock splitter for sale in YG is of high quality and economy. At the same time, YG can guarantee the whole quality of the product and the most proper price for our clients. Our products have been sold over the years and receive good comments. YG puts quality first and insists quality is the foundation of our reputation. For years YG rock splitter machine has been working to improve the performance of the products and create new technology. Leave your message to buy a rock splitting machine with a competitive hydraulic splitter price.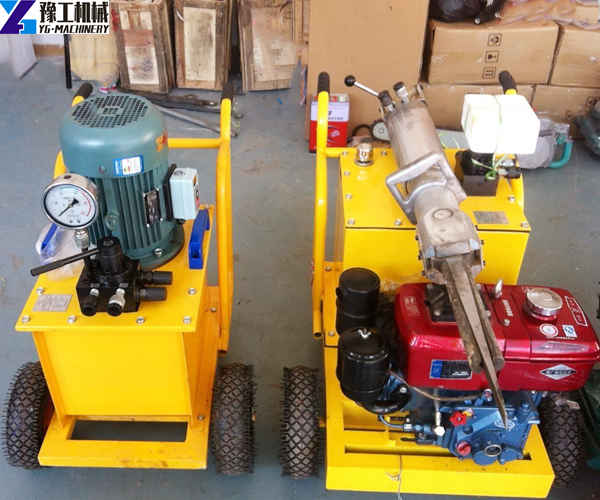 In addition, we have a group of professional engineers and experienced workers and they devote themselves to designing the machines. YG keeps in close touch with our clients and sends them our newest product brochure so they can purchase what they are interested in. Please feel free to contact us whenever you need it. What's more, you will surely get a surprise hydraulic splitter for rock price.
Related products
As a professional concrete cutting machine manufacturer, we have a series of concrete cutting machines for sale. For example, concrete wall saw, hydraulic wall saw, diamond wire saw, pile breaker machine, pile cutting machine and so on. Just tell us which cutting machine do you need. Send your requirement by the following form.
Email: admin@yugongengineering.com
WhatsApp/WeChat: +86 15037187716