YG Shotcrete Machine For Sale
The shotcrete machine is a new type of high-efficiency concrete gunite machine. The shotcreting machine also called the gunite machine. Shotcrete equipment is mainly suitable for concrete shotcrete operation of a 5m*5m section roadway. Shotcrete machines are widely used in places where there is no harmful gas and where concrete spraying is required. Such as building wall spraying slopes, slope protection, tunnel construction, etc. The following mainly introduces the hot-selling shotcrete machine series models of YG Machinery. We have a dry shotcrete machine and a wet shotcrete machine for sale. If you are looking for a cooperative shotcrete machine for sale, we will be your best choice.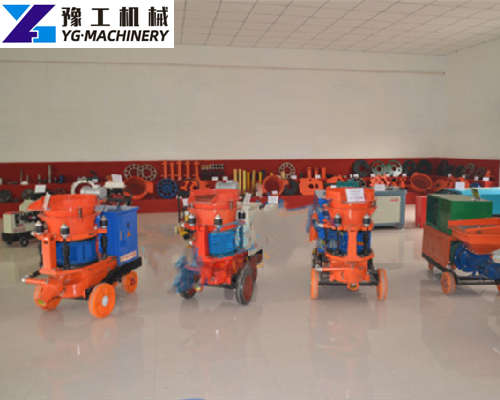 Dry Shotcrete Machine Parameter
Model
PZ-3
PZ-6
PZ-7
Production Capacity
3m³/h
6m³/h
7m³/h
Maximum Conveying Distance
200m
Water: Cement Ratio
<0.4
Max. Particle Size
20mm
Rotor Body Diameter
350mm
440mm
480mm
Work Pressure
0.4-0.6mpa
0.4-0.6mpa
0.6-0.8mpa
Air Consumption
3-4m³/h
6-8m³/h
7-8m³/h
Motor Power
3kw
5.5kw
7.5kw
Size (mm)
1040*550*950
1300*705*1300
1600*750*1200
Weight
260kg
600kg
700kg
Model
HSP-5
HSP-7
Production Capacity
5m³/h
7m³/h
Lift
30m horizontally and 20m vertically
Max. Particle Size
15mm
15mm
Motor Power
5.5kw
7.5kw
Weight
700kg
800kg
Size (mm)
1280*700-1280mm
2000*800*1300mm
Free Quote
Free Quote
Free Quote
Wet Shotcrete Machine Parameter
Dry Shotcrete Machine VS Wet Shotcrete Machine
The wet shotcrete equipment has one more pumping system (accelerating agent delivery system) than the dry shotcrete equipment, with a small motor of 0.75kw. It is suitable for tunnels, high-speed railways, and highways. The wet shotcrete machine can spray dry or wet materials, and the dry shotcrete machine can only spray dry materials. Contact us to get more details about the shotcrete machine for sale.
[lgc_column grid="50″ tablet_grid="50″ mobile_grid="100″ last="false"]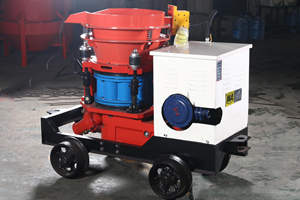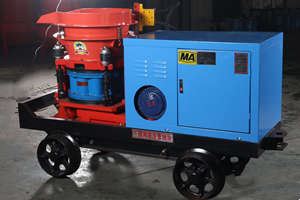 Advantages of Shotcrete Equipment For Sale
The shotcrete machine is mainly used for slope protection and anchoring, foundation pit reinforcement, and tunnel spray anchoring. The shotcrete machine has a reasonable structure, humanized design, reliable performance, convenient operation and maintenance, and long service life. No dust, low noise, and low rebound rate when working. Simple structure, easy to operate and maintain. Low shotcrete machine price and high-cost performance. Leave your message to get a shotcrete machine for sale price.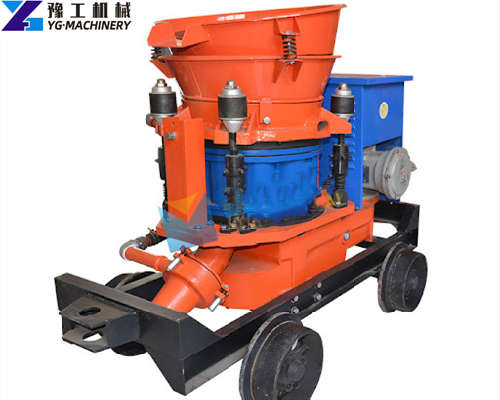 Characteristics of Shotcrete Machine For Sale
Through rotor type unbonded material chamber, smooth discharge, high efficiency, and time-saving.
Four-point elastic compensation compression, good sealing effect, less dust near the shotcrete sprayer machine, and long service life of vulnerable parts.
Adopting low-pressure and high-speed vortex airflow transportation to overcome sticking, pipe blockage, and pulse in material transportation. The material flow is uniform, continuous, and stable.
The new nozzle and discharge elbow device improve the spraying effect, less rebound, and high spraying layer quality.
The machine chassis can be assembled into tire type, skid type, and rail wheel type of various gauges.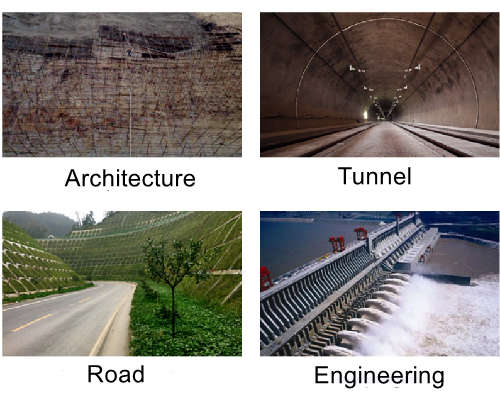 Shotcrete Equipment System Composition
Driving device (main motor, reducer, etc.)
The rotor assembly (rotor body, material chamber, rotor liner, etc.)
Airpath system
Injection system
Electrical control system
Walking system.
Related Products
YG Machinery specializes in the production and sales of various construction machinery and slope tunnel support equipment. For example shotcrete machine(gunite machine), polyurethane foam spray machine, shotcrete truck, concrete pump, mini concrete pump, small concrete pump. Cement spraying machine, mortar spraying machine, shot blasting machine, sandblasting machine, wet sandblasting machine, industrial sandblasting room. At the same time, we have a putty powder spraying machine, cement foaming machine, etc. If you need any of the above equipment, please contact us directly. You can send an email, or you can use the online chat and WhatsApp in the upper right corner of the website to open a cooperative conversation.
Email Address: admin@yugongengineering.com
WhatsApp/WeChat: +86 13613856800