Rebar Straightening and Cutting Machine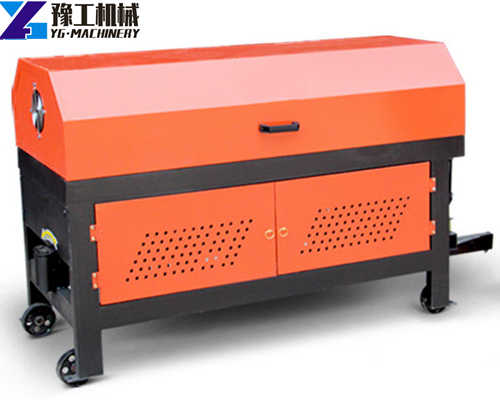 Rebar straightening and cutting machine is a kind of rebar processing equipment, mainly used for straightening and cutting ordinary carbon steel, hot-rolled round steel, rebar, cold-rolled steel, and other types of steel bars. Rebar straightening and cutting machines can be widely used in highways, expressways, railways, high-speed railways, passenger dedicated lines, bridges, pile foundations, building construction, nuclear power plant engineering construction, standardized construction, steel processing plants and other industries. So if you are looking for a machine that can straighten reinforcing bars and cut them to the required length at the same time, the Rebar straightening and cutting machine will meet your requirements.
Structure of Rebar Straightening and Cutting Machine 
The straightening mechanism of the machine is mainly composed of straightening rollers, straightening presses, and bearings at both ends of the machine. It is powered by a motor mounted on the lower part of the frame, and the V-belt drives the positioning shaft to rotate at high speed. The feed structure consists of two pressure wheels running simultaneously. Steel bar straightening and cutting machine adopts pre-set curing program blocks to make the work of steel bar straightening and steel bar cutting more reliable and flexible, and according to the actual needs, it can easily change its program at any time without changing the hardware to complete the production process. And process control.
Working Principle
First, the engine of the steel bar straightening and cutting machine is accelerated by a belt drive, which causes the straightening drum to rotate at high speed. The reinforcing bar passing through the straightening drum is straightened, and rust on the surface of the reinforcing bar is removed by a straightening pattern.
Secondly, the motor is driven by another pair of reduction belts and a gear reduction box. This transmission box can drive two conveying rollers, on the one hand, pulling the steel bar forward, and on the other hand, it can drive the crank wheel to move the hammer up and down. After adjusting the rebar to a predetermined length, the hammer hits the tool holder to cut the rebar. When the rebar falls into the material rack, the tool rack returns to its original position due to the spring effect and straightens and cuts.
Rebar Straightening and Cutting Machine Features
Rebar straightening and cutting equipment uses microcomputer control, automatic straightening, automatic scale setting, and automatic cutting
Easy operation, employees can operate simply.
Enter the length and quantity of multiple batches at the same time, the computer stores the memory
Hydraulic (double-pipe and double-knife) cutting, no jamming, more accurate and quieter Cutting error 5mm
Smooth operation, low failure rate, easy maintenance, and cheap accessories
Small footprint, convenient for a mobile installation. Start and stop remotely within 30m.
Cutting is smooth without burr, no spark, cutting error;
National standard pure copper motor with strong power and stability;
Aggravating the disc, easy to cut off forged gear
Parameters
| | |
| --- | --- |
| Model | YGT 4-14 |
| Diameter adjustment range |  4-14mm ( Ⅲ grade steel) |
| Wire pulling speed | 50m/min |
| Traction motor power | 2.2kw-6 |
| Modulation motor power | 7.5kw-4 |
| Cut off motor power | 5.5kw |
| Cutting error | ±0.5-1cm |
| Wire Length | 800-9000mm (can be lengthened) |
| straightening degree | ±2 mm/m |
| Weight | 1000kg |
| Size | 2800×750×1400 mm |
Safety Requirements

The rebar straightening and cutting machine must be kept and used by special people. Before starting the machine, please be sure that operators are familiar with the machine's operation.
When needing to open the machine to adjust or maintain, please be sure to turn off the power of the motor and instrument.
When the rebar straightening and cutting machine is working, please be sure that nobody is 3 meters on both sides from the feeding shelf to inlet, in case of the steel bar pop-up and hurt someone.
Rebar Processing Machine Maintenance
The attention that CNC instruments are dust-proof, moisture-proof, protected against rain, heat, and direct sunlight!
Protect the wire against flooding and rolling.
Add the lubricating oil3~4 times per class.
If you don't use it for a time, please be sure to turn off the power of the machine.
Rebar Straightening And Cutting Machine for Sale
We have many types of rebar processing machines for sale in YG, please feel free to contact us. Rebar straightening and cutting machine for sale has been sold over the world. Clients all speak highly of our products and are willing to keep in close touch with us. We have our own group of engineers and experienced workers and they keep innovating to provide better equipment. We can guarantee the quality of our products and ensure the after-sale services. So don't hesitate to contact us if you need any machine. If you need any other rebar processing machine, please also contact us freely.
Related Products
As a professional rebar processing machinery manufacturer, we have a series of steel bar machinery for sale. Our product mainly includes a rebar bending machine, rebar bender for sale, scrap rebar straightening machine, automatic steel bar cutting machine, steel bar straightening machine, rebar upsetting machine, thread rolling machine, thread rebar couplers, beam bending machine, etc. What kind of rebar-related machine do you need? Please feel free to leave your requirements.