At the beginning of May, Yugong Machinery received payment from Riyon, Sri Lanka for the rebar bending machine. Regarding this rebar bending machine in Sri Lanka, we received the customer's inquiry in mid-April and immediately got in touch with the customer for communication. After more than half a month of communication, the final customer purchased Yugong's YG-RB40 steel rebar bending machine. This model of machine can handle steel bars with a diameter of 6~32mm, and round bars with a diameter of 6~40mm. The bending angle can be 90 degrees, 45 degrees or other customized angles.
Introduction of Rebar Bending Machine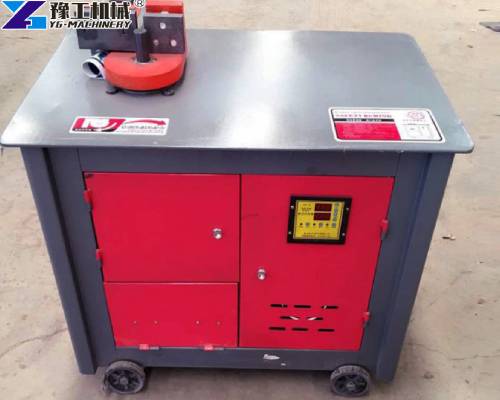 Rebar bending machines are rebar processing machines that are often used in many rebar processing plants, construction sites, and ground construction sites. This rebar bending machine can perform arching, diameter reduction, fixed angle bending, etc. The whole machine adopts advanced digital control, which can automatically complete the bending work of steel bars. The production efficiency of this rebar bending machine is very high, which can replace the work of 20~30 manual workers. Moreover, the automatic industrial steel bar bending machine solves the problem of poor manual processing effect.
Rebar Bending Machine Price in Sri Lanka
This Sri Lankan customer, Riyon, purchased this rebar bending machine for his rebar processing plant. He uses a rebar bending machine to process the raw steel and sell it. According to his needs, he needs to process the steel into a shape that is bent 90 degrees, and the texture of the rebar is not limited to threaded rebar and round rebar. This intelligent CNC rebar bending machine can fully meet his needs. The price of rebar bending machines offered by Yugong Machinery rebar bending machine manufacturer is very competitive in Sri Lanka. Moreover, the machine has low energy consumption, simple operation and high efficiency, and is the best machine for bending steel bars. If you want to buy a steel bending machine, please choose Yugong Machinery without hesitation.
Introduction of other steel processing machines
If you open a rebar processing plant, other rebar handling machines may be required. Yugong construction machinery manufacturer provides a complete set of processing equipment for steel bar processing. Such as rebar cutting machine, rebar straightening machine, rebar bending machine, rebar upsetting machine, thread rolling machine, threaded rebar coupler, I-beam bending machine, punching and shearing machine and other machines. Please leave us a message below to get the information about the rebar processing machine you want to know.