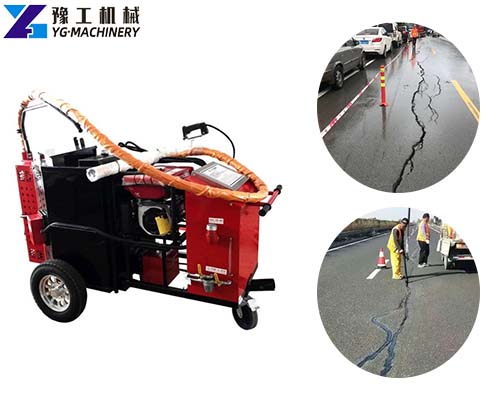 The crack sealing machine is a kind of road maintenance machine, which is mainly used to repair road cracks. The crack sealing filling machine can fill the cracks in the pavement, and driveway, walk behind with crack-sealing material and ordinary asphalt. At present, Yugong mainly provides small pavement crack sealing machines and large hot crack sealing machines. The road crack filler machine can be widely used in various small and large highways, municipal engineering, and so on.

Parameter of Small Crack Sealing Machine
Model
YG-50L
YG-60L
YG-80L
Hopper volume
50L
60L
80L
Discharge method
Self flow
Asphalt pump feed
Asphalt pump feed
Heating method
Liquefied gas
Liquefied gas + heat transfer oil
Liquefied gas + heat transfer oil
Temperature control
Temperature sensor 180 ° (temperature control call)
Filling speed
10m/min
15m/min
15m/min
Walking mode
Push-type + brake device
Mixing method
Manual mixing
Power configuration
Solar panels + batteries
Yamaha gasoline generator + battery
Solar panels + batteries
Dimensions
1200X700X1200mm
1200X700X1200mm
1200X700X1200mm
Weight
120kg
120kg
250kg
Parameter of Large Asphalt Crack Filling Machine
| | | | |
| --- | --- | --- | --- |
| Model | YG-100 | YG-200 | YG-350 |
| Filling Capacity | 100L | 200L | 350L |
| Heating Time | 30min | 30-40min | 30-40min |
| Temperature Range | 0-200°C | 0-200°C | 0-230°C |
| Discharge Capacity | 0-12 L/min | 8L/min | 0-30 L/min |
| Generator | 2.3 kW | 2.8 KW | 5kw |
| Walking Mode | Manual or Traction | Manual or Traction | Trailer or Self |
| Burner | Riello 445T1 Diesel Engine | Riello 445T1 Diesel Engine | Riello 445T1 Diesel Engine |
| Thermostat Control | SLA-5000 Temperature Controller | SLA-5000 Temperature Controller | SLA-5000 Temperature Controller |
| Length of Electric Heating Tube | 4-5 m | 4-5 m | 6-7 m |
| Dimensions | 1350*1000*1900mm | 2400*1400*1700mm | 3500*1000*2000mm |
| Weight | 240kg | 860kg | 1000kg |
Scope of Application for the Crack Sealing Machine
Asphalt joint filling machine uses asphalt jointing glue as raw material. It is mainly used for the waterproof treatment of irregular cracks on asphalt pavement, concrete pavement, bridge expansion joints, and water pipes. And gas pipe burying machine paving pavement joints. It is an asphalt joint grouting machine specially designed and produced by YG Machinery. Besides,YG also supplies asphalt coring machines, floor shot blasters, concrete scarifier machines, manhole cover cutting machines, and other road machinery.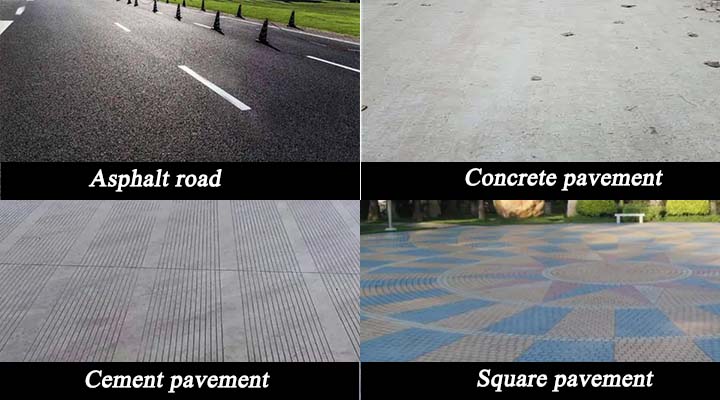 Why Need A Crack Sealing Machine?
The crack filling machine is road machinery, mainly used for preventive maintenance of road diseases. Generally used with the slotting machine, seaming machine, or hairdryer (or thermal spray gun). A crack-filling machine is the core equipment of seam-filling technology.
Cracks are one of the main forms of early disease on expressways. Among them, linear cracks such as horizontal cracks and longitudinal cracks are the most common. Filling technology is the treatment technology for these diseases. Covers filling materials, filling equipment, and filling technology. The asphalt crack sealing machine is the core equipment of the filling technology. The function of the road crack-filling machine is to heat the cracks after grooving and cleaning the cracks. Use the filling gun to evenly pour the sealant into the groove to complete the seam repair work.

Various Models of Asphalt Road Crack Sealing Machine
YG Machinery has more than 15 years of experience specializing in the production and sales of road machinery. An asphalt crack sealing machine(or road crack sealing machine) is one of them. Yugong has various types of crack sealing machines for sale, mainly including large and small types. For rural roads, you can use small models of crack sealing machines such as 50L (YG-50L), 60L (YG-60L), and 80L (YG-80L). For municipal engineering or large highway projects, you can choose large-size crack filling machines such as 350L (YG-350L), 500L (YG-500L), etc. General engineering can use 100L (YG-100L), and 200L (YG-200L) crack filling machines. Please tell us your needs.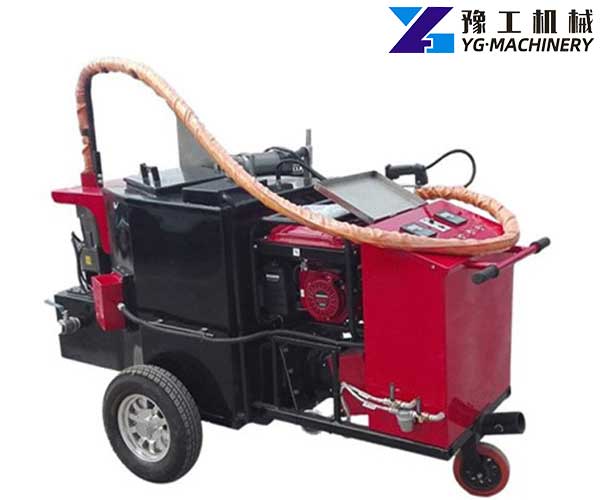 Asphalt Crack Filling Machine
Asphalt Crack Sealing Machine Characteristics
Full electronic control
The heating temperature, the heating of the discharge pipe, the operation of the burner, the operation of the asphalt pump, the fuel status, and the fault warning light are all displayed at the right time, and electronic automatic control can be realized.
Design of The Gun Handle
The humanized design of the gun handle of the seaming machine. The gun handle of the seaming machine is equipped with an electric control switch, which can remotely control the asphalt pump, avoiding waste, sanitation, and cleaning.
Manual Switch Design of The Gun Head
The gun head can be closed immediately after the filling of the joint is completed to avoid dripping the filling glue and causing road pollution. In addition, the gun head is equipped with electric heating to avoid material blocking.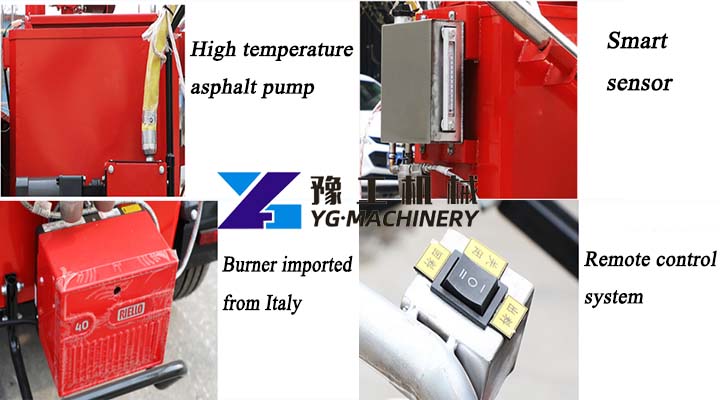 Advantages of YG Crack Sealing Machine
The commercial asphalt crack sealing equipment has a small body, strong function, lightweight, convenient operation, and convenient mobile construction.
The heat transfer oil indirectly heats the material and circulates heat preservation. The imported diesel engine is the heating source, and the materials are heated evenly. The intelligent sensor automatically detects the temperature, so that the material is not carbonized and is invariant. The melting time is short, economical, and environmentally friendly.
The discharge hose is electrically heated throughout the entire process, with no cleaning, and sufficient bending. Meet multiple construction requirements for horizontal and vertical cracks to ensure the construction area.
International brand generators can provide stable and high-efficiency output for the whole machine, and work stably and reliably.

YG-100L Traction Crack Filler Machine

Related Products in YG Machinery

In addition to various types of filling machines, we also have different types of road marking machines. Such as a thermoplastic marking machine and a cold spray marking machine. At the same time, we have a road roller machine for sale, a mini road roller, concrete scarifier machine. asphalt coring machine.