Hydraulic Ironworker Machine For Sale
YG combined hydraulic ironworker machine is a multi-functional sheet metal and profile processing equipment. Also as known as a punching and shearing machine. Hydraulic combined ironworker machines are used in steel structure processing, ventilation pipes, storage shelves, high-voltage wire towers, telecommunications towers, street lamps, advertising signs, elevators, and other civil facilities. If you are looking for a hydraulic ironworker machine price, please feel free to leave your requirements. According to different punching presses, we have different models for your choice. For example, 45 Ton, 60 Ton, 90 Ton, 120 Ton, 160 Ton, and 200 Ton.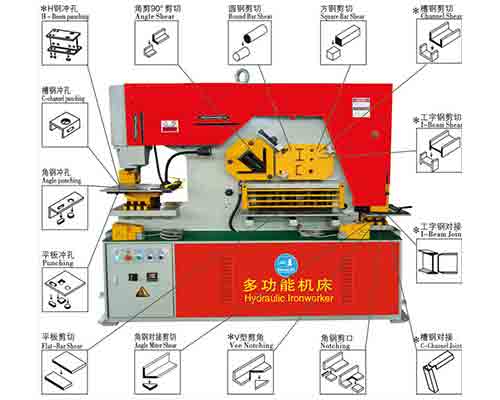 45-Ton Hydraulic Metal Sheet Ironworker Technical Data
Name
Data
Shearing
Flat Plate
200*12mm
Max.Capacity
300mm
Punching
Thickness
12mm
Max. Diameter
22mm
Pressure
45Ton
Throat Depth
175mm
Max. Stroke
50mm
Stroke Times
20Times/min
Section Cutting
Round(Dia)
30mm
Square(Side Length)
30mm
Channel(Type)
80mm
Angle Cutting
Equal Angle at 90°
100*10mm
Equal Angle at 45°
70*6mm
Notching
Thickness
8mm
Width
35mm
Depth
80mm
Material Strength
450N/m²
Dimension
L*W*H
1420*580*1550mm
Weight
1050KG
Due to page limitations, this page shows the parameters of the 45-ton hydraulic combined ironworker machine. If you need other models of multifunctional hydraulic ironworkers, please feel free to contact us.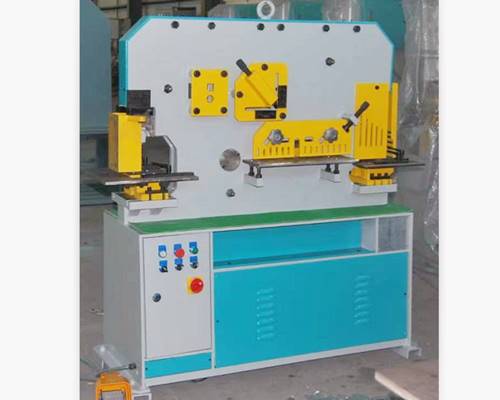 Metal Hole Punch and Shear Application
Cutting, punching, and bending of channel steel, square steel, round steel, H steel, I-beam, and other steel.
Steel structure processing.
Elevator car and parts processing.
Processing of railway freight car/automobile and crane parts.
Trailer – spare tire parts, hinge of the trailer, plate hook, plug-in box, and Walloon board.
Construction machinery industry — processing on a belt conveyor and mixing plant
Machining – processing of building embedded parts/conveyor supports and other parts for connection
Agricultural and animal husbandry machinery industry – threshing frame body, trailer body parts processing.
Food industry machinery – slaughtering equipment rack and parts processing.
Grain machinery — grain and oil equipment, starch equipment support, shell, small piece processing.
Processing of high and low-voltage iron tower parts.
Wind power generation equipment – processing of parts on stairs and pedals on the wind power tower.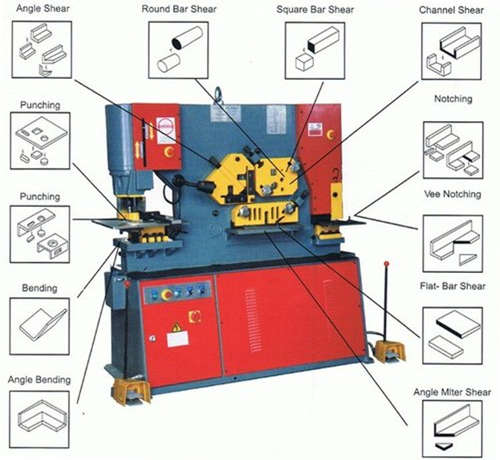 Features of Hydraulic Combined Ironworker Machine
Hydraulic transmission is adopted. The whole machine has the advantages of reasonable structure, lightweight, low noise, reliability, and good overload performance.
The machine is equipped with a punching station as standard. Channel and angle steel shearing station. Shearing station for thick plates. Round steel and square steel shearing station. Corner cutting station. Accessories such as punching large holes, sheet bending, channel steel punching, blinds, and pipe-cutting corners can be purchased.
Standard is equipped with five stations and dual hydraulic workstations. And can work independently at the same time. The machine does not need any horizontal adjustment and can be used after it is placed in place. You can choose a CNC control system to increase the efficiency of automatic punching and cutting.
The whole machine is welded together. After high-temperature quenching treatment, the frame has high rigidity and high strength. The tool is treated with a special vacuum and high temperature to extend its service life.
The pipe-cutting die can also cut and groove the pipe, with high efficiency, cost-saving, and a neat and beautiful cutting section.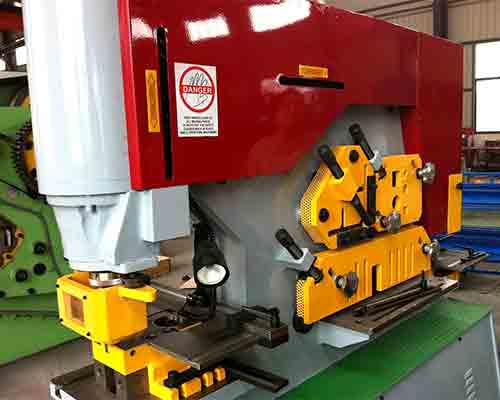 YG Multifunctional Angle Notching Machine
The hydraulic combined ironworker press machine is a kind of machine tool equipment that integrates metal cutting, punching, plate shearing, bending, and other functions. YG ironworker punch press machine has the advantages of reasonable price, simple operation, low energy consumption, and low maintenance cost. It is the preferred equipment for metal processing in modern manufacturing industries (such as metallurgy, bridge, communication, electric power, military industry, and so on). The combined punching and shearing machine is divided into a hydraulic ironworker press machine and mechanical combined punching and shearing machine. Click this page to know more details about mechanical punching and shearing machine.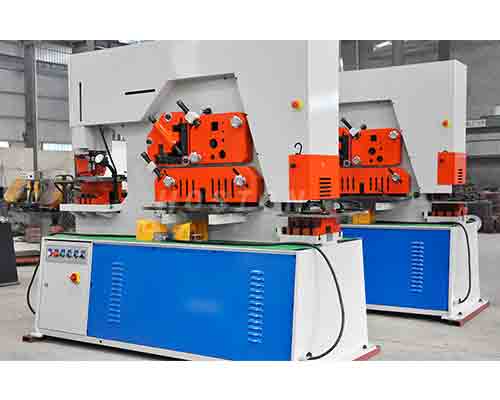 Related Products
This page introduces the hydraulic ironworker machine. If you are looking for a mechanical punch and shear machine, please click it. Meanwhile, we have other rebar processing machinery. YG Machinery is a professional manufacturer of steel, steel pipe, and metal processing machinery and equipment. Rebar straightening and cutting machines, steel bar bending machines, rebar upsetting machines, thread rolling machines, I-beam cold bending machines, H-beam bending machines, etc. are also our best-selling products. Please feel free to contact us if you need these machines.