The vibratory road roller machine is often used in road construction to compact various non-cohesive soils, crushed stones, asphalt concrete, etc. This type of road roller compactor uses mechanical high-frequency vibration to resonate with the pressed material particles, reducing the friction between the particles and thereby being compacted. A two-ton vibratory roller is equivalent to a six-ton static smooth roller. Therefore, vibratory rollers have better compaction depth and effect than smooth rollers with the same dead weight.
3 Types of Road Roller Machines Introduction
A road roller machine is also called a hand road roller or walk-behind road roller. At present, there are three types of road roller compactor: walk-behind single-wheel rollers(hand-push single drum road roller). Walk-behind two-wheel rollers(hand-push double drum road roller), Ride-on road roller machines. There are two kinds of engines: diesel engines and gasoline engines. Please leave a message t tell us what kind of road roller is for sale you need.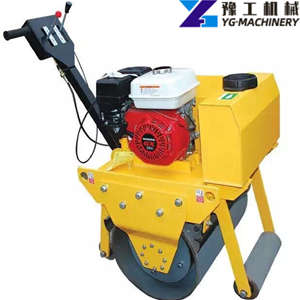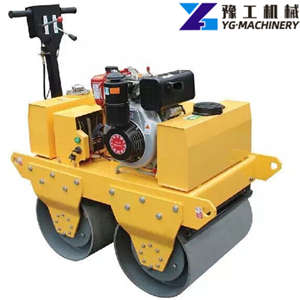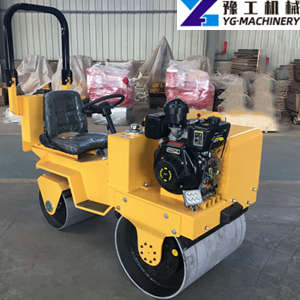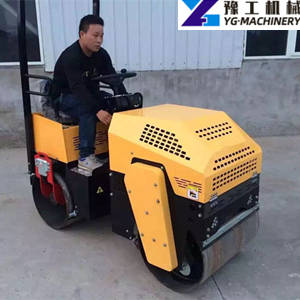 Hand Road Roller Parameters
Model
FVR-600S

FVR-600D

Engine power
5.5HP
6.0HP
Engine
HONDA, air-cooled 4-stroke, OHV, single-cylinder
Walking speed
2.4Km/h
0-4Km/h
Water tank volume
3.6L
35L
Fuel tank capacity
15L
6L
Start method
Manual control
Electric
Steel wheel size
600*426mm
600*426mm
Driveway
Hydraulic
Hydraulic
Way of walking
Two-way
Exciting force
15KN
25KN
Exciting frequency
70Hz
Vibration clutch mode
Mechanical transmission, automatic centrifugal clutch
Gradeability
0.25
0.3
Weight
330KG
550kg
Ride-On Road Roller Machine Parameters
Model

FVR-850

FVR-880
Power
6.0HP/3600rpm
25HP/20HP
Walking speed
0–4Km/h
0-5Km/h
Gradeability
0.3
0.3
Water tank volume
15L
60L
Fuel tank capacity
3.6L
19L
Start method
Electric
Steel wheel size
700*560mm(forward)500*426mm(back)
740*530mm(forward)800*530mm(back)
Vibration frequency
70Hz
Exciting force
28KN
32KN
Engine
Air-cooled 4-stroke, OJV, single-cylinder
Water-cooled 4-stroke, single-cylinder/air-cooled 4-stroke, single-cylinder
Driveway
Hydraulic
Vibration
Mechanical transmission, electromagnetic clutch
Weight
750kg
1000KG
Why Use a Road Roller Compactor?
Using a road roller machine to press the road can achieve two purposes: one is to achieve the density required by the specification, and the other is to extrude a flat surface. The process of pressing the road surface generally includes initial pressure, recompression, and final pressure. In the initial compaction stage, when the vibration has no obvious effect on the compaction effect, the working speed can be increased.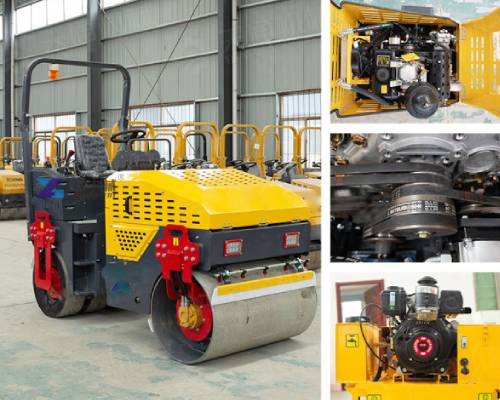 Application of Vibratory Road Roller
Vibratory rollers are widely used in the entire project of compaction and leveling of roads or foundations. It can apply in the compaction of municipal roads, highway maintenance, building construction, sports venues, sidewalks, parking plants, and other pavements.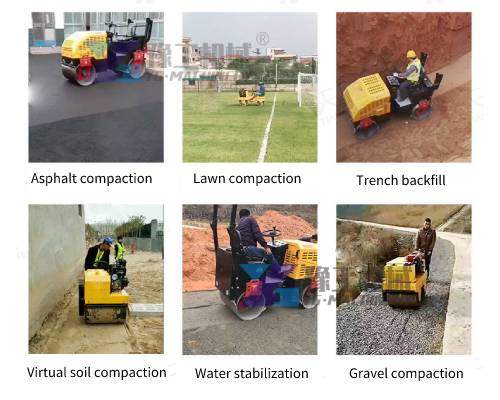 Machine Working Principle
The vibratory road roller machine produces two pressures on the road surface during operation. One is the weight of the roller on the front wheel, and the other is the high-frequency vibration of the wheel using the eccentric block. When the motor inside the wheel rotates, it will drive the vibration shaft to rotate together, so that the eccentric block performs periodic motion. When it rotates to the upper part of the wheel, the resulting eccentric force moves the wheel upward. Drive the wheel down to form a downward force. Therefore, in the process of continuous rotation, the outer rolling wheel will form a cyclic up-and-down hammering movement. This hammering action can make the road surface firmer.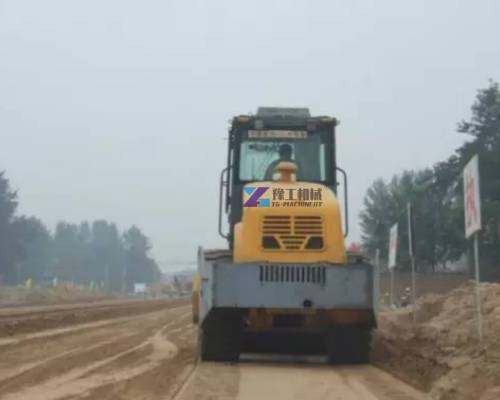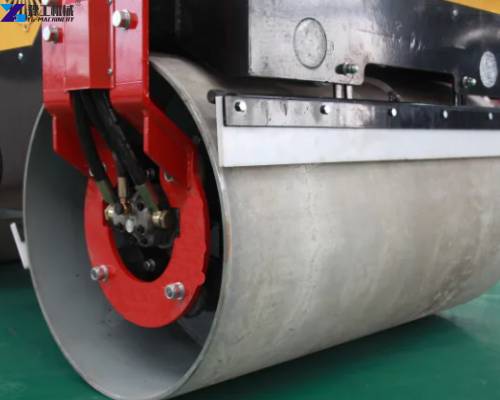 YG Small Road Roller Compactor Factory
YG Machinery mainly produces small construction machinery such as small road rollers, hand-held road rollers, car road rollers, one-way small plate compactors, two-way small wacker plates, etc. YG road roller for sale is small in size, compact in structure, easy to transport, powerful in work, and highly inefficiency. Contact us to get a new road roller price right now.
A small road roller can also be used with a heavy road roller. The roller is equipped with an extra-large water tank to reduce the trouble of water replenishment. Thereby increasing the continuous working time of the equipment. The adjustable and foldable operating handle brings a comfortable operating environment to the operator. In addition, it is convenient for transportation or storage after folding.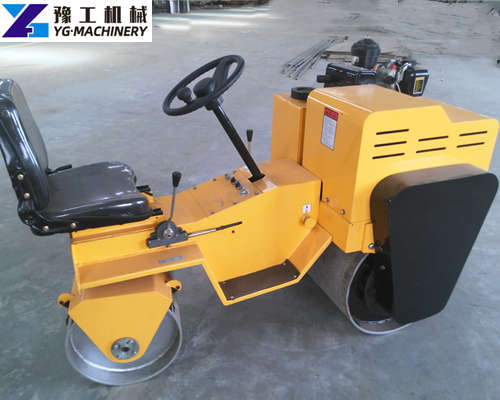 FVR-850 Single Wheel Ride-On Road Roller
Characteristics of road roller machine
The working radius is small. A road roller machine can work in a narrow area, and it is suitable for trench backfilling.
Superior performance, easy to start.
Using hydraulic drive, step-less speed change, easy to change direction.
The armrest adopts an adjustment device, which is suitable for operation by workers of different heights and is convenient for transportation.
The surface of the road roller for sale is sprayed with plastic to prevent rust and corrosion.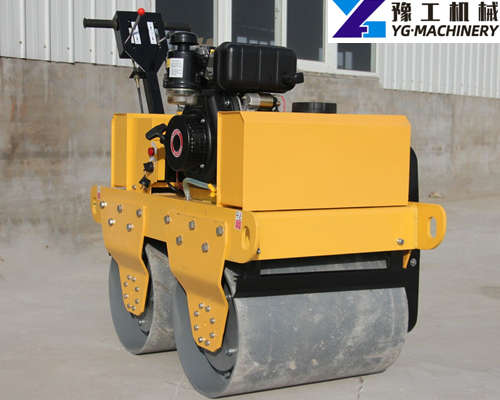 FVR-600D Hand Push Two Wheel Road Roller
Related Products
YG Machinery has a series of road machinery for sale. Including new road repair equipment and road maintenance equipment. Such as thermoplastic road marking machines, cold paint road marking machines. Crack sealing machine. Small road roller. Small plate compactor. Road core drilling machine.Asphalt spreader. Chipping machine. Polyurethane spraying machine. Road milling machine. A grinding machine, etc. Please feel free to leave your requirement.