The rectangular paper bowl making machine adopts an independent and unique design to produce square and rectangular paper bowls. Such as hamburger boxes, food boxes, french fries boxes, and many other types of cartons. The automated equipment contains automatic feeding, conditioning, gluing, forming, stacking, and counting functions. A square paper bowl forming machine can produce a variety of different products within a short time of changing the mold. YG paper bowl making machine suppliers also provide conventional paper bowl machines, square paper cover machines, plastic paper cover machines, and other supporting equipment.
Finished Rectangular Paper Bowl Display

Takeaway Food Container Square Paper Bowl Machine Parameters
| | |
| --- | --- |
| Voltage | 380v 50hz |
| Power | 6KW |
| Capacity | 30~35 pcs/min |
| Raw Material | PE GSM Coated Paper |
| Applicable Specifications | 250*300mm |
| Working air volume | 0.5~0.6m³/min |
| Packing size | 2.2*1.61*2m |
| Weight | 3T |
Rectangular Paper Bowl Making Machine Features
The square paper bowl machine adopts high-quality hard material, which is sturdy and wear-resistant and has a long service life.
Compared with the traditional paper bowl machine, the device recombines the principle of combining pneumatic and mechanical. It has the characteristics of higher production speed, more stable performance, safer operation, and more convenient maintenance.
It has the functions of automatic pneumatic suction paper feeding, thermoforming, automatic disc ejection, automatic counting, and constant temperature control.
Rectangular paper bowl making machines are widely used to make rectangular paper bowls of various shapes and sizes. The size of the paper bowl can be customized.
YG paper bowl making machine supplier also provides various types of equipment such as square paper lid making machines, plastic paper lid making machines, and so on.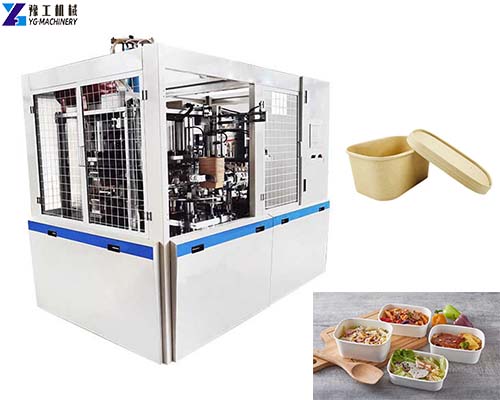 Matching Equipment: Square Paper Cover Machine
The square paper lid machine is a device specially matched with the square paper bowl machine, focusing on making the lids of various square paper boxes such as jewelry boxes, tea cans, ice cream, paper lunch boxes, etc. The equipment automatically feeds the paper sheet to the mold, and processes the paper sheet into a square paper cover through the steps of heating, crease, knurling, pocket bottom, and forming. This paper lid forming machine is suitable for lids made from coated paper. The equipment has stable performance and high production efficiency and is the best equipment for making square, rectangular and oval paper covers.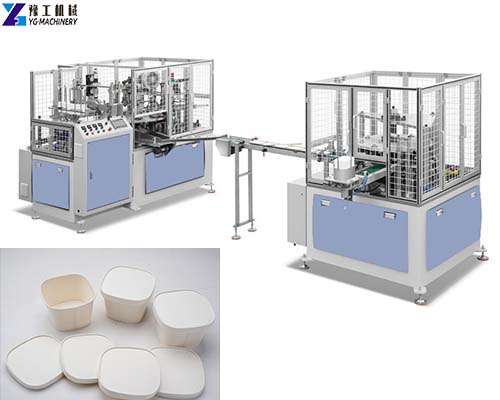 Related Machines
YG engineering machinery manufacturer provides a variety of paper product processing equipment. Such as paper bowl machines, paper cup machines, plastic lid making machines, paper slitting rewinding machines, diaper manufacturing machines, paper bowl packing machines, and many other types of equipment. If you are interested in our equipment, please contact us.