Automatic Disc Type Double Color Rain Boots Injection Molding Machine
YG Machinery has been focusing on the production of rain boots injection molding machine for more than 15 years. Since the production of shoe machines in 2005, YG Machinery has received the support and love of customers at home and abroad and friends from all walks of life. For many years, it has maintained an excellent reputation and reputation in the industry. As one of the professional injection molding machine manufacturers in China. In addition to meeting the local markets, our rain boots injection molding machine is also exported to Southeast Asia, India, Egypt, Turkey, Africa, South America, and other countries and regions. And acquired the praise of customers, the repurchase rate reached more than 90%.
Today we mainly introduce YG automatic disc type double color rain boots injection molding machine.

Injection Moulding Machine Manufacturers
What is an Injection Molding Machine?
The injection molding machine is also known as an injection molding machine or injection machine. It is the main molding equipment for making thermoplastic or thermosetting plastics into various shapes of plastic products using plastic molding dies. According to the arrangement of the injection device and the clamping device, the injection molding machine is divided into vertical, horizontal, and all-electric. The injection molding machine can heat the plastic and apply high pressure to the molten plastic to make it shoot out and fill the mold cavity. Contact us to get rain boots making machine price right now if you are looking for it.
Related Injection Molding Machine:
Parameters of Plastic Injection Molding Machine
| | | |
| --- | --- | --- |
| Model | YG-PX | YG-SX |
| Raw Material | PVC | PVC |
| Motor | 3phase asynchronous motor | AC permanent magnet servo motor |
| Motor Power | 22&11kw | 15&8kw |
| Electrical Heat | 9&8kw | 9&8kw |
| Disc Diameter | 4.2m | 4.2m |
| Disc stations | 10 | 10 |
| Machine Size(L*W*H) | 5.1×4.2×2.6m | 5.1×4.2×2.6m |
| Screw Diameter | 85&55mm | 85&55mm |
| Injection Volume | 1077&356g | 1077&356g |
| Mold Size | 680×250×500mm | 680×250×500mm |
| Clamping Force | 300&60tons | 300&60tons |
| Output | 80 pairs/h | 80 pairs/h |
| Weight | 17T | 17T |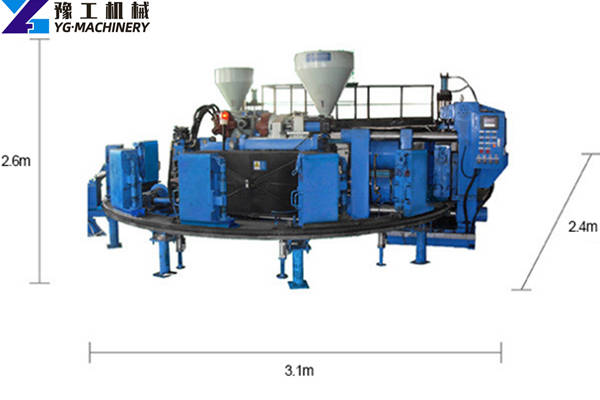 Rain Boot Injection Molding Machine Size
What Machines are Included in a Rain Boot Production Line?
An automatic rain boot production line including rain boots injection molding machine, automatic mold opening manipulator, hydraulic oil.
Rain boots production line auxiliary equipment includes a blender, color mixing machine, crusher. And air compressor, cooling water tower&water pump, rain boots mold.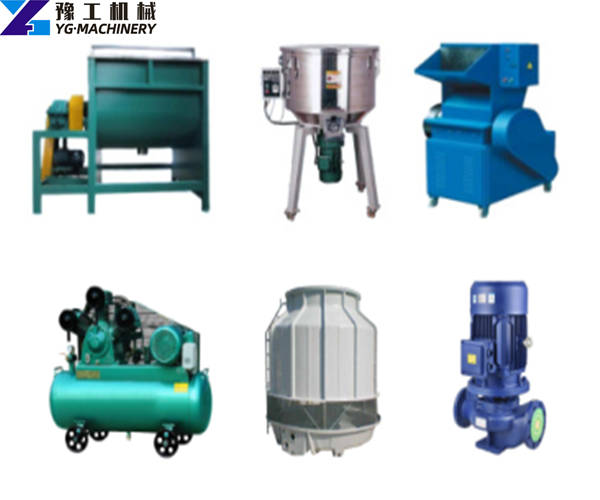 Rain Boots Production Line Auxiliary Equipment
Features of YG Rain Boots Injection Molding Machine
The rain boots injection molding machine is suitable for the production of single and double-color crystal rain boots, rocking shoes, and labor insurance shoes.
The whole small plastic injection molding machine adopts fully automatic computer control, PLC and human-machine interface, simple operation, and good affinity, which can independently and accurately set the process of different molds.
The automatic shoe-making injection molding machine is solid, the clamping force is large, the mold adjustment is convenient, and the product has wide adaptability.
The injection is controlled by an electronic ruler, the measurement accuracy is high, and the production of the product is stable.
Configure full servo system, high-quality hydraulic components, fast response, low oil temperature, high energy saving, and long service life.
A variety of robots can be added to reduce labor intensity.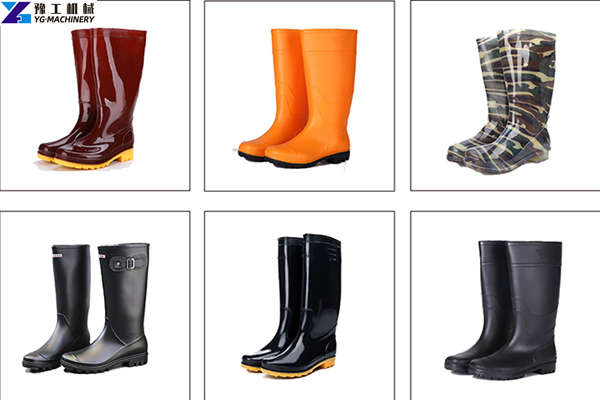 Rain Boots Sample
Working Principle of PVC Shoes Making Injection Molding Machine
The working principle of the injection molding machine is similar to the syringe used for injection. It uses the thrust of the screw (or plunger) to inject the plasticized plastic in the molten state (that is, the viscous fluid state) into the closed mold cavity. And then, obtaining products after curing and shaping. Injection molding is a cyclic process. Each cycle mainly includes quantitative feeding-melting and plasticizing-pressure injection-mold filling and cooling-mold opening and picking. After taking out the plastic part, the mold is closed again for the next cycle. Please leave your requirements if you want to buy shoemaking equipment.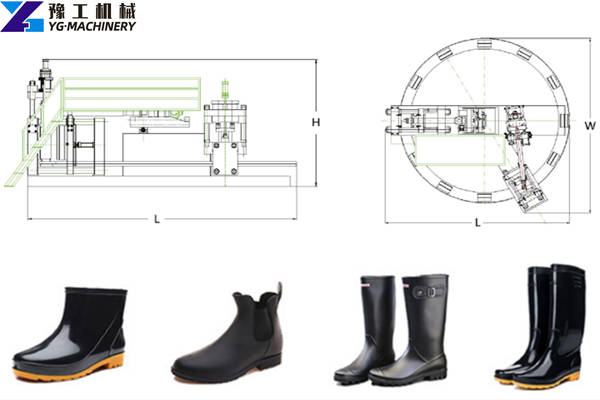 PVC Shoes Making Injection Molding Machine
YG Plastic Shoe Making Machine Product Series
In addition to automatic double-color rain boot injection molding machines, we also have other types of injection molding machines. Such as an automatic disc-type three-color upper vertical injection molding machine. Monochrome-blowing plastic shoe injection molding machine. Automatic disc types three-color crystal blowing plastic shoes injection molding machines and so on. If you have any questions about the rain shoe making machine, please contact us freely. In addition, YG is a plastic injection molding machine manufacturer. So you will get a competitive plastic injection molding machine price from us.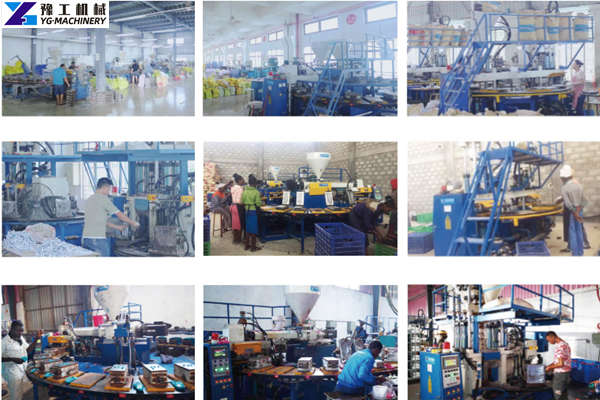 Plastic Injection Molding Machine Product Series
Other Products
YG Machinery focuses on the research and development of production line equipment. In addition to the rain boot injection machine, we have nitrile gloves making machine, latex gloves production line. Water bottle filling machine, wet wipes making machine, wet wipes manufacturing machine, wet wipes production line. Mask making machine, melt-blown making machine. Packaging machine production line. Paper cup-making machine. Paper cup manufacturing machine. Sanitary napkin machine. Diaper manufacturing machine. Tissue paper-making machine. Paper rewinding machine. etc. Contact us now.
Email: admin@yugongengineering.com