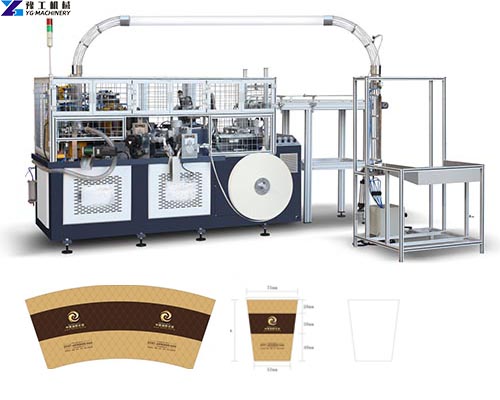 Paper Cup Manufacturing Machine For Sale
The paper cup manufacturing machine is designed to make single-sided and double-sided PE-coated paper cups for hot and cold drinking cups as well as food containers. Paper cups can be used to hold tea, coffee, etc., and paper bowls can be used to hold popcorn, takeaway, etc. As a manufacturer of paper cup machines and paper bowl machines, YG also provides die-cutting machines, paper cup printing machines, paper plate machines, and other equipment to meet one-stop needs. Please feel free to leave your request. We will send you the paper cup making machine quotation as soon as possible.
Paper Cup Manufacturing Machine Overview
Finished product: single-coated or double-coated paper cups.
Applicable size: 3-16 ounces or other sizes can also be customized.
Production Speed:70-90cups/min, 90-120cups/min, and 120-150cups/min.
Application: It is suitable for making paper cups such as paper tea cups and paper coffee cups.
Related production equipment: die-cutting machine, printing machine, forming machine, cup sleeve machine, paper straw machine, and other paper cup production equipment.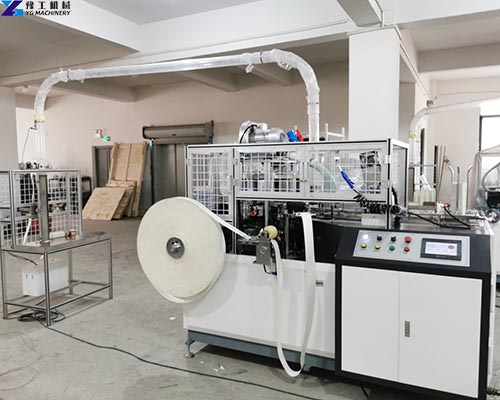 Related Products

Paper Coffeee Cup Making Machine
Paper Cup Lid Forming Machine
Plastic Cup Lid Making Machine
Automatic Paper Cup Manufacturing Machine Working Video
Selection Of Paper Cup Forming Machine
YG paper cup making machine manufacturer provides three models of paper cup machines low speed, medium speed, and high speed. The paper cups they can produce are the same size, but the production speed of the machines is different.
| | | | |
| --- | --- | --- | --- |
| Model | YG-DP16 | YG – Gs120 | YG – 160S |
| Production speed | 70-90 pcs/min | 90-120 pcs/min | 120-150 pcs/min |
| Voltage | 380V,50HZ three phase | 380V,25KW three phase | 380V,25KW three phase |
| Machine package size | 2200mm*1250mm*1900mm | 2180mm*1050mm*1600mm | 2800mm*1100mm*1800mm |
| Material requirements | Single PE/double PE/PLA | Single PE/double PE/PLA | Single PE/double PE/PLA |
| Weight | 1750KG | 2100KG | 4000 kg |
| Corresponding to the paper cup size | 3-16oz | 3-16oz | 3-16oz |
| Speed | 70-90pcs/min | 90-120pcs/min | 120-150 pcs/min |
| Paper thickness requirements | 150-350g/㎡;±20g/㎡ | 150-350g/㎡;±20g/㎡ | 150-350g/㎡;±20g/㎡ |
| Gas supply requirements | 0.6-0.8mpa; 0.4m3/min | 0.6-0.8mpa; 0.4m3/min | 0.6-0.8MPa,0.5m³/min |
| The cup body stick sin | Ultrasonic | Ultrasonic/copper strip | Ultrasonic |
| Bottom rolling flowers | Blowing heating | Nest bottom, air blowing, hot air heating | Blowing heating |
The above are the parameters of the three production-speed paper cup machines provided by YG. All machines can produce 3-16 oz paper cups, other sizes can also be customized. YG provides 70-90cups/min, 90-120cups/min, and 120-150cups/min three production speed machines. If you are interested in the YG paper cup manufacturing machine, please contact us.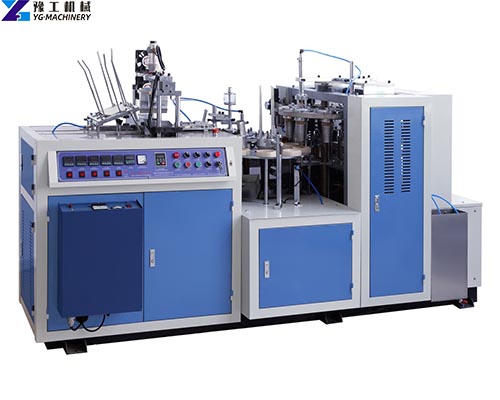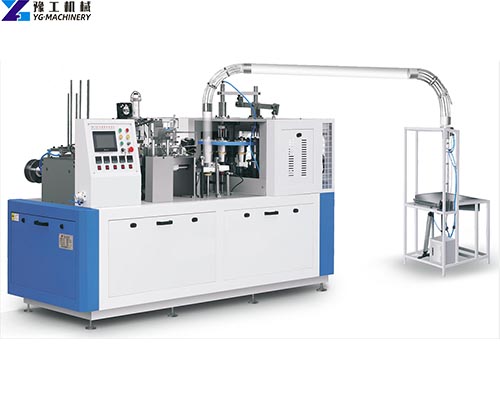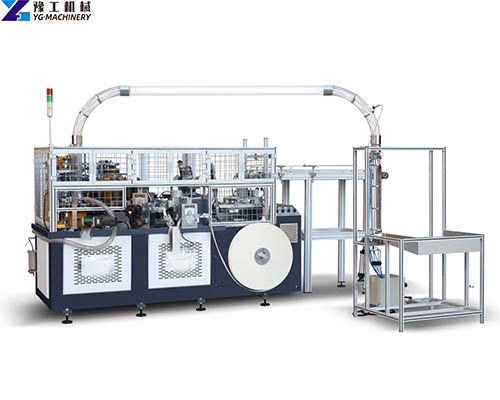 How Is The Paper Cup Manufacturing Process?
From raw paper to formed paper cups, roughly the following steps have gone through PE coating, slitting, printing, die-cutting, forming, packaging, and other processes.
PE coating means that the base paper is covered with PE film to prevent water from getting wet. The one-sided coated paper is called large-sided PE coated paper, and the double-sided coated paper is called PE double-sided coated paper. If your production scale is small, you can choose to buy coated paper directly from the market.
The cutting step is to cut the whole coated paper into rectangular sheets and webs. The cut rectangles can be used for the walls of the cups, and the rolls can be used for the bottoms of the cups.
Use a printing machine to print the pattern you need on the paper. The printing step can be performed before or after die cutting.
Use a die-cutter to cut the printed paper into fan-shaped pieces for paper cups. If your budget is limited, you can buy die-cut scallops directly from the market.
Put the printed fan-shaped piece and cup bottom web into the feed port of the paper cup forming machine, and the paper cup machine will automatically send, seal, and punch the bottom to make the formed paper cup.
After molding, it can be packed in plastic bags or paper bags.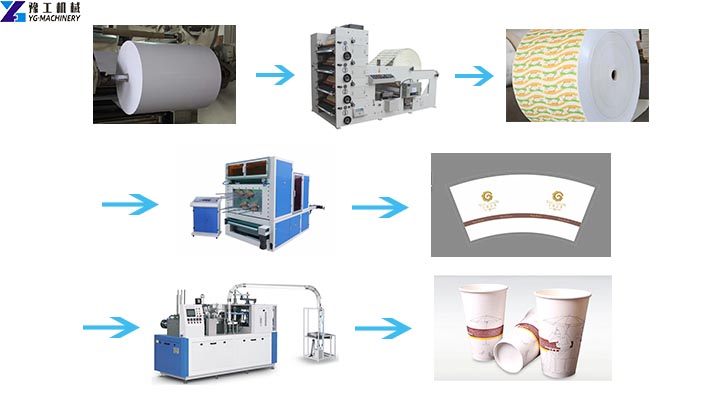 How to Confirm the Paper Cup Size?
Paper cup sizes have many details to pay attention to. Different sizes will have different links. For example, cup bottom depth and cup angle will affect the cup stack while rim curling dimension and top diameter will affect the lid fit of cups, etc. The most important factor is how the market will accept your cup size. After you know about the market demand, we will require you provides your paper cup size drawing or samples. Our designer will measure and offer you official drawings. Forming mold design will be started upon your confirmation. Contact us if you're looking for paper cup manufacturing machine suppliers.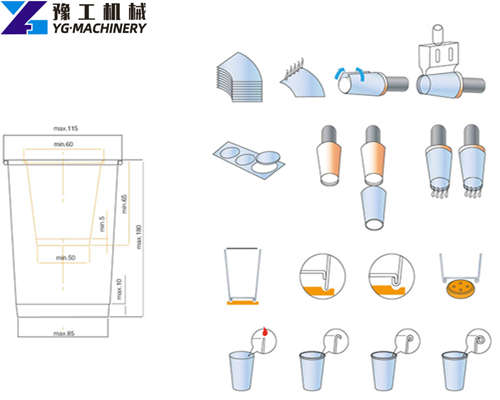 Paper Cup Forming Process
How to Select Paper?
Mostly, cup manufacturers use PE-coated paper for production. In recent years, PLA-coated paper(bio-degradable) has also been used in certain markets along with rising environmental awareness. For paper cup industrial, we suggest manufacturers use minimum PE thickness single PE 18g/㎡ or double 18/12 g/㎡. According to the common sense of paper cup machinery(paper thickness is more important than base weight). The paper thickness tolerance of each size should be within ±0.02mm.
According to function: Generally speaking, cold cups need double PE-coated paper and hot cups need single PE-coated paper.
According to cup size: Normally, the bigger the cup's volume, the thicker paper should be. Such as 12oz-16oz cups need 0.31mm-0.41mm thickness paper according to purposes of use both thicker or thinner paper can be formed, but the holding feeling is different when using.
According to use area: People from different areas have different preferences for paper thickness. Europe or North American areas prefer thicker paper usage for cups.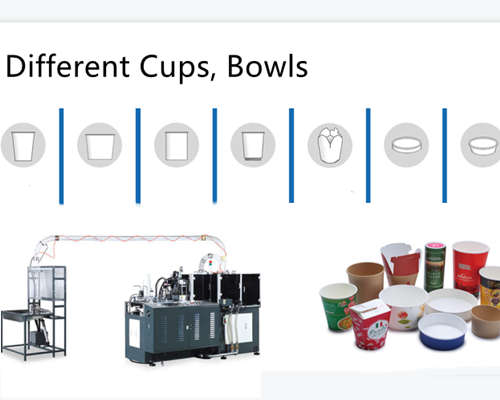 Different Cups Manufacturing Machine
Advantages of Paper Cup Manufacturing Machine
Excellent steel frame
Simple operation panel
Steady transmission system
Safe alarm system
Professional humanized design
Easy operation and maintenance
High-quality and low consumption
Heat insulation bowl machine with double layer
YG Product Series
In addition to paper cup-making machines, we also have other disposable products-making machines. For example, wet wipes making machine. Tissue paper-making machine. Water bottle filling machine. Nitrile gloves making machine. Latex gloves making machine. Please feel free to contact us if you have any needs.