The construction stationary concrete pump is a device specially used for conveying concrete, which can realize horizontal or vertical conveying. It meets the needs of long-distance and high-rise transportation and is one of the important pieces of equipment for building construction. When in use, it needs a car to drag it to the construction site, and then carry out concrete delivery. The stationary concrete pump has the characteristics of a large conveying capacity and high conveying height. YG also supplies small concrete pumps, tow behind concrete pumps, concrete mixer with pumps, etc.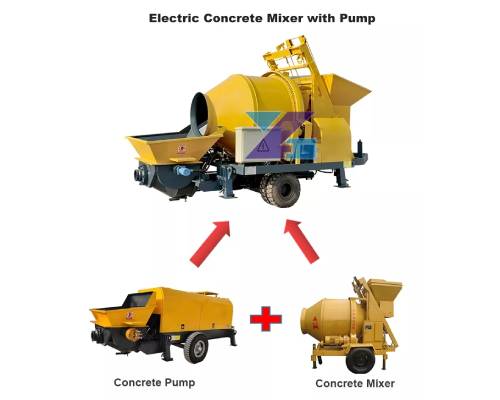 Two Types Of Stationary Concrete Pumps
YG construction machinery manufacturer offers two types of stationary concrete pumps: diesel-powered and electric.
| | | | | | |
| --- | --- | --- | --- | --- | --- |
| Model | YG-20 | YG-30 | YG-40 | YG-50 | YG-60 |
| Motor Power | 22kw | 37kw | 45kw | 55kw | 90kw |
| Diesel Fuel | 4102 | 4105 | 4108 | 6102 | |
| Working Efficiency | 8-12m³/h | 13-15m³/h | 20-25m³/h | 30-35m³/h | 55-60m³/h |
| Working Pressure | 15mpa | 20mpa | 23mpa | 23mpa | 23mpa |
| Aggregate Size | 0-2cm | 0-3cm | 0-4cm | 0-4cm | 0-5cm |
| Vertical conveying distance | 40-50m | 20-60m | 30-130m | 30-150m | 30-150m |
| Horizontal conveying distance | 80-100m | 50-150m | 50-350m | 50-500m | 50-500m |
| Delivery pipe diameter | 80-100mm | 80-125mm | 80-125mm | 80-125mm | 125mm |
| Machine weight | 900kg | 1500-2000kg | 2200kg | 2200kg | 3500kg |
| Machine size | 3200*1480*1600mm | 3800*1600*1800mm | 3880*1650*1680mm | 4300*1600*1800mm | 4300*1600*1800mm |
Please check the fine stone concrete pump models above, and you can choose the machine model that suits you according to the conveying capacity and conveying distance. If you have any questions, please contact us to get a quotation for stationary concrete pumps.
Fine Stone Concrete Pump Application
As a machine often used by construction machinery, concrete delivery pumps meet the construction of multiple scenarios.
Conveying or spraying fine stone concrete, greening soil, and other small amounts occasions.
Mortar transportation for buildings and ground, including ground, floor heating, etc.
The main project of the building, such as piling, stair driving, and concrete transportation for the construction of the previous building.
Concrete delivery for large-scale projects such as railways, hydropower, mines, etc.


The Structure And Working Principle Of Concrete Pump
Stationary concrete pump mainly includes conveying structure, distribution gate mechanism, hopper mixing device, operating system, cleaning system, and so on. In short, the equipment is mainly composed of a pump body and delivery pipe. It is a machine that uses pressure to continuously transport concrete along the pipeline. The concrete delivery pump is a hydraulic double-cylinder piston concrete pump, driven by electric and diesel engines. The pumping system adopts a closed oil circuit, constant power control, and a hydraulic step-less speed regulation function. The delivery volume of concrete can be adjusted according to the engineering conditions.

Stationary Concrete Pump Details

Safety electric control box
Multi-insurance safety electric control switch, with leakage protection and multiple protections to ensure the safety of operators.

Enlarging the conveying hopper
The large hopper is designed to prevent material from overflowing, and a screen is installed to prevent material from being stuck.

Automatic oil injection pump
Equipped with an automatic oil injection pump, the butter goes directly to all parts of the machine for lubrication through the pipeline.

Hydraulic oil radiator
The hydraulic oil radiator is installed on the machine to help the machine dissipate heat, making the machine occupy a small area, ensuring the normal operation of the machine, is safe and durable.
Stationary Concrete Pump Features
High reliability. The main structure is made of high-strength steel plates, and various high-standard technologies such as anti-tilt control technology and jib shock absorption technology are safe and reliable.
High pumping efficiency. YG stationary concrete pump adopts super large displacement pumping technology, which can greatly reduce pumping frequency and improve suction efficiency.
Easy to operate and maintain. The concrete pump adopts the automatic retraction of the piston, the automatic reverse stirring of the stirring, and other devices, which is convenient to operate and greatly reduces the maintenance cost.
Various models are available. YG construction machinery manufacturer provides a variety of concrete pump models to meet the needs of customers with different engineering volumes.
High stability. Equipped with high-configuration pumps and motors and other hydraulic systems to ensure the stability and reliability of the system.

YG Concrete Pump Manufacturer
As a professional concrete pump manufacturer, YG provides various types of concrete pumps such as small size, trailer type, and concrete mixer with pump. In addition, YG also provides construction equipment such as mortar spraying machines, shotcrete machines, drilling machines, sandblasting machines, and fog cannons. If you are interested in the above machines, please contact us.