Threaded Rebar Couplers Manufacturer
Threaded rebar couplers are also known as splicing of rebar, rebar connections, rebar splicing couplers. They are used to connect reinforcements and have connectors that have internal threads that correspond to threaded threads. Rebar splicing couplers are usually produced from precision steel pipes and belong to part of rebar processing. 45 # steel is used for precision steel pipes that are specially used for the production of threaded rebar couplers.
Threaded rebar couplers are usually used in conjunction with the rebar thread rolling machine. Simple construction process: the ends of the reinforcing bars are processed into straight threads by a rolling process. And the two reinforcing bars are connected with corresponding connecting couplers. The threaded rebar coupler with diameters of 16mm, 18mm, 20mm, 22mm, 25mm, 28mm, and 32mm YG is of high quality.
Threaded Rebar Couplers Application
Threaded rebar couplers use possible free rotation conditions. The use of iron rods causes each other to oppose the end force of the locking bridge piece. It's better to choose a standard coupler or reducer-type connecting coupler.
It is used in places where the reinforcement is too long and dense. Therefore, it is difficult to rotate. All threaded rebar couplers are screwed into the long thread of a steel bar in advance. And then, the end threads of the connected steel bar are reversely screwed. The connecting piece can be locked by turning the steel bar half to one turn.
Thread steel bar couplers are used for rebars that cannot be rotated at all. Such as the bending of rebars, bridges, and cast-in-place piles. Screw the lock nut and the threaded rebar couplers into the extension thread in advance. And then, screw in another thread at the end of the steel bar. Lock the connecting coupler with the lock nut. Available with standard or flared threaded rebar couplers and lock females.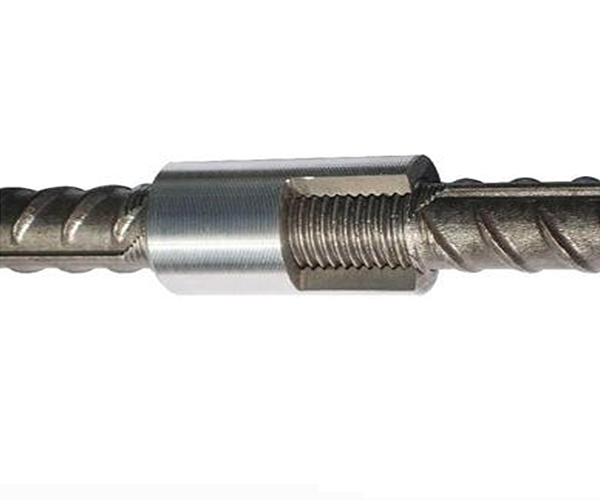 Parameters
| | | | | | | | |
| --- | --- | --- | --- | --- | --- | --- | --- |
| Rebar size | D16mm | D18mm | D20mm | D22mm | D25mm | D28mm | D32mm |
| Outer Diameter (mm) | 24 | 27 | 31 | 33 | 37 | 41 | 47 |
| Length (mm) | 40 | 45 | 50 | 55 | 60 | 65 | 70 |
| Thread Pitch | 2.5 | 2.5 | 2.5 | 2.5 | 3 | 3 | 3 |
| Thread Angle(degree) | 60/75 | 60/75 | 60/75 | 60/75 | 60/75 | 60/75 | 60/75 |
| G/W(KGS) | 0.076 | 0.11 | 0.176 | 0.207 | 0.275 | 0.365 | 0.515 |
Rebar Splicing Theory of Threaded Rebar Coupler
Threaded rebar coupler connection is a new type of reinforced connecting coupler technology. Its structural principle is to peel off part of the longitudinal ribs and transverse ribs at the end of the reinforcing bar to be connected. And then, directly roll them into ordinary straight. After the thread is connected, it is connected with a special straight-threaded steel bar connecting couplers to form a connection of the steel bar. Rebar thread rolling machine is a special machine to roll the end of the steel bar. And the thread is formed at one time. The steel bar is rolled by rolling. The material at the bottom of the thread is not cut away but is extruded to increase the original diameter.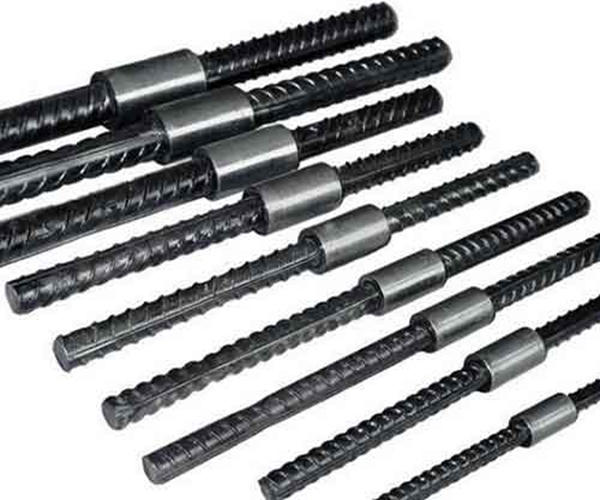 The Advantages of Mechanical Splicing
Good mechanical properties, safe and reliable connection. As the end of the steel bar is rolled and the cold-worked steel bar material is processed. The strength of the thread and the steel bar are increased. Which makes up for the weakening of the strength caused by the lower diameter of the thread and the base circle. The strength of the joint is higher than the strength of the base material, which can make the base material fully exert its strength and ductility.
Convenient connection: It can be flexibly operated in dense places where the steel bars are densely arranged.
Quality assurance: On-site rolling wire head equipment can process nearly 400 joints per shift, which has unparalleled advantages in the construction of large quantities and basements. No pollution during construction, no open flame operation, good safety, and environmental protection. It can be constructed all day.
Convenient inspection: No special inspection equipment is needed during construction. And the quality of the joint can be determined simply by looking at the exposed wire teeth of the steel bar.
Strong applicability: It is suitable for the connection of steel bars in all seismic and non-seismic reinforced concrete structures. Threaded steel bar coupler is also suitable for curved steel bars, fixed steel bars, steel cages, ultra-long steel bars, and other places that cannot be rotated.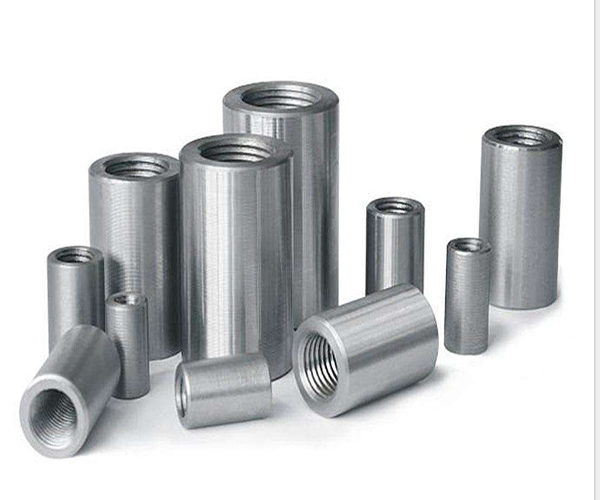 Threaded Rebar Couplers for Sale 
Threaded rebar couplers for sale in YG have been sold very well in recent years. In addition, many clients found us and were very satisfied with our products and performance. They trust us and benefit from us. What's more, YG insists quality is the foundation of our reputation and we must make our clients trust us with our high quality. Moreover, we have a group of engineers and experienced workers and they keep innovating and exploring the advanced tech to meet clients' requirements. YG company can guarantee the quality and price of the products. So don't hesitate to contact us if you need any product and we'll try our best to fulfill your needs.
Related Products
As a professional rebar processing machinery manufacturer, we have a series of steel bar machinery for sale. Our product mainly includes rebar straightening and cutting machine, rebar bending machine, rebar bender for sale, scrap rebar straightening machine, automatic steel bar cutting machine. Steel bar straightening machine, rebar upsetting machine, thread rolling machine, thread rebar couplers, I beam bending machine, etc. What kind of rebar-related machine do you need? Please feel free to leave your requirements.