The wire mesh welding machine is an automated machine for producing steel mesh for pouring concrete. The wire mesh welder automatically welds longitudinal and transverse rebar into a mesh structure. The bond and anchorage between the reinforced mesh and the concrete are good, and the seismic performance of the reinforced concrete structure is improved. Reinforced mesh produced by mesh welding machines has been widely used in bridges, water conservancies, highways, airports, subways, tunnels, etc.
Application of Wire Mesh Welding Machine
The mesh steel bar produced by the wire mesh welding machine has a very wide range of applications. It can process large-diameter steel bars and is used to process steel mesh for pouring concrete. Such as building floors, walls, bridges, concrete pavement, concrete prefabricated parts, mountain slope protection, and other projects. The fine mesh reinforced mesh can be used as a guardrail in aquaculture, residential areas, football fields, and other places.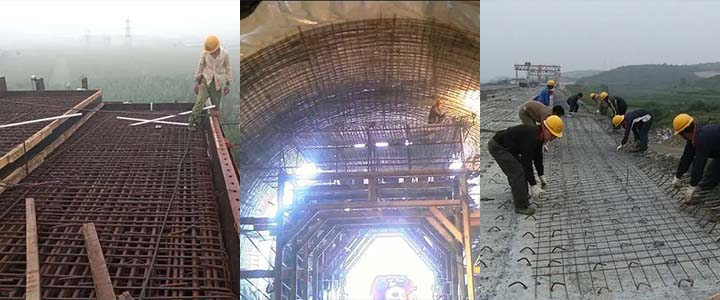 Advantages of Mesh Rebar Structures
Reinforced mesh adopts longitudinal and transverse steel welded, also known as welded steel mesh, and ribbed steel mesh. Rebar welding uses a dedicated welding program to automatically control production. Therefore, the mesh of the welded steel mesh is uniform, and the welding quality is good. And the mechanical properties of the steel before and after welding are almost unchanged. Since the mesh is welded together using longitudinal and transverse reinforcement, its bearing capacity is enhanced. The load is evenly spread and distributed, which significantly improves the anti-vibration performance of reinforced concrete. And the spacing of reinforcing bars can be controlled, saving the amount of reinforcing bars.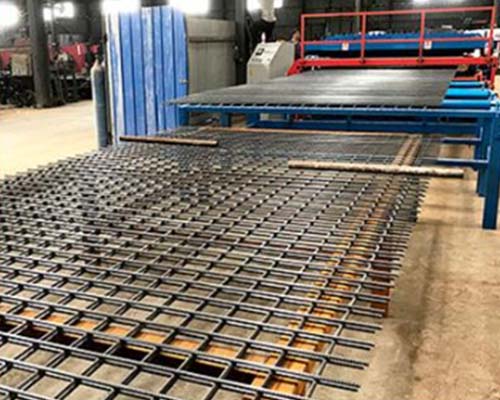 Parameters of Mesh Welding Machine
| | |
| --- | --- |
| Model | YG-220 |
| Welding range | 1.5m |
| Welding length | 2m |
| Welding bar diameter | 6~8mm |
| Soldering copper head quantity | 8pcs |
| Horizontal wire feed | Straightening and feeding in advance, automatic blanking |
| Portrait wire feed | Pre-straightening and cutting, manual threading |
| Pull net form | The Stepper motor pulls the net |
| Welding principle | Electric current welding |
| Main motor | 3KW variable frequency electromagnetic brake motor |
| Reducer | No. 4 Cycloidal Pinwheel Reducer |
| Welding speed | 40~55 Row/Min |
| Voltage | 380V 50HZ |
mesh welding machine parameters
Before using this mesh welding machine to process steel bars, the horizontal and vertical wires need to be straightened and cut in advance. In addition, Yugong provides rebar straightening and cutting machines, contact us for quotations for steel bar straightening and cutting machines.
Wire Mesh Welding Machine Advantages
The reinforced mesh welding machine adopts PLC numerical control system, the main body has a synchronous control technology, and the control precision is high.
Using chrome copper alloy welded column head, more durable and high-temperature resistance.
The welding transformer adopts a new type of water-cooled high-efficiency welding mesh transformer, the welding current is adjustable, and the welding wire diameter range is expanded.
Adopt water circulation cooling to reduce the loss rate
The main frame is welded with a thicker steel plate and section steel, and the main structure is firmer and more compact.
The mesh welding machine adopts motor power, adopts synchronous control technology, digital welding and welding time in sub-control, programming system control, high integration, and low failure rate.
Its weft feeding adopts a new type of large turntable electric funnel, and the stepping motor is used to feed the material. The feeding is accurate and the landing point is accurate.
The pulling net controls by a servo motor and the net is automatically circulated and pulled, and the net pulling is accurate.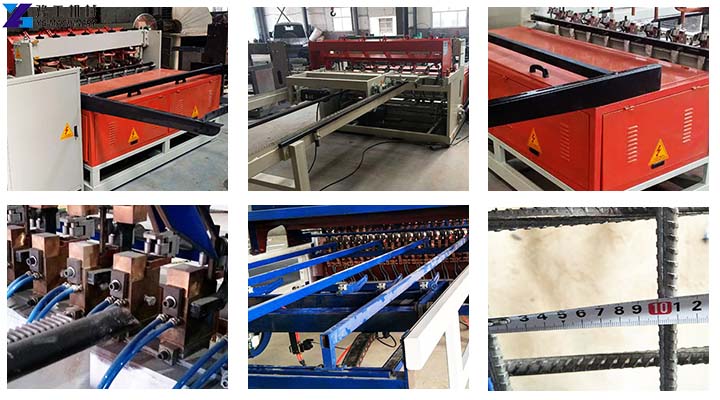 YG Mesh Welding Machine Manufacturer Support Service
As a wire mesh welding machine manufacturer, YG not only provides intelligent equipment but also provides technical support. We can provide technical and personnel support for equipment installation. The company provides a two-year warranty period, and the accessories required for equipment maintenance are provided free of charge during the warranty period. YG provides after-sales support for products and can provide technical guidance and maintenance suggestions online.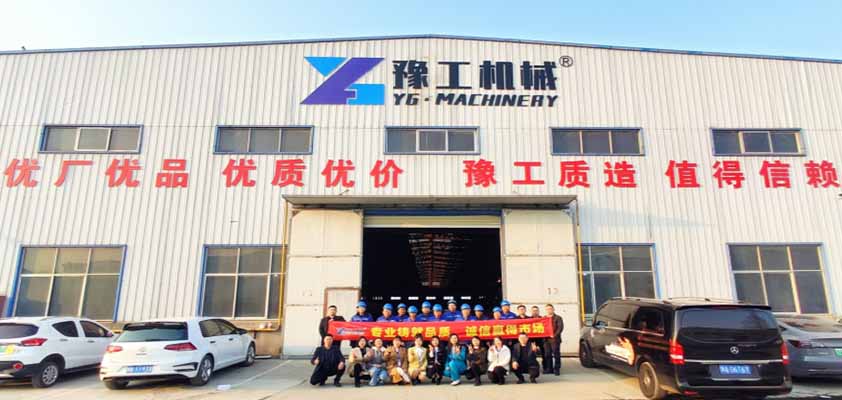 Recommended Reinforcement Equipment
As a construction machinery equipment manufacturer, Yugong provides a series of steel bar processing equipment. Such as rebar straightening machines, rebar cutting machines, rebar bending machines, rebar upset forging machines, I H beam bending machines, punching and shearing machine, scrap meat shear for excavator and other prestressing equipment. Contact YG for getting the reinforcement equipment price.