What is a Rebar Forging Machine?
The rebar forging machine is the key equipment to realize the steel bar connection. The upsetting machine is mainly used for the head upsetting of ribbed steel bars in construction projects. This upset forging machine is used in steel connection projects. In order to ensure connection quality, the rebar forging machine's main function is to squeeze the head of the threaded steel bar for construction into a thick pier. So as to achieve the purpose of increasing the diameter of the steel bar head and increasing the tensile strength. The rebar upsetting machine is mainly divided into a single-cylinder upsetting machine and double-cylinder upsetting machine.
YG-A Reliable Rebar Forging Machine Manufacturer
The automatic rebar upsetting machine is easy to operate, fast in speed, and high in processing quality. The steel upsetting machine is mainly used for national key projects such as construction, road&bridge, high-speed rail, subway, tunnel, and power stations with high requirements. Please contact us if you are looking for a rebar upsetting machine for your project. As one of the best upsetting machine manufacturers, we promise you will satisfy our product quality and factory direct sale rebar cold forging machine price.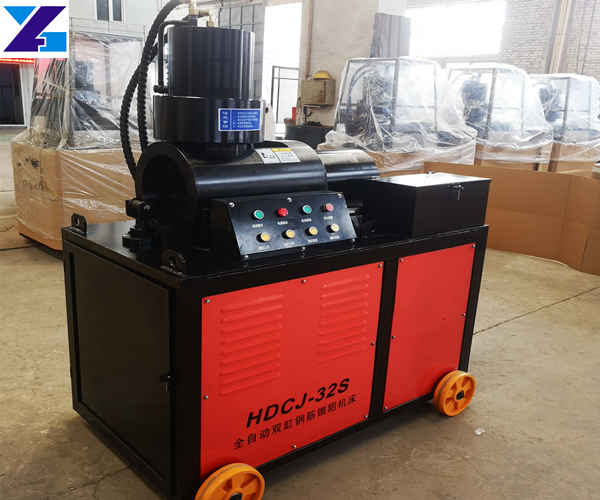 YG Rebar Upset Forging Machine Factory
Parameters of the Upset Forging Machine
| | | |
| --- | --- | --- |
| Model | Single Cylinder | Double Cylinder |
| Motor Type | Electric Motor | Electric Motor |
| Voltage | 380V,50HZ,3 phase | 380V,50HZ,3 phase |
| Power | 7.5KW | 7.5KW |
| Rebar diameter | 16-40mm | 16-40mm |
| Cylinder pressure | 80Mpa | 30Mpa |
| Cylinder diameter | 220mm | 220mm |
| Volume | 1020x500x935mm | 1250x850x1650mm |
| Weight | 1000kg | 1500kg |
The above are the parameters of the steel bar upsetting machine, which has two types, single bar, and double cylinder. The upsetting diameter range of the steel bar upsetting machine is within 16~40mm. Please tell us your needs, so that we can match you with the right machine and send you a quotation.
Principle of Rebar Cold Forging Machine
Rebar upsetting connection technology is to process and upset the steel bar end (head) to be grained in advance so that the diameter of the processed steel bar is increased (3-5mm). Then use a rebar thread rolling machine to thread the upsetting part. The diameter of the sleeve wire can be adjusted using different molds. When connecting, connect the straight threaded sleeve to the thread of the end of the steel bar with a normal construction wrench to complete the butt joint of the steel bar. The upsetting type and other strong straight thread connection technology have the advantages of stability, and the joint strength is greater than the strength of the steel base material.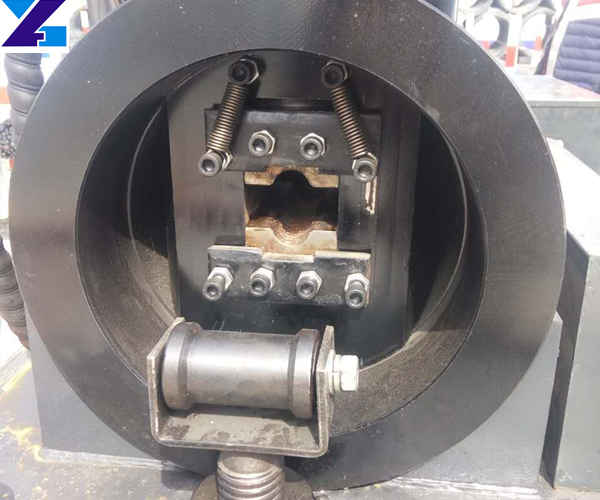 Rebar Cold Forging Machine Details
Rebar Forging Machine Structure
Reinforced straight thread upsetting machine, consisting of a frame, clamping clamp, guide rail, and slide plate. Cycloidal pinwheel reducer, rib stripping rolling head, feed mechanism. Automatic opening and closing mechanism, stroke limit mechanism, cooling system. Electrical appliances control box, control system, and other parts.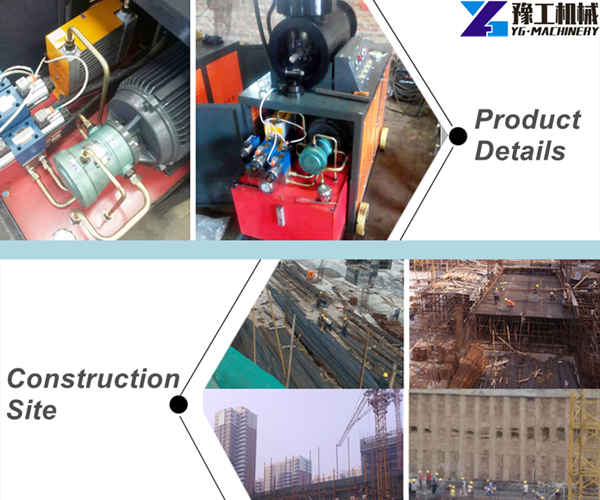 rebar upsetting machine manufacturers
Supporting Machinery Introduction
Steel bar straight thread rolling machine can complete the processing process from rib stripping to thread rolling in one clamping. The processed thread has a full profile, high dimensional accuracy, and high mechanical strength.
Both positive and negative threads can be processed.
The rebar straight thread rolling machine is simple to operate, compact in structure, reliable in work, and has a unique automatic opening and closing mechanism.
It can process HRB335 and HRB400 steel bars with a diameter range of 16-40mm.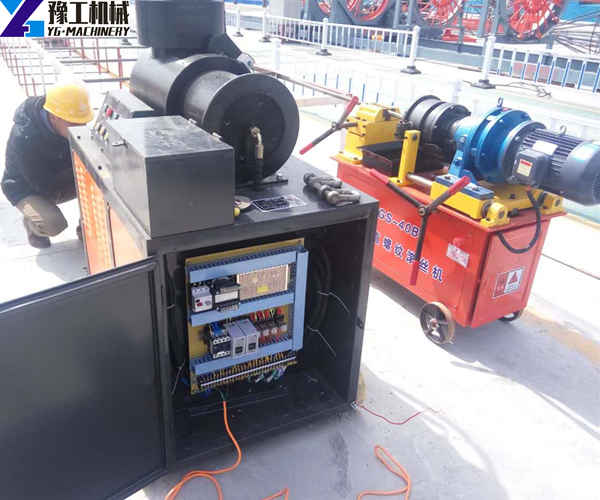 Thread Rolling Machine&Rebar Upsetting Machine
Related Products
As a professional rebar processing machinery manufacturer, we have a series of steel bar machinery for sale. Our product mainly includes a rebar bending machine, rebar bender for sale, scrap rebar straightening machine, automatic steel bar cutting machine, steel bar straightening machine. Rebar upsetting machine, thread rolling machine, thread rebar couplers, beam bending machine, punching and shearing machine, hydraulic ironworker machine, etc. What kind of rebar-related machine do you need? Please feel free to leave your requirements.