As the core equipment of spray dust removal, the environmental protection fog cannon machine is easy to operate and has a good dust removal effect. So it has become one of the most popular pieces of equipment for many enterprises. The water sprayer for dust control has a large spray volume and uniform spray, which can achieve effective dust reduction. The water sprayer for dust control can be applied in various fields to achieve dust reduction. Such as material storage yards, unloading yards, docks, steel-making plants, etc. In addition, it can also be used in dust removal, dust suppression, cooling in public places, and pesticide spraying in agriculture and forestry.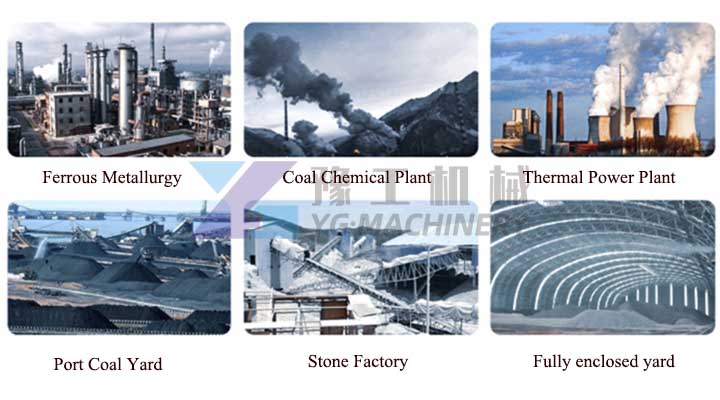 Related Post

Dust Suppression System Applies in Coal Handling Plant
YG-100 Model Water Sprayer for Dust Control Details
| | |
| --- | --- |
| Machine Size | 2.7*2.0*2.3 |
| Rotating motor | 0.4kw |
| Air duct inner diameter | 1200m |
| The inner diameter of the air outlet | 950m |
| Water pump motor | 11kw |
| Pump flow | 2850R/MIN |
| Effective range | 100M |
| Operation | Manual, remote control |
| Pitch angle | 0~60° |
| Remote control distance | 150 meters effective distance |
| Atomized particles | 30~150um |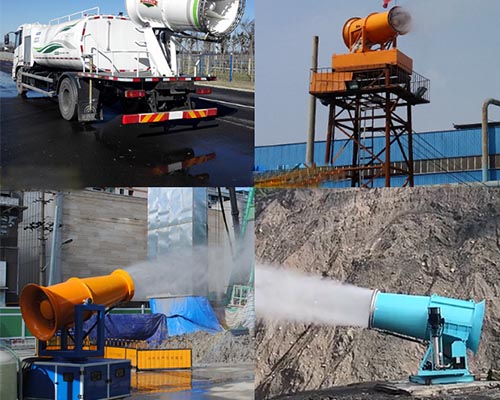 What is the Working Principle of the Fog Cannon Machine?
The diameter of dust particles is generally 1~75um. When the dust particles encounter water droplets that are much larger than them, they will be driven forward by the faster-flowing airflow next to them without colliding with the water droplets. The environmental fog cannon dust suppression machine is a dust suppression device designed using this dust aggregation theory and the aerodynamic theory. The water mist particles sprayed by the mist cannon dust suppression system are extremely small. It can reach the micron level, and the sprayed mist particles are directly combined with the dust particles in the air to achieve the purpose of dust suppression and dust reduction.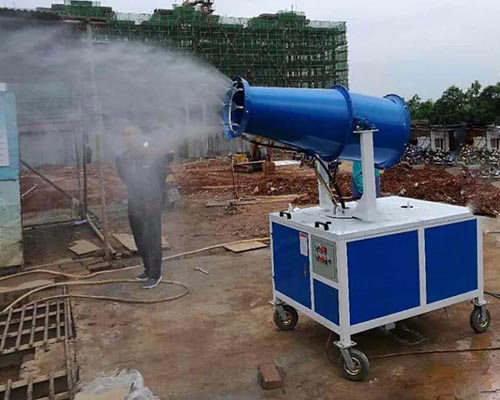 Related Post

How Does the Dust Suppression System Suppress Dust?
Advantages of Water Sprayer for Dust Control
Spray evenly. The environmentally friendly fog cannon can achieve precise spraying. And the spray particles are small and easy to combine with dust.
Flexible operation. It has three modes of operation: manual, remote, and automatic. The equipment can be installed on trucks, concrete platforms, and other places, and it is easy to operate.
Less water consumption. The water consumption of a water sprayer for dust control is 20%~30% of other spraying equipment, greatly reducing water consumption.
With automatic drain function. When the equipment stops working, the fog cannon automatically releases the water in the pipeline to prevent freezing and damage to equipment, water pumps, water pipes, etc. in winter.
An intelligent sprinkler head reduces resource waste and saves water spray time and spray volume. The spray has a long range and auto-rotates for increased coverage.
YG also supplies thermal fogging machines, hydroseeding machines, and other environment machines for sale. Please contact us freely for machine quotation.