YG Concrete Wall Cutting Machine Manufacturer
The concrete wall cutting machine is a concrete cutting tool, consisting of a power station and a saw head. It was originally a saw designed for cutting concrete walls and used in building engineering transformation. The wall saw cutting machine is mainly used for the reconstruction, reinforcement, and design change of buildings or old buildings. A wall saw can cut large-area walls such as door holes, windows, or elevator holes. The concrete wall saw cutting machine mainly includes an electric wall saw cutting machine and a hydraulic wall saw.
Hydraulic Wall Saw Parameter
Hydraulic Oil Pump Spec
Model
YG 600
YG 700
Max. power
25KW
30KW
Motor cooling method
Air cooling
water cooling
Rated voltage
380V 50HZ
380V-420V 50HZ-60HZ
Pressure stages
3
3
Max. operating pressure
200bar/20Mpa
210bar/21Mpa
Oil flow rate
30-80L/min
40-100L/min
Dimensions
600mm*650mm*1050mm
500mm*520mm*1100mm
Weight
220kg
140kg
Wall Saw Head Spec
Saw blade diameter range
800-1400mm
800-1600mm
Cutting depth
620mm
730mm
Max. working pressure
180bar/18Mpa
200bar/20Mpa
Max. oil flow rate
100l/min
100l/min
Gearing
Gear
Gear
Rotation speed
450/950/1300Rpm
450/850/1200Rpm
Dimension
400mm*420mm*400mm
400mm*420mm*400mm
Weight
38kg
39kg
Electric Concrete Wall Cutting Machine Parameter
| | | | |
| --- | --- | --- | --- |
| Model | YG-800 | YG-1000 | YG-1200 |
| Saw blade diameter | 800mm | 1000mm | 1200mm |
| Cutting depth | 300mm | 400mm | 500mm |
| Power | 6150w | 6150w | 6150w |
| Cutting Efficiency | 3-6m/H | 3-6m/H | 3-6m/H |
| Color | Customer required | Customer required | Customer required |
Advantages of Wall Saw Cutting
The structure is non-destructive, and it can be formed at one time. In addition, avoiding damage to the building structure by the traditional master's tapping construction. The circular hole drilling method consumes time, material resources, and manpower. And it can save a lot of rest time and costs. The concrete wall saw is one of the most versatile pieces of equipment in selective demolition.

wall saw cutting machine working site
Features of the Concrete Wall Cutting Machine
This concrete wall cutting machine uses a heavy-duty double-insulated high-power motor and reducer, with a low failure rate, long service life, and low maintenance costs. The special mechanical clutch protection device can effectively prevent the machine and personnel from being damaged due to misoperation. With a manual or automatic cutting control device. In addition, improving the construction quality and speeding up the construction. It also greatly reduces the labor intensity of the operator. Our clients are very satisfied with our wall saw for its high quality and proper price. If you have more diverse cutting needs, our YG hydraulic wire saw is best for you.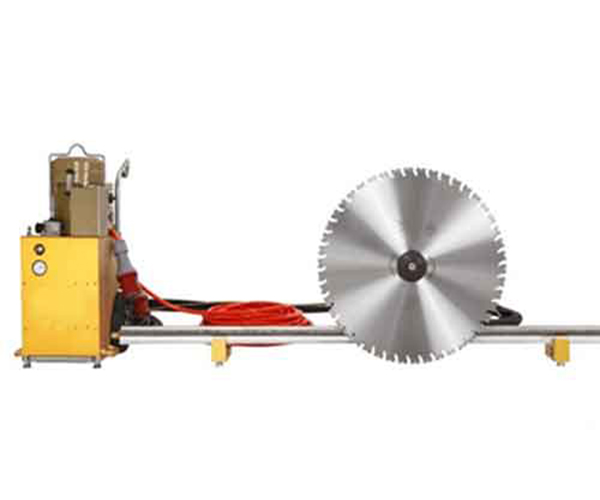 Concrete Wall Saw
Application of Wall Saw Cutting Machine
The concrete wall saw cutting machine is a special cutting tool, suitable for cutting hard materials such as reinforced concrete, rock, ceramics, brick walls, etc. A concrete wall saw is also a high-end engineering machine used in building engineering renovation and reinforcement construction. It is widely used to open doors on walls. Opening windows, opening vents and blocking reinforced concrete beams and columns, cutting off floor bridges, and stone processing. Use it to make the removal of densely packed concrete and stone skills easier, safer, and more useful. Meanwhile, the concrete wall cutting machine in our company is remarkable.

Hydraulic Concrete Wall Saw For Sale
Concrete Wall Cutting Machine Principle
YG wall saw cutting machine is an advanced engineering tool used in building engineering renovation and reinforcement construction. As a special cutting tool, it reduces labor intensity, safe and reliable operation, overload protection, and strong power. And improves cutting capacity and labor productivity. It is a piece of advanced equipment used in demolition and demolition construction projects.
Static cutting like wall sawing has gradually become a construction and design concept because it can preserve the stability and safety of existing structures to the greatest extent. It is the leading advanced cutting construction equipment widely used in strengthening companies and dismantling companies and replaces the traditional way of construction with strong strikes or drilling holes. If you are looking for high quality and durable concrete wall cutting machine, we will be your ideal choice.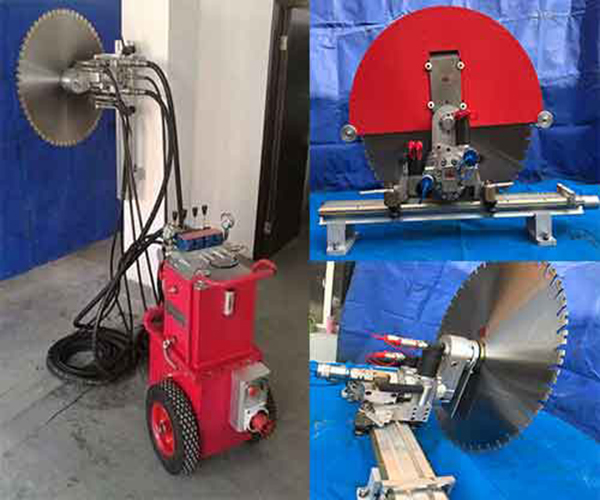 Hydraulic Concrete Wall Saw
Wall saw cutting machine features
High construction efficiency, much better than traditional cutting power.
No sensation, and no damage to the original layout.
The cut surface is flat, the cut accuracy is higher, and the surface is smooth.
No need to trim the cut surface.
Low noise, no dust, more favorable for environmental protection.
Low space requirement for cutting operation environment.
Easy operation. Workers can handle it easily after a short training.
Advantages of Concrete Wall Cutting Machine
Hydraulic wall saw can make the construction section tidier with its linear cut.
With its simple and easy operation, it can greatly reduce the labor cost.
It can double the operating speed to shorten the construction period, and further reduce the labor cost. And improve the competitive advantage and expand the planning of construction projects that can be supported.
The safety, reliability, and stability of the hydraulic system itself also make it unnecessary for you to worry about problems such as broken shafts during drilling operations. And greatly reduces the loss of construction equipment.
A hydraulic wall saw enables operators to cut concrete vertically, and horizontally.

Hydraulic Wall Saw
Concrete Wall Saw for Sale
Concrete wall saw for sale in YG has been sold all over the world. YG produces types of concrete wall saw to meet our clients' requirements. We put the quality in the first place and we insist high quality brings us more clients and is the foundation of our value core. For years YG keeps advancing steadily and exploring new technology for our clients.
We have a group of professional engineers and experienced workers who have devoted themselves to designing machines for a long time. Moreover, we guarantee the quality of the product and provide a competitive price for our clients. Most clients speak highly of our product and are very satisfied with our performance and they show their willingness to keep cooperating with us. Just contact us if you need any product and we'll offer you the best service.


Concrete Wall Saw Cutting Machine
Concrete Cutting Machine For Sale
As a professional concrete cutting machine manufacturer, we have a series of concrete cutting machines for sale. For example, hydraulic rock splitter, hydraulic wall saw, diamond wire saw, pile breaker machine, pile cutting machine, and so on. Just tell us which cutting machine you need.