A small concrete pump is a kind of concrete conveying equipment. It can continuously transport fine stone concrete to the pouring site through horizontal or vertical pipes. This small concrete pump is movable, it is also called a secondary structure column pump machine, a fine stone concrete pump. This small portable fine stone concrete pump for sale has vertical and horizontal models. According to different power, the concrete pump has an electric, diesel concrete pumping machine.
Secondary Structural Column Pump Parameters
| | | | | |
| --- | --- | --- | --- | --- |
| Spec/Model | YG-10 | YG-20 | YG-30 | YG-40 |
| Work efficiency | 6m³/h | 12m³/h | 15-18m³/h | 20-22m³/h |
| Motor power | 15kw | 22KW | 37KW | 45KW |
| Working pressure | 15MPa/10MPa | 18MPa/12MPa | 18MPa/15MPa | 23MPa/15MPa |
| Aggregate size | 0.5-1.5cm | 0.5-2cm | 0.5-2cm | 0.5-2cm |
| Vertical/Horizontal conveying distance | 20m/50m | 40m/80m | 80m/100m | 120m/260m |
| Diameter of conveying pipe | 80mm | 80mm | φ80(100)mm | φ100(80)mm |
| Weight | 600KG | 1600kg | 2200kg | 2400kg |
| Dimensions | 1800*700*1100mm | 3400x1200x1600mm | 3800x1500x1600mm | 4000x1500x1550mm |
| Standard Configuration | 10m steel pipe, 10m hose | 40m steel pipe, 10m hose | 90m φ80 steel pipe, 10m hose | 120m φ80 steel pipe, 10m hose |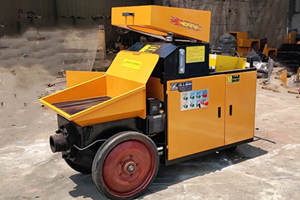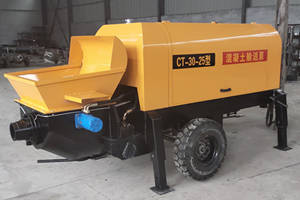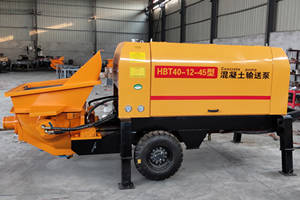 Overview of the Small Trailer Concrete Pump
Application: Mainly used for super high-rise fine stone concrete transportation, building floor group structural column pouring.
Construction situation: The equipment is not limited by construction conditions, and can be constructed in some narrow construction areas or special construction conditions.
Conveying raw materials: This concrete conveying pump is not only suitable for conveying fine stone concrete, but also for conveying mortar, small aggregate concrete, and refractory insulation materials.
Power options: electric, diesel.
Model: horizontal, oblique pump, conveying and mixing integrated pump.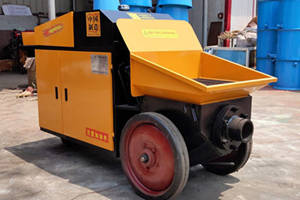 Portable Concrete Pumping Machine Application
Secondary construction column pumps are widely used in secondary structural column filling. Widely used in the following projects. Floor heating projects, roofing, high-rise building walls, reservoirs. Hydropower stations, ports, docks, foundation treatment, soft foundation reinforcement, and grouting. Tunnel, subway, and mine construction backfill grouting anchor support protection.


What is a Mini Concrete Pump Machine Used For?
A mini concrete pump machine is a machine that uses pressure to continuously transport concrete along a pipeline. It is suitable for super high-rise fine stone concrete conveying and building floor pouring. The machine can not only work in a wide space but is also suitable for some narrow or special construction conditions.



Small Concrete Mixer with Pump Introduction
The small concrete mixer pump is a machine developed and produced on the basis of a separate concrete pump. The machine has the functions of stirring and conveying. A separate concrete pump only delivers the mixed concrete to the construction site. Concrete pumps with a mixer can be mixed and conveyed on-site. This model of concrete pump has the functions of high efficiency and time-saving.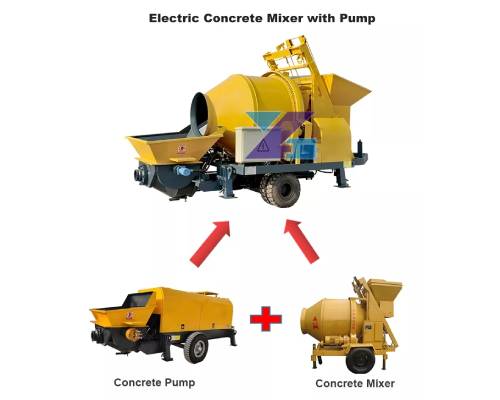 How Does a Fine Stone Concrete Pump Work?
The fine stone concrete pump includes a hopper, pumping system, hydraulic system, cleaning system, electrical system, motor, walking chassis, etc. The small concrete conveying pump mainly uses the reciprocating motion of the concrete cylinder piston in the hydraulic drive to complete the concrete conveying. When the concrete pump conveys fine stone concrete, the concrete piston advances or retreats under the action of the oil cylinder. Under the action of the oil cylinder, the distribution valve communicates with the concrete cylinder and the hopper. When the concrete piston retreats, the concrete in the hopper is sucked into the concrete cylinder. When the concrete piston advances, the concrete in the concrete cylinder is squeezed out. Such a reciprocating motion can achieve continuous conveying of fine stone concrete.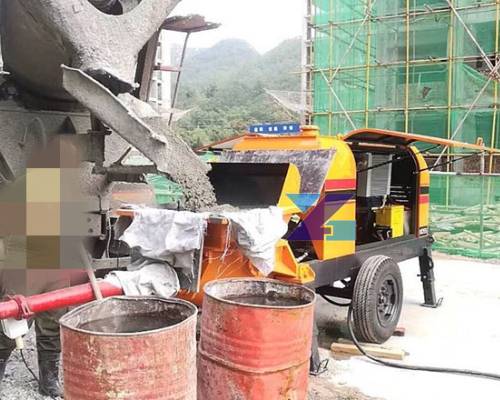 Advantages of Small Concrete Pumping Machine
YG's electric concrete pump is the secondary construction column pump in China. Therefore, it is an ideal choice for many narrow construction environments.
The use power of the mini concrete pump is only 5.5kw. When there is no power supply, only a small generator can work.
The hydraulic concrete pump has a high configuration, full hydraulic operation, stable performance, compact structure, low failure rate, and long life.
This secondary construction column pump is light in weight and easy to move.
The hydraulic secondary construction column pump price is affordable. Meanwhile, there are three configurations of mini mortar pump, mini fine stone feeder pump, and mini concrete pump for customers to choose from.
Using piston structure automatic pressure control technology, high working pressure, long pumping distance, and high pumping height.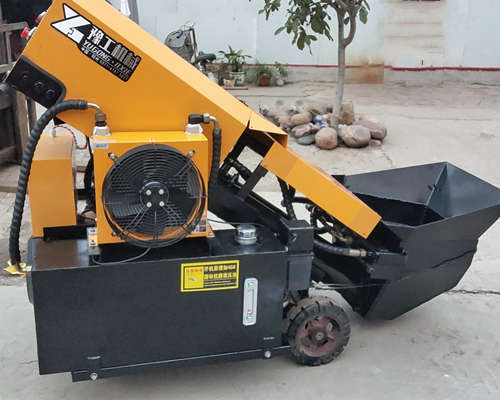 Secondary Structure Feeder Pump
Why Choose Secondary Structure Column Pump?
A vertical/horizontal secondary structure column transfer pump is used for pouring floor structure column equipment. The machine can completely replace manual pouring. Meanwhile, it can walk automatically and enter and exit freely in large and small rooms. At the same time, the tow behind concrete pump is mini in size, convenient for construction, and simple to operate. It can be poured directly on the floor. Therefore, the secondary construction column pump reduces labor intensity greatly.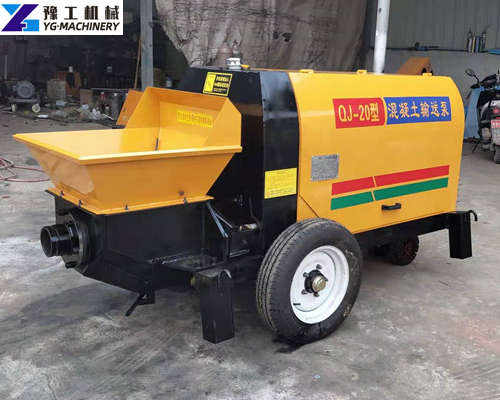 Secondary Construction Column Pump For Sale
Product Series
As a professional construction equipment manufacturer, we have a series of housing construction equipment, grouting pump products, steel bar processing equipment, and concrete cutting and demolition products. Please feel free to contact us to get more details.