Small Concrete Pump
Small Concrete Pump For Sale
A small concrete pump is called a secondary structural column pump. Also as known as a fine stone concrete pump. Divided into vertical and horizontal. The fine stone concrete pump is a secondary construction column pump with compound pumping requirements. The fine-stone concrete conveying equipment is continuously transported to the pouring site through horizontal or vertical pipelines.
YG Machinery specializes in the production and sales of various concrete pump products. As well as mortar spraying machine, shotcrete machine, shotcrete truck, sandblasting machine, shot blasting machine, etc. The following are the parameters of our popular secondary construction column pump products at home and abroad.
Secondary Structural Column Pump Parameters
| | | | | |
| --- | --- | --- | --- | --- |
| Spec/Model | YG-10 | YG-20 | YG-30 | YG-40 |
| Work efficiency | 6m³/h | 12m³/h | 15-18m³/h | 20-22m³/h |
| Motor power | 15kw | 22KW | 37KW | 45KW |
| Working pressure | 15MPa/10MPa | 18MPa/12MPa | 18MPa/15MPa | 23MPa/15MPa |
| Aggregate size | 0.5-1.5cm | 0.5-2cm | 0.5-2cm | 0.5-2cm |
| Vertical/Horizontal conveying distance | 20m/50m | 40m/80m | 80m/100m | 120m/260m |
| Diameter of conveying pipe | 80mm | 80mm | φ80(100)mm | φ100(80)mm |
| Weight | 600KG | 1600kg | 2200kg | 2400kg |
| Dimensions | 1800*700*1100mm | 3400x1200x1600mm | 3800x1500x1600mm | 4000x1500x1550mm |
| Standard Configuration | 10m steel pipe, 10m hose | 40m steel pipe, 10m hose | 90m φ80 steel pipe, 10m hose | 120m φ80 steel pipe, 10m hose |
Applications
Secondary construction column pumps are widely used in secondary structural column filling. Floor heating projects, roofing, high-rise building walls, reservoirs. Hydropower stations, ports, docks, foundation treatment, soft foundation reinforcement, and grouting. Tunnel, subway, and mine construction backfill grouting anchor support protect.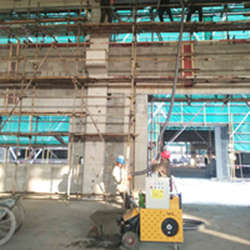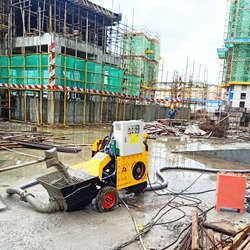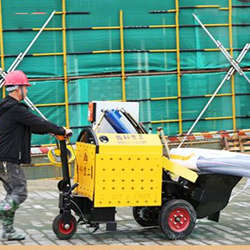 Advantages
YG's electric concrete pump is the secondary construction column pump in China. Therefore, it is an ideal choice for many narrow construction environments.
The use power of the mini concrete pump is only 5.5kw. When there is no power supply, only a small generator can work.
Hydraulic concrete pump has a high configuration, full hydraulic operation, stable performance, compact structure, low failure rate, and long life.
The secondary construction column pump is light in weight and easy to move.
Hydraulic secondary construction column pump price is Affordable. There are three configurations of mini mortar pump, mini fine stone feeder pump, and mini concrete pump for customers to choose from.
Using piston structure automatic pressure control technology, high working pressure, long pumping distance, and high pumping height.
Why Choose Secondary Structure Column Pump?
A vertical/horizontal secondary structure column transfer pump is used for pouring floor structure column equipment. The machine can completely replace manual pouring. Meanwhile, it can walk automatically and enter and exit freely in large and small rooms. The secondary structure feeder pump is mini in size, convenient in construction, simple in operation. It can be poured directly on the floor. Therefore, the secondary construction column pump reduces labor intensity greatly.
Product Series
As a professional construction equipment manufacturer, we have a series of housing construction equipment, grouting pump products, steel bar processing equipment, and concrete cutting and demolition products. Please feel free to contact us to get more details.